This week in the Stocktalks I wrote about many distribution days (d.d.) that arose in last weeks. I thought that these d.d. could signal a possible correction of indexes BUT mr. Draghi changed it.
The chairman of ECB told to markets that he 's ready to act to defend the euro, letting investors believe that it will be a big move.
Next week there are FOMC (31 July/1st August) and ECB (2nd August) meetings and they could inject some drug (liquidity) in the market.
After these words risk aversion rose almost immediately, with dollar depreciating and commodity/stocks rallying. Traders and investors are rising expectations for a bold move on 2nd august. Bernanke could also signal something.
Stock market rally was with high volumes, therefore next week I'll look for a follow through day (NASDAQ:FTD).
Definition taken by IBD
"After a significant market correction, the market will look to regain its footing. Any up day then counts as Day 1 of an attempted rally.
The next two sessions, Days 2 and 3, don't need to show much in the way of gains. As long as they don't undercut Day 1's low, the rally remains intact.
For a follow-through to occur, you want it to land between Day 4 and Day 7 of the attempted rally. On any one of those days, you're looking for one or more of the major indexes -- the Nasdaq, S&P 500 or Dow -- to rise 1.7% or more in higher volume than the previous day.
Though a follow-through in that span gives the strongest signal for a new rally, one that hits anywhere between Day 4 and Day 10 can work. Follow-through that occur after Day 10 yield lower success rates.
Though this method may seem esoteric at first, keep in mind it has decades of IBD research behind it."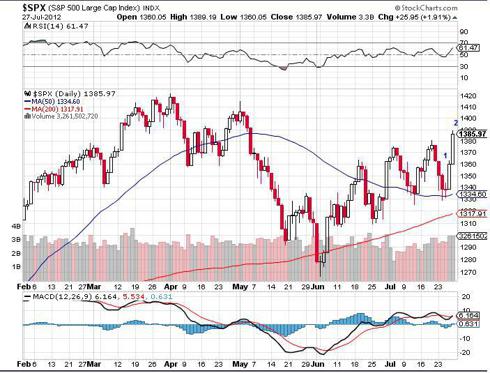 This is the situation of indexes on Friday:
- S&P500 (count 2)
- Dow Jones 30 (count 3)
- Nasdaq 100 (count 2)
- Midcap 400 (count 3)
If next week a FTD will materialize between day 4 and 7, I'll open new longs.
I still continue to hold short put on Etf retail (NYSEARCA:XRT) expiring in August and the long bull call spread on Discovery Financial Services (NYSE:DFS) expiring October. DFS reached a new record high.
I don't hide to you that I was very near to close both position before Draghi 's speech because of many d.d.
I was expecting another black candle to stop those trades. At the moment I don't plan to close them if a FTD materialize next week (of course), but I could close if it doesn't because choppiness could continue.