Here is an example of why I think Medical Marijuana Inc. (OTCPK:MJNA) will have a hard time getting their prior financials audited: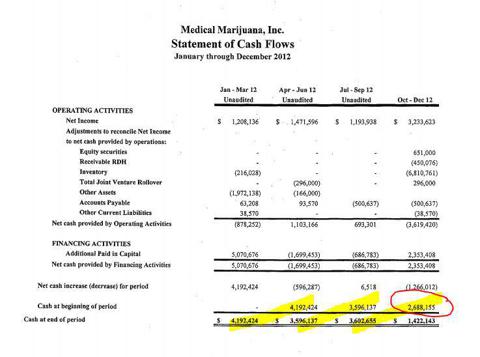 You don't have to be a genius to see that there is almost $1mm missing!
I will be focused on cash in the Q1 statement to be released in the next 7 days. The company started last quarter with either $3.6mm or $2.7mm and ended with $1.4mm. They had $4.19mm at the end of Q1. The same set of statements shows that the company made "profits" of $7.1mm for the year or $5.9mm in Q2-Q4.
In case you aren't following: Profits of $5.9mm but cash dropped $2.8mm. Now we know that $4.5mm was pure fiction, so the profits were actually $1.4mm, but still the cash fell. Why? It went into inventory, which went from 0 to 8.7mm in Q4. I think that I can explain the cash flow statement saying 6.8mm and the balance sheet showing 8.7mm - a footnote says that they mark it to what is "realizable". There is usually a third component to a Cash Flow Statement in addition to Cash Flow from Operations and Cash Flow from Financing, and that's Investment, but it's not listed.
I know some think that I am suggesting that this is fraud, but I am not. I am starting with the base assumption that the accounting is sloppy and that management is just promotional to the extent that they have never yet cleaned it up. That whole CannaVEST deal really stinks, that's for sure. If there is one thing that will come out of all of this, the company will be more transparent and will better represent its finances. That was really uncool to tell the world in a press release that Q4 revenues went up 1100% and not at the same time say why ($4.5mm in "royalties" booked in Q4 as the clock was ticking down on the year but paid with worthless stock in January). As a reminder, Mona and others paid just .05 per share for that stock on 11/16/12, but they marked this illiquid thing at $5. Total joke at best.
I will be looking for is the share-count at the end of Q1. I am thinking 888mm, but it could be higher.
One more thing. The company said that Wellness Services would grow by $1.7mm in a press release calling out a contract win in April 2012. The reality? They booked a loss of $251K in Q4 and the total for all of 2012 was just $1.15mm. Anybody know what happened here? Another example of overpromise and underdeliver?
Disclosure: I have no positions in any stocks mentioned, and no plans to initiate any positions within the next 72 hours.