The Wall Street Journal reported that Apple (NASDAQ:AAPL) has significantly cut back orders of components for the iPhone 5. Apple's stock was down below $500 for a spell on Monday before rallying slightly to finish at $501.77, or down $18.53, on the news. The WSJ article states:
"Apple's orders for iPhone 5 screens for the January-March quarter, for example, have dropped to roughly half of what the company had previously planned to order."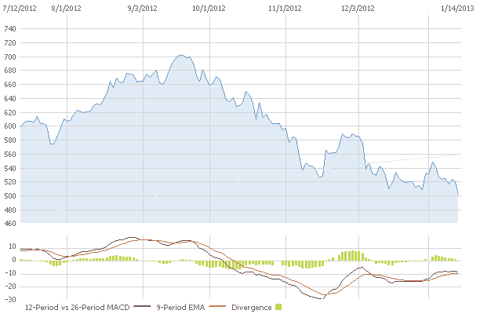 There were reports of other suppliers being notified last month that orders for other components were also reduced. Apple's stock hit an all-time of $705.07 last September but has since fallen more than 25%. Does this latest news signify a doomsday scenario for Apple which will precipitate a rapid decline in its PPS?
I think not. And here's why: Other reports indicate that the real reason for the cut back in iPhone 5 component orders was that manufacturing of the iPhone could have actually been better than anticipated, hence the demand for additional parts was less than expected. Secondly, while most analysts have been assuming Apple will release the next iPhone in September or October, a few are speculating that Apple might be planning on a June or July release. If this is the case, Apple might be cutting back its orders for the first quarter of the year so that it doesn't find itself with an overstock of the older iPhone once the inevitable buzz for the newer model starts to rev up in the spring.
Furthermore, it is worth noting the findings of reporter Philip Elmer-Dewitt of Fortune, who compiles sell-side and independent analysts forecasts on Apple. He has gathered 56 analysts projections that have an average of 52.3 million iPhones being sold in the December quarter with a median forecast of 49.55 million. If you take the median number of 49.5 million, that represents an increase of 45% from last year. The high estimate of 63 million represents 84% growth year over year (adjusted for the short quarter). Topeka Capital's Brian White (despite his Street-high $1,111 price target) comes in with the lowest estimate, 43 million, up only 26% (adjusted) above last year. We will see which of the analysts was closest to the mark when Apple reports its earnings after the markets close on Wednesday Jan. 23. Based on what I anticipate being a robust Christmas holiday period for Apple, I personally believe we will see stronger than the median numbers and a subsequent rise in Apple's PPS once it reports it earnings.
Disclosure: I have no positions in any stocks mentioned, and no plans to initiate any positions within the next 72 hours. I wrote this article myself, and it expresses my own opinions. I am not receiving compensation for it. I have no business relationship with any company whose stock is mentioned in this article.