Westport Innovations (NASDAQ:WPRT): Short
December 7, 2012
Full Exhibits are not disclosed. Do your own diligence!
Takeaway: WPRT will dilute substantial shareholder value before reaching profitability
Westport Innovations is a maker of natural gas powered engines for trucks. The company has been burning cash throughout its operating history. It has raised several rounds of equity, while significantly diluting existing shareholder equity (See Exhibit 1). The company has recently raised $265mm by issuing 6.3mm shares in February 2012. However, from my model the company will burn approximately $30mm per quarter and will need to raise additional capital in late 2014/early 2015 (See Exhibit 8).The new form of capital will be predominantly equity as WPRT is a pre-EBITDA company and will not pique the interest of the debt markets. Any new form of debt will add immense pressure on the company's expansion plan from both a covenant and interest payment standpoint.
Wall Street believes the company will reach profitability in 2015. However, in order for the company to reach profitability it needs to sell 2.5 times the number of units it is currently selling, maintain a dominant market share of 75% of NGV (Natural Gas Vehicle) engines, substantially penetrate the addressable market and grow top-line by more than 30% CAGR in the next few years(See Exhibit 2).
Bottom Line: This is a company operating in an exciting industry. However, all this hype will not be realizable in the short run (3-5years) because the industry faces a the chicken and the egg problem, vehicles first or fueling stations first that will take more than five years to resolve (See Exhibit 3).
Investment Thesis:
In order for the company to achieve profitability and start generating positive cash flow, the stars must align perfectly.
1. WPRT needs to achieve explosive growth and maintain substantial market share
Westport has been successful with executing their strategy of partnering with key OEMs such as Cummins and Ford, partnering with Weichai to enter the Chinese market and buying key assets such as Juniper Engines. However, WPRT will need more time to achieve profitability. Truck companies are very conservative, adding new additions to their fleet is very capital intensive for them (See Exhibit 4 and Exhibit 7).
2. Needs to overcome technological challenges
NG trucks cost $90,000 more and weigh more than diesel-powered trucks, which not only means more fuel needed but also may be an issue for weight sensitive roads. Currently, LNG is only 60% as dense as diesel and venting issues (natural gas escapes from the tank) will force truckers to stop more frequently to refuel. Therefore, the number of natural gas truck stops to regular diesel fuel stops needed would be 3 to 2. There are approximately 5,000 diesel truck stops. For the company to capture 20% of truck market, there needs to be 1,500 natural gas fueling stations.
3. The infrastructure problem will solve itself without substantial investments from WPRT
There are some positive developments such as Royal Dutch Shell partnering with Travel America Centers to build NG Fueling stations and plans by Clean Energy Fuels, co-founded by T. Boone Pickens to aggressively expand the number of NG Fueling stations to 150 fueling stations at Flying J stops by the end of 2013. (Clean Energy Fuels needs to raise $200mm in 2013). Currently, there are approximately 60 natural gas fueling stations (See Exhibit 5).
Variant Perception:
1. Valuation: Wall Street is not factoring in the revenue split with partners such as Cummings and Weichai or is too bullish
From my model and reverse engineering Wall Street assumptions, Wall Street is either not accounting for revenue splits detailed in public filings or is too bullish with their assumptions. Wall Street assumes NGV substantially penetrates the total addressable truck market (40% by 2014). Even if this occurs WPRT will not be able to maintain 75% market share of the total NG market. Other competitors will come into the market if growth economics are that attractive. Navistar and GM are already legitimate players that will steal market share away from WPRT.
2. Total addressable market is actually a lot smaller than Wall Street projections
Wall Street projects trucking units shipped will grow from 1,649 units in 2012 to 8,251 units in 2015, which is more than 4 times. I think the actual total addressable market is refuse trucks and transit vehicles in major cities (short-haul vehicles) because fueling is accessible. Because of the fueling station problem for long-haul trucks, the truck market is not an addressable market which accounts for a substantial amount of projected growth. (See Exhibit 6)
3. Natural gas is not a cleaner source of energy
Natural gas does burn cleaner than diesel. However, diesel technology has made significant advancements over the years. The amount of natural gas that escapes from the harvesting to the actual utilization is 70x more harmful to the environment. According to Fred Krupp, the president of the Environmental Defense Fund, "The problem with LNG, Krupp told the trucking summit, is not the gas that is burned, but the gas that escapes as it is transported through the supply chain from the well to the fuel tank. The un-burned, leaked gas is 72 times more potent than carbon dioxide -- a greenhouse gas -- making it more damaging to the environment. Currently, the government estimates 2.8% of natural gas used in trucks leaks somewhere in the supply chain, he said. 'If we can get the leak rate at 1% or less, then it's an OK thing for the atmosphere to make the switch (from diesel).'"
Catalysts:
1. Dissipation of key partnerships (Exhibit 10)
Partnership with Cummins is key to Westport's manufacturing capabilities. Without Cummins, Westport does not have the ability to hit critical mass.
2. News of stock issuance will dilute existing shareholders
No announced dividend policy nor share buybacks as the company is conserving cash for R&D and other acquisitive expansion plans.
3. Closing gap between natural gas and diesel price differences
4. Clean Energy, the forerunner of building fueling stations is unable to raise $200mm to refinance its debt
Failure to refinance its debt will stymie Clean Energy Fuels from building new fueling stations.
Risks:
1. Significant government spending
Federal government spending has been limited. Pro-natural gas vehicles bills are stuck in the grid-locked Congress. Other issues are more important such as Fiscal Cliff, gun control and debt ceiling will draw the attention of Congress and this current administration. The state of California is the only government force that has helped built most of today's fueling stations, which are located in Southern California.
2. Substantial order from multiple trucking companies
If Ryder, Hunt and other trucking companies collectively decide to make a huge order, then it may kick start investments for fueling stations. Currently, it is impractical for long-haul trucks (See Exhibit 6). NGV are only feasible for short-haul trucks such as refuse trucks.
Price Target of $15.1-$17.2 represents more than 37% upside at $27.43 (See Exhibit 9)
EXHIBITS
Exhibit 1 Three Year Stock Price Chart
Exhibit 2 Wall Street Research Assumptions
Undisclosed.
Exhibit 3 Passenger Car Case Study
Henry Ford's tackled the passenger car chicken and the problem when the Model-T was launched by building the cars and the fueling stations will come. This works when there is a large consumer base that is willing to purchase the cars en masse. Compared to the natural gas vehicle situation, the consumer base is conservative trucking companies who will not purchase the vehicles in large quantities unless the infrastructure problem is resolved first.
Exhibit 4 Conservative truckers
Headline: Carriers consider natural gas, but with hesitation, survey finds by The Trucker August 2012
"As for predictions about the future, 29 percent of carriers expect NG fuel will account for under 5 percent of their fleet five years from now, 27.8 percent reporting that it will account for 16-25 percent, and 19 percent predicting that it will account for 6-15 percent of their fleet."
Exhibit 5 Fueling Stations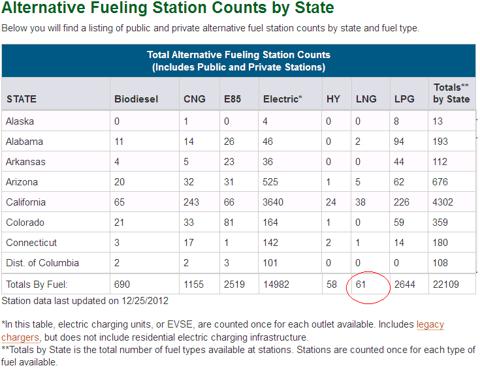 Exhibit 6 Fueling Station Map
Lack of public fueling stations from East Coast to West Coast means zero feasibility for long-haul trucks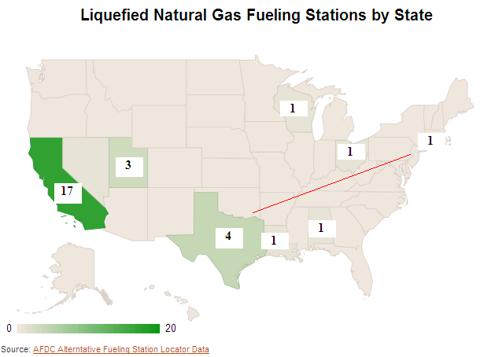 Exhibit 7 Quotes
Quote: Ann Duignan, managing director at J.P. Morgan Equity Research
"'There's huge excitement' about natural gas but infrastructure immaturity will depress truck sales. She expects fastest adoption among fleets that can run on CNG and return home each night but is skeptical about long-haul trucking. 'It will be slow, steady, one-fleet-at-a-time type growth.'"
Dougherty and Company LLC: "Though positive EBITDA is about three years away…"
Exhibit 8 Model Assumptions, Revenue Build Up and Cash Flow Burn Model
Undisclosed
Exhibit 9 Valuation
Undisclosed
Exhibit 10 Cummins and Westport Joint Venture Agreement
"Under the restated and amended joint venture agreement signed in December 2003, (the "Amended JVA"), Cummins granted CWI an exclusive, worldwide license to make, have made, use, market, or sell engine product and parts embodying, using or designed to practice any current and future intellectual property requested or required by CWI in order to pursue the business opportunities relating to automotive gaseous fuel versions of Cummins B, C and L diesel engines (and their derivatives) and any future CWI products for distribution approved by the CWI board of directors. Cummins has agreed to manufacture the engines for CWI's business and to transfer them to CWI at cost. In consideration for these terms, CWI agreed to pay Cummins a technology access royalty fee equal to 1.5% of engine revenue in 2004, and equal to 2.75% of engine revenue thereafter, to a cumulative maximum of $10.4 million. As at March 31, 2011, $9.8 million of the technology access royalty has been paid. Profits and losses are shared equally between Westport and Cummins."
Summary of Amendments on February 20, 2012
Profit split of 75% to Westport and 25% to Cummins after the above mentioned established baseline revenue
10-year contract with ability to terminate in the event of a material breach of contract or change of control
Disclosure: I have no positions in any stocks mentioned, and no plans to initiate any positions within the next 72 hours.