I can hear Herbalife (NYSE:HLF) longs groaning already.
"You said, just yesterday, that you weren't going to write about Herbalife again until after March 11th," they'll say to me.
Yes, but that was until this little fiasco popped across my screen this morning. I spent a good part of the morning checking it out, and would be remiss if I didn't write about the resolution to an FTC that raised questions in both camps over the last 24 hours.
If you take to Twitter (NYSE:TWTR) and search "$HLF", you'd see there's a certain constituency of both longs and shorts that take to Twitter frequently to duke it out over whether or not the company is fundamentally sound. Additionally, you would see a whole new group of insults aimed at me than the ones on Seeking Alpha. Variety is the spice of life!
So, this morning, when ZeroHedge broke the news about the FTC re-tweeting an enquiry that sure could have been misconstrued as an endorsement for the bears, ears perked up and people started to scramble to figure out what it meant - myself included. I sent out e-mails and messages to my contacts trying to figure out if we just saw the "horse that winked".
The Tweet, from user "@ArbitrageIt" - who is critical of Herbalife and frequently re-tweeted by yours truly - was hashtagged for National Consumer Protection week, and it asked what the FTC was "waiting for" to shut down Herbalife.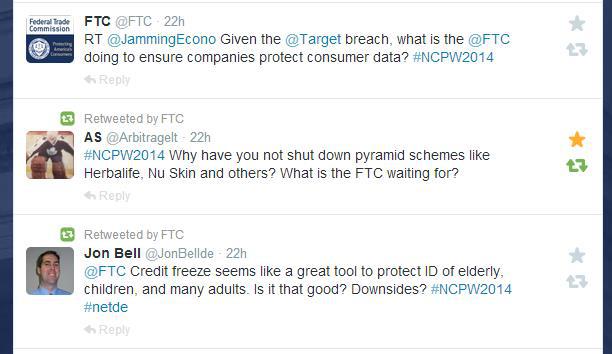 The re-tweet was interesting because the FTC rarely re-tweets people. Jon Bell, however, that posed a NCPW hashtagged question as well, was re-tweeted also below him.
The debate continued this morning with bears citing it as an endorsement and bulls saying that someone at the FTC could have potentially lost a job over it. The FTC came out first and said it couldn't comment either way on Herbalife, but that still didn't seem to explain the re-tweet.
However, user "@MarcToTheMarket" asked directly to the FTC, as did I, and the FTC was prompt to respond (to Marc), claiming it's simply standard to re-tweet questions that its given during it's Q&A on Twitter - even though there remains very few re-tweets on the FTC's site.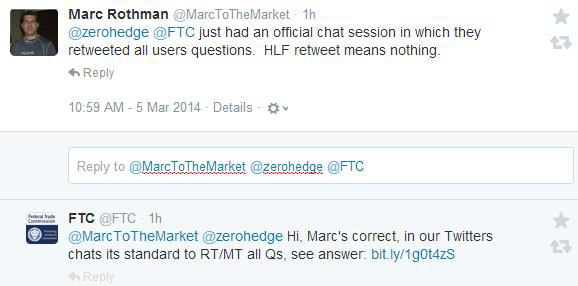 So, it appears that the FTC "re-tweet-gate" that was bubbling on Twitter for the last 24 hours seems to not be the smoking gun that some bears were thinking.
While it would not have been a surprise if the FTC came out and said, "today's the day", Herbalife bulls have won the argument du jour today. However, I remain firmly bearish on the stock for the long-term, reaffirming that the company's business model is fundamentally flawed.
Herbalife is trading up $0.41 to $66.35 today.
Disclosure: I am short HLF.