At the forefront of talk around the U.S. economic recovery is the unemployment issue we are facing.  Every month we receive Nonfarm Payrolls data to catch a better glimpse of the employment picture.  Every week we get another data point to help us assess the state of unemployment in our nation in the form of initial jobless claims.  While analysts will largely focus on these two core economic numbers, there is another set of data that is not as widely monitored: the number of job openings.  To be fair, this number is not as thorough or accurate, in my opinion, as the results are based on the Job Openings and Labor Turnover Survey (JOLTS), published by the Bureau of Labor Statistics.  JOLTS is released once a month (no fixed date) at 10a and reflects a pool of 16,000 participants, which is not too shabby (for instance, the Conference Board's Consumer Confidence Survey represents a sample of just 5,000 households).  Unfortunately, I find the survey is not as useful in the immediate term as there is a longer than ideal lag between when the survey is taken and when the results are released.  Usually, JOLTS results will be published in the first week of the month, but the reference month is actually two months back.  So the latest release on October 7, 2010 references the number of job openings as of the last business day in August.   (Job openings as defined by JOLTS is a role for which a firm is actively recruiting from an external pool and which has a start date within 30 days.)
Nonetheless, I found it useful to chart the historical job openings data since December 2000.  Then I plotted this data against the monthly unemployment rate that is released on the first Friday of every month: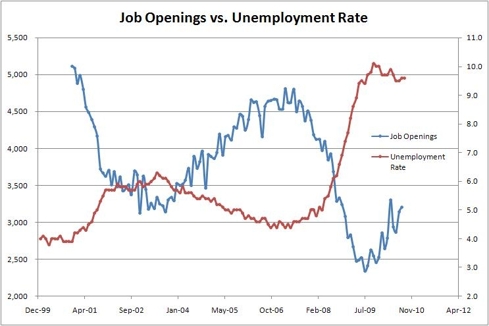 Click to enlarge

What we see depicted in the chart above is that while the unemployment rate is arguably still hovering near the high print made in October 2009 of 10.1%, the number of job openings has actually shown clear signs of recovering off the lows from July 2009.  Judging from the late 2002/mid 2003 era, I would say that job openings lead the unemployment number.  For instance, the high tick in unemployment in June 2003 at 6.3% was preceded by what I'd call a recovery in the job openings data.  The low print in job openings was in December 2002 and though there wasn't much indication of a progress, we certainly didn't go lower from there.  Instead, we leveled out and held support until finally we saw signs of life in late 2003/early 2004.  So how much longer until we see a real improvement in the unemployment rate?  Going back to 2002-2004, let me be generous and use December 2002 as the low tick in job openings and say improvement in unemployment came in April 2004, when we showed that we could hold a lower low at 5.6%.  I would say that I am being on the generous side with my rough assumptions.  Then using our more recent July 2009 low in job openings, I would be inclined to say that we will see signs of a real improvement in unemployment 16 months later in November 2010.  There is only one data point between now and November 2010 so I don't think things look too promising.  But who knows, maybe I'll be surprised.
Disclosure:
No positions