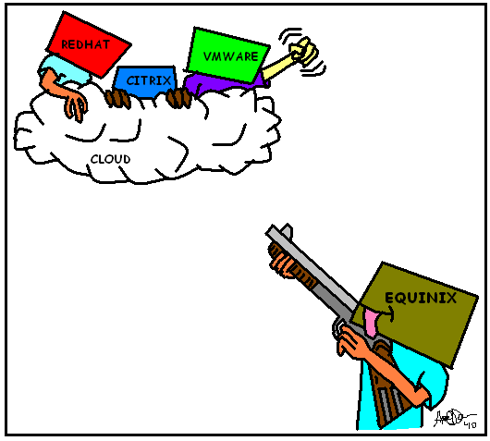 They say a picture is worth a thousand words. I think the  comic above pretty much sums up the day for the Cloud computing space. Equinix issued a revenue warning which triggered the fall… no, plummet of RedHat, VMWare and Citrix. It was like they all performed a heist, Equinix got caught and then ratted them out to the authorities. The funny thing is that they're in different businesses but I guess market participants felt otherwise. It was definitely a gross overreaction to say the least. However RHT, VMW and CTXS were definitely ripe for a short or put option contract if that's your style.  Maybe RHT, VMW and CTXS can recover tomorrow. Maybe.
In other news I got traded to the Frommer side of the desk today. It was actually agreed in principle yesterday but didn't take effect until today. With Schwartz in my face, I'm pretty sure my tenure here will be very eventful. He has already made it pretty clear that it is not OK to lose money. "The main aim of this business is to make money." I will definitely keep that in mind.
As for my former team, most of them were out sick today. To Betty and Tynik I hope you guys get better. The new and improved website will be going up tomorrow. Can't wait to see it.
Disclosure:
No positions