Nordic American Tanker (NAT) has our Pattern of the week.  The Pattern is comprised of three bearish days followed by two neutral days.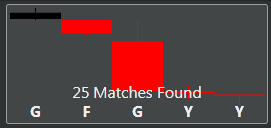 Under the five Match settings the following statistics were returned:


Match
Level
Patterns
Found
1-Day
% Win
2-Day
% Win
5-Day
% Win
Average
Return / Trade
Stocks
Found

Weakest
100
45
63
64
6.2%
 
Weak
66
41
63
68
6.4%
 
Neutral
25
47
75
75
8.5%
 
Strong
6
40
60
60
9.1%
 
Strongest
n/a
n/a
n/a
n/a
n/a
 
This was a relatively rare Pattern with only 6 matches at a Strong Match and no matches at the Strongest (matches count against 18 US stocks over the past year).
Across all Match levels the percentage of projected trades from the Pattern which closed profitable was quite high; 74.5% at the Weak Match closed in profit with an Average Return per Trade of 6.2%. This rose to 88% winners at the Neutral Match and an Average Return per Trade of 8.5% - topping at 100% winners for a 9.1% return per trade for the six matches at Strong Match.
The Average Return Per Trade assumes an initial stop of 10% with a raised stop to 5% of the price reached after a 15% gain. The ultimate Profit Target is 25%.
A Market Scan for this Pattern revealed five stocks. Keep an eye on Discovery Holding (
DISCA
), JC Penney (
JCP
), Monster Worldwide (
MWW
) and Ryder System (
R
).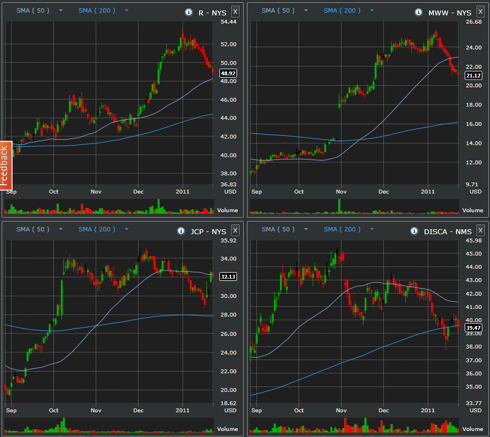 If you would like to see more matching stocks you can

 

Upgrade to Premium PatternDNA

 

and run Market Scans for Patterns in S&P 500 stocks.