Looking at a long-term chart on $DWCF (Dow Jones US Total Market Index), 10-Year Weekly. The RSI Wilder is around the 69 level. Getting close to exhausted but not there yet, showing more room to the upside. Although, based on the last few tops, we are definitely in a danger zone. MACD also reaching danger levels for the Bulls, but still shows more gains in the short-term. From a performance stand point, $DCWF has made 7 weekly positive gains. The last occurrence of this started back in Sept. 2010, making 10 weekly gains in a row. It then had a short-term pause for 3 weeks or so, then went on for another 7 weeks of consec. weekly gains. Looks to me we could be in a similar pause phase of our current rally, and if we follow that 2010 action, we could be looking at another 6-7 weeks of gains after maybe another week of sideways markets.
Looking at the second chart below, which is a 10-Year Monthly view, shows a few more perspectives. The price alone is at a crucial level @ 15,878. Last time we were close to these levels was back in 2007, which led to massive declines all the way to the 7K 2009 bottoms. Although, we have closed above this level two months in a row now, which leads way to more gains at this point. RSI is just starting to get heated up and could continue running for a couple of months. Slow Stoch. is in its overbought range, but not showing any mercy yet, also looks like it could continue at these levels.
All in all, although mostly overbought, and at historical prices levels, my take here is we have more room to run. At least testing the 1575 $SPX level, which will make for some extremely important market decisions there. Will it make for yet another ceiling or this time become support for all new levels.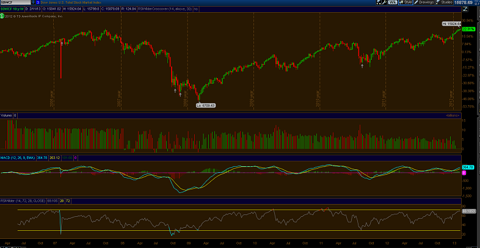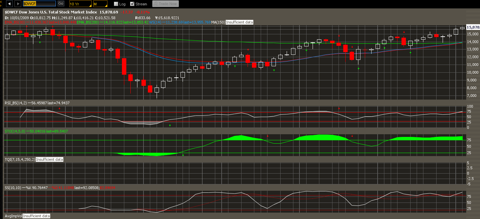 The Fanvestor via @fanvestments
www.fanvestments.com
http://fanvestments.com/Terms_of_Use.html
Disclosure: I am long SPY.