Yes , I know what you are thinking , do I really need to read yet another article written on Apple ?
This one will be a little different, as I won't write a monologue on what Apples does , wont tell you in two paragraphs what the positives might be on sales, margins, and other fundamentals.
Nor will I require you to you read three paragraphs on the headlines out there regarding competition, analyst downgrades and other negative stories, instead, I prefer to keep it simple, very simple.
You snicker and say it can't be done that way? Here is one man's view of what is really a very unique opportunity presented today, March 16th.
First, a little background for those that have been at sea for a while or investors that may have lost their internet connection for the last few months. AAPL ruled the world back in Sept.'12 as it traded at $700 per share. Analysts were in love, as they increased their price targets to $900, then $1000, and of course the infamous call for shares to reach $1111. That signaled the end of the uptrend that started from a breakout of $425, ironically one year earlier in Oct '11.
The weekly chart below illustrates that price action and reveals that the stock has retraced the entire parabolic move as shares touched down at the same $425 level in early March.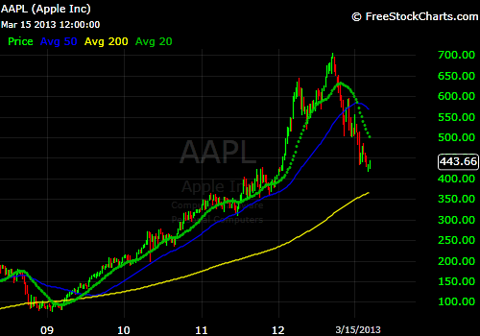 Let me state emphatically that a parabolic move in any stock, commodity, etc. will not end well. It's simply the unwinding of a "greed" cycle, its not unusual and this case is no different.
Ah but where do we go from here? The experts have now revised their forecasts to $600, then $500, some say $425, because well, they are frightened by all of the perceived or imagined threats out there.
Ladies and Gentleman, let me advise you that we have simply ended the recent 'Fear" cycle, nothing more, nothing less, and now opportunity awaits.
Yesterday at 3:45, I advised my clients to BUY AAPL. It's difficult to release a Buy recommendation with the market trading at all time highs, but my proprietary indicators flashed a signal that gave me reason to believe we will reap rewards ahead. (Full Disclosure, I also bought shares at $441.60 ) No, I don't expect or specifically want the stock to go "straight up" from here. It will be a gradual climb with periods of selling as those that rode the shares all the way down, will view any rise as an opportunity to sell.
One can note that with Friday's close at $443.26, there still is a wide gap down to what some gurus are saying is real support around $360. I can't dismiss that as a possibility, but I've chosen this price juncture to start the buying process that will establish a full long term position in Apple.
Here is just one example as evidence that the tide has changed and the incessant selling has culminated. Well lets keep it simple, no supply chain news, no large screen phone, or other "noise", just price action.
Samsung, that other cell phone company, just released their new product, surely perceived to hurt Apple sales and of course drag down the stock. Hmmm, but wait, AAPL was up over $11 per share on that news, on a day when the overall market was down.
As mentioned I purchased shares on Friday, giving my portfolio a position in a stock with a 2.5% dividend, a price earnings multiple lower than what the S & P trades at, and one that has enough cash to buy their choice of a few small countries.
IMHO, we will hear from management and there will be a dividend increase or a special one time dividend declared. Yield on the stock may then approach 4-5%, which will be above the average of the S & P.
Yes, the timing is right to keep it simple, as I believe that even if the market decides to give everyone the correction they have been looking for, AAPL may well be immune to drastic downward price action. A perfect place to hide out and watch the rotation into stocks that posses extraordinary value, which have not participated in the rally. Thus creating and uptrend in the shares of AAPL.
The opportunity is here and now , It's simple , BUY AAPL !
Disclosure: I am long AAPL, COH, NOV, RIG.
Additional disclosure: Stocks For Income means just that at Stocks4Income.com Recent recommendations COH NOV RIG