I wrote about RIG last March 5th , http://seekingalpha.com/instablog/706857-fear-greedtrader/1617661-transocean-rig-turnaround-dividend-icahn
where I highlighted my reasons for getting involved in this turnaround situation.
Not much has changed from that timeframe including the stock price , and I reiterate my feelings that it is a situation to add or initiate positions at these levels..
The new $2.24 dividend yields a healthy 4.5% at the current $49 level.
The Icahn $4 dividend was voted down and I view that as a positive event for the Long term investor as the company position on the dividend amount is both generous and more prudent as the company continues its improvement.
The following chart reflects the support that remains intact in the 48-50 level.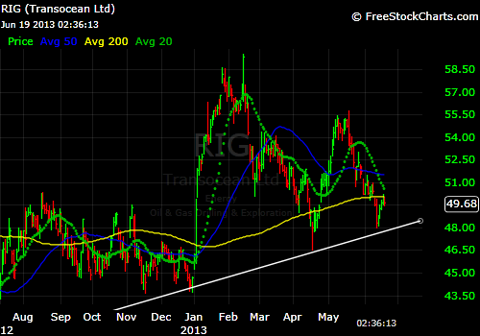 At current levels the Risk/Reward is compelling. The earnings turnaround, and newly initiated dividend make a potion for RIG to be a standout holding in your portfolio in 2013/ 2014
I have added to my RIG position , and suggest investors take a look at this interesting situation..
Disclosure: I am long RIG.
Additional disclosure: Stocks for Income means just that at Stocks4Income.com