Earlier this year http://seekingalpha.com/instablog/706857-fear-greedtrader/1656951-aapl-its-time-to-keep-it-simple
I recommended the purchase of AAPL @ 440 , Since then there has been plenty of volatility, but not much price appreciation. However since that purchase there have been two major announcements that have & will benefit investors. The cash dividend increase and the largest stock buyback in history is now underway at the company.
Apple currently trades at a trailing 12-month P/E ratio of 10, vs a market multiple in the 15-16 range. The 1-year forward-looking P/E ratio of 9.5 is currently inexpensively priced for the future in terms of where we are in the scheme of things. Next year's estimated earnings are approx. $44 a share and using that as a guidepost I'd consider the stock is cheap. Yes , I know, the cries are "the stock can get cheaper" More on the technicals later. The PEG ratio 0f .48, which measures the ratio of the price you're currently paying for the trailing 12-month earnings on the stock while dividing it by the earnings growth of the company for a specified amount of time , suggests that Apple is inexpensively priced based on a 5-year EPS growth rate of 21%. Yep the crowd states that growth & margins are under pressure , well, the stock reflects that , its at $420 not $720 !!
I recently added to my position @ 390, when i penned this comment to another reader on 6/30 http://seekingalpha.com/instablog/5038891-interesting-times/1995862-interesting-times-for-all-commodities-and-investments-chapter-20?source=kizur#comment-20541492
The weekly chart pictured below , indicates the possibility that (NASDAQ:AAPL) has formed a nice double bottom pattern here.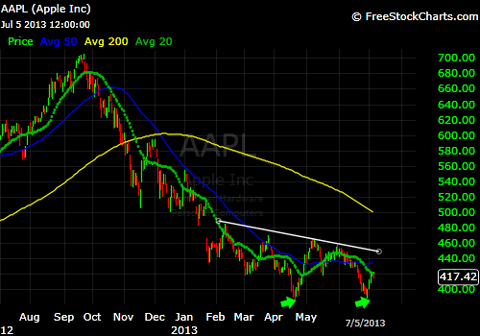 I've taken the liberty to point out that pattern with the green arrows. I Also drew a trendline which may be the next line of resistance around $440.. Any break above that level will then present a challenge to the down trending Longer term trendline.. $480 or so .
WE may just stay in a trading range here for a while here with $400 representing support and $480 resistance.. If so that would present a perfect environment to sell call options against your position to enhance the 3% dividend yield.
I continue to recommend purchase , here , pick you entry points, aggressive investors can use the call writing strategy to add gains to their holdings. For those with a longer term view , I believe we can see the stock back in the $500- $550 area with plenty of room for a growing dividend along the way ..
Disclosure: I am long AAPL.
Additional disclosure: Stocks for Income means just that at Stocks4Income.comDon't be an "average" investor , enhance your portfolio return. E-mail us at stocks4income@usa.com