The "no taper" announcement sent the averages soaring , signaling another Dow theory buy signal with the Dow 30 & the Dow Transports confirming that by setting new highs today.
But before we break out the champagne it might be worthwhile to look at the charts and see exactly what has transpired the last two times this year that new "buy" signals were given.
On 5/21 the Dow transports vaulted to a new high , followed by the confirmation of a buy signal by the Dow 30 On 5/28 Dow 15409 , On 6/24 one month later the Dow stood @ 14659 . An approx. 4.8% drop.
On 8/1 the transports once again hit a new high followed by another confirmation by the Dow 30 just one day later on 8/2. Dow 15658.
On 8/30 one month later the Dow closed at 14810 or 5.4% lower.
So here we are with a new confirmation today, the question is will we see the same results? I will let all decide for themselves , but for those that wish to go on a buying spree , I believe this pattern is worth noting.
Of course I am not turning bearish as I believe once again this signal suggests equities will be higher down the road. Keeping with my position that stocks have further to run in this Secular Bull Market, longer term.
Conclusion: While the Dow Signal is quite bullish , it can sometimes be confused with what may actually transpire in the short or intermediate term . Let's see if we get a meaningful follow thru.
Below is a chart to illustrate this point.
(click to enlarge)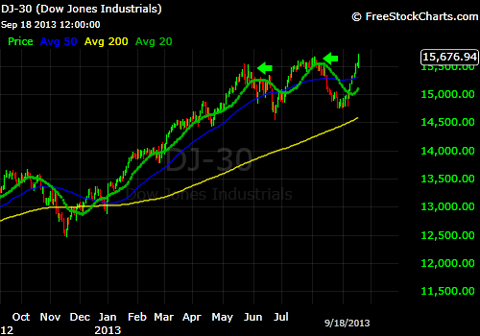 Click to enlarge