Last week I commented that while the averages had made new highs there was a "divergance" noted in the fact that the DJIA had not vaulted to a new high.. That concern was quickly erased this week as the major averages continued upward as the DJIA joined the party with a new closing high on Tuesday 10/29.
Now with the DJ Transports and the DJIA establishing new closing highs , another Dow Theory Buy signal was recorded.. I also mentioned in my comments last week that the overall market was in "overbought" territory, as all ten S & P sectors were trading in overbought territory. As a testament to that I noted the folowing remarks from the Bespoke Group about current market conditions..
"It is not too common for even one sector to trade two standard deviations above its 50-DMA (45% of all trading days), but to have the S&P 500 and all ten sectors trading at these levels simultaneously is practically unheard of. This event is so rare in fact, that going back to 1990, there have only been two other days where we have seen similar readings! . . . [The] first occurrence came in the aftermath of the first Gulf War on 2/11/91. The second occurrence came on 12/29/03 in the early stages of the prior bull market. Back then, there was no major catalyst driving the rally besides some stronger than expected economic data and the typical seasonal strength that is common towards the end of the year. Leading up to the 2/11/91 occurrence, the S&P 500 rallied 17% in just four weeks. However, even after that rally, equities did not see any meaningful pullback over the following year. While the momentum slowed, over the next year the S&P 500 never traded more than 2% below the closing level from 2/11/91. "
Might we see a repeat of that '91 market ? Fast forward to this year and we have rallied some 23% up to this "rare' occurrence" (similar to the 17% rise in 1991). IF that is the way it is going to play this time, it implies this "bull move" could extend a lot longer than most think.
Does that mean we bet the farm here and go all in , I suggest over & over if you are going to bet the farm at anytime you better have 2 farms.. What it does mean is the backdrop for continued market gains is in place .. The continuing Dow Theory signals , the improving economic data and now this example of a possible rerun of the 1991 scenario,, added to all of the other facts presented, further suggests that we are indeed in a secular bull market.
Updated daily chart of the S & P.. A pullback to the upward sloping trendline may be in order.. As has been the case after we reached all time highs in the past...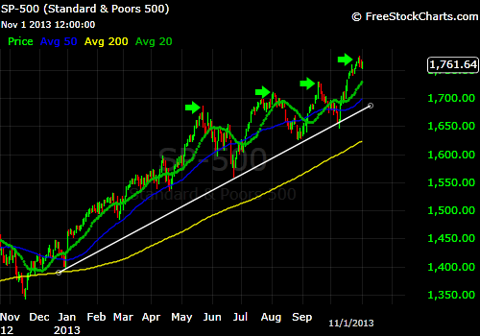 Markets will confound most of the experts most of the time & while the market is currently stretched , markets can stay overbought or oversold for a while. Going forward I don't see any sudden collapse at hand. A short term pullback, or perhaps consolidation & sideways pattern to work off the short term overbought conditions.. Indeed, my Buying Power Index is above its September highs, while the Selling Pressure Index recorded a new low last week, and all of the Advance/Decline Lines I look at rose to new highs.
Fundamentals ? Lo & behold, 63.5% of companies reporting earnings have beaten the estimates and 54.4% have beaten revenue estimates. So much for the "bad" earnings season most complained about this quarter. While this strong earnings rolls on ,the fed obsessed folks continue to parse every word of the fed statements. Ignore that noise , if we do get that pullback its because of the overbought conditions & NOT because of the fed.
The "overvaluation argument" that is bandied about may apply to some of the "high flyers" as is true in every market, but it's not a proxy for the market in general..
There are plenty of opportunities to get on board here. As I commented here on SA, those that have ignored the 'facts" and been paralyzed by the "bear" rhetoric have been left for dead. Anyone attempting to short the market is now simply "road kill" left in the rear view mirror as this car keeps moving forward. However markets are forgiving , there will be opportunities presented for those that may finally see what is happening around them ...
Time to concentrate on quality names that can be bought here for the long run ,, JPM has been obliterated in the media , yet the stock stays strong. When the Gov't witch hunt is over this stock will be much higher in '14 and you get paid to wait with a 3+% dividend. Look at CMI - quality name taken down this week. LEG a div. aristocrat is still ok to buy. CVX & XOM both Dividend aristocrats on any weakness will be great additions to a LT div. growth portfolio. GS should do very well in '14. TGT another beaten down aristocrat I recently purchased is still inexpensive.. V is getting hammered on earnings --that were positive . a true LT growth story.. Buy on dips..
Want growth ?, the biotechs CELG, AMGN have had great runs but are showing signs of weakness after superb runs , & that may present a buying opportunity. The Longer term Biotech story is just beginning..
And don't forget AAPL ---'14 will be an interesting year as AAPL is showing that it may trade back to my 650 target price..
Those are but a few names that can add value to a portfolio..
Good Luck with your investments .. Also welcome your favorite names & ideas here ..