This past week is expiration week for the November series of options.
3 of the 4 positions were called away , EBAY (3.2% gain in less that 30 days) , AAPL (6.7% in less than 60 days) , RIG (6.2% in 90 days ).
The cash received from those positions brings the total received from the portfolio to $10,678. As mentioned before, this is an "actual" portfolio , started with our first trade on June 5th. The amount invested at any one time has never exceeded $100,000. A nice profit in the 5 months since inception. We now have $18,600 invested in one position (NASDAQ:NUAN) which is currently "underwater" . The NUAN calls expired this week.
The table below is an historical summary of the trades .
(click to enlarge)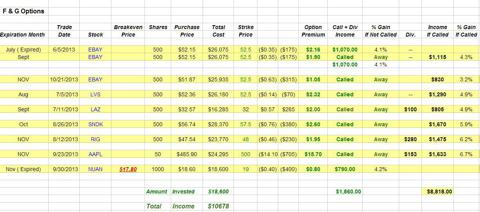 Click to enlarge
We now have $81,400 in cash and I will be looking to add positions to the portfolio next week. Since the NUAN position is underwater, we have the choice to sell the position and take a loss , write another call at a lower strike price to minimize any loss , or wait for a rebound in shares and sell a call at a strike price closer to where we purchased the stock. NUAN has shown some life in the last few days trading back over 16 , so I will wait until we get to the 17 (our 'breakeven" price is 17.80 ) area before deciding what to do .. As stated many times when selecting a stock for this type of portfolio , make sure you are willing to own the shares going forward. Of course if it is determined that it was a "bad" trade , it should be sold , take the loss, and move on .. I'm willing to hold here and see what happens..
Stay Tuned