MY NUAN position was not called away last week, and so I decided to sell the Jan 18 calls today for .60 ..
NUAN has been a disappointment since my purchase , but as the chart below reveals , if NUAN is called away in Jan, the position will have yielded $1,380 in income on the $18,000 original investment.. the cost and subsequent sale will be a "breakeven' and the position will yield an acceptable 7.6% in the 4 month holding period..
I also added 500 shs if FCX @ $36.57 today and sold the Jan 37 calls for $1.17. This position will also give us the January dividend payment and in total will yield 5% if called in the 2 month holding period.
(click to enlarge)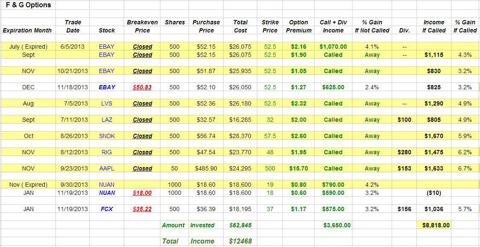 Click to enlarge
Best of luck to all !
Disclosure: I am long NUAN, FCX.
Additional disclosure: I am long numerous equity positions - all can be seen here in this blog---- I am short Gold via DZZ