Last week I laid out an overview of my first look ahead into 2014 and added a few facts as to why I believe the secular bull story can continue next year and beyond. The first part of this '14 commentary can be seen here:
http://seekingalpha.com/instablog/706857-fear-greedtrader/2445241-the-markets-where-we-are-my-first-look-at-2014-part-i
Now I overlay the economic and corporate backdrop I am working with to dovetail with the that picture. I start with data points that I have gleaned from Corp. surveys & their execs. It is not scientific and not endorsed by any organization, but it's another piece of the puzzle that I will be using to formulate my strategy as we start a new year.
Credit conditions are continuing to improve.
Loans going on the books the last 3-5 years are the best quality in 25-30 years.
Loan demand is slowly picking up - starting to see competition.
Cost cutting/efficiencies are a growing management focus. -Contrary to popular belief there is still room here.. Technological enhancements (i.e Robotics, etc.) play into this theme once again.
Improving fee income another growing focus of management - loan demand will help this effort.
Balance sheets are liquid with much improved liability structures - I see some of the best balance sheets of my 30-year career.
M&A activity expected to increase as regulatory process clears up - everyone is looking around for deals.
Dividends and buybacks are expected to increase. We are coming off a record year on that front - it doesn't abate in '14
Valuations (P/E ) are around the average historical ranges.
In general, companies will benefit from higher lending activity as liquidity (yielding 0.25% at the Fed) is deployed into loans at current rates in the 4% range. Companies will benefit as cost cutting and fee income enhancements work through the income statement. Companies will benefit as credit continues to improve and the cost associated with bad assets abates. I believe a rise in rates and/or increase in loan demand will benefit EPS growth more than the market believes. The market is underestimating the benefit of cost cutting and fee enhancement. M&A activity will be more than expected as recent deals have been accretive and stocks of both buyer and seller have risen. If you believe the economy is getting better, and this will show up in loan demand and modestly higher rates, then as I have stated in earlier comments , financials are an attractive investment. Financials are "economic growth stocks." ( I added more JPM and initiated a position in GS last month.)
http://seekingalpha.com/instablog/706857-fear-greedtrader/2328872-goldman-sachs-gs
We are moving from a climate of fear ( well, maybe not so for the naysayers that are still with us) to one of opportunity. This year was spent beating back the "doomers" and their headlines. . As we have seen, positioning yourself against a U.S. financial collapse was a great call. Ignoring the cries of a Eurozone crash was a great move. Betting against a Chinese hard landing that threatened the whole world was a good call. Avoiding the noise about a debt ceiling default was the right choice. Lets not forget Cyprus, Syria, tax hikes, sequestration, and of course how Japan will lead the global economy down. Closing your ears to all of that doomsday talk has worked out well.
Now for opportunity - Sector and stock picking will be rewarded. There are some good themes out there to follow, and I endorse the following:
Lower your bond exposure if you haven't done so already, especially in the long end , keeping maturities short.
Lower or limit exposure if you have any to precious metals which depend on either fear or hyper-inflation.
Limit exposure or simply remove stocks that have extended valuations - including some small caps, recent IPO's, and pure dividend names. The utility sector is still selling at a premium to the market.
Move into the less-favored sectors - large cap tech, cyclicals, and financials.
I also Like energy as a LT growth play and names in this space can also come in handy as a hedge in a fearful environment such as a geopolitical risk "event". I have read recent reports on the Permian Basin and the Eagleford oil plays here in the US and I am extremely bullish on the LT prospects for E & P companies in that region.
The questions I am most often asked, and the questions I ask myself are: "Is the bull market over?" "Is it too late to own stocks?" "Is it time to get defensive?" My answer to each question is a cautious "No."
"A bull market climbs a wall of worry." Goodness knows our elected officials in Washington have given us plenty to worry about. As a result, distracted investors (the fed obsessed crowd) may be ignoring developments in our economy and elsewhere , that may enable a more sustained bull market than most people can contemplate. I have stated my thesis on the secular bull over & over so I will refrain from covering old ground. All of that can be seen here in this blog.
For those that say the bull run is surely over, here is a chart from capital Research which shows that the recent strength doesn't have to signal an end. We just may have more to run.
To sum it up, it shows that over the past 18 years, the market is up 100% of the time 12 months after a +30% year over year gain. Can we add '13 to this list ??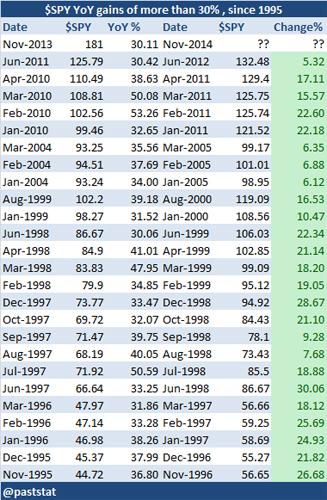 As I take a look into '14 , I can see earnings & growth to justify an S & P of 1900 , and I have commented to that effect here in the blog using an earnings estimate of $120 and applying a PE of 16. . If PE expansion continues as some suggest, S & P 2000 down the road is not out of the question. IF I am correct that would suggest a 5% minimum upside from the present S & P level of 1800 ..
Sounds good for the bulls but how we get there in '14 of course is the real challenge. A double digit dip, say 15% from 1800 down to the 1560 level , to test the June '13 low, then another liftoff to my 1900 or so target ? Or perhaps a slow grind higher with small corrections as we have seen this year along the way . The market pauses , digests , works off excesses ,re-evaluates the economy but at the end of the day is higher. My initial thought process says there may be a correction down to test the June lows ( S & P 1560) . Maybe the shivers of Fed tapering starts it off , who knows. For now that is the way I am positioning myself. After all we are up a nifty 26% this year on the S & P as I type this. A nice 170% from the March '09 lows. Almost 2 yrs without a 10% correction. Its a prudent choice to be selective and conservative now.
In taking the small step approach , as I look out into early next year the landscape looks like a slower growth environment with the wall of worry in place as being an overall good environment for stocks. I do see the possibility of 3 -3.5% GDP, The market should also be forward looking at the continuing change in the economy's direction since 2010 & is further anticipating major sea changes that will grow this economy even further.. but as mentioned ...... Overreaction to the Fed reducing asset purchases , DC crowd continues to get in the way , and who knows what else...they are all stumbling blocks for sure .
Since I am not clairvoyant , I prefer to err on the cautious side. Selectivity and caution are my two key phrases that I take with me into the first part of '14 I continue to keep my core holdings, centered around the LT Dividend Growth names for the ride to higher levels and being patient and waiting for opportunities to put that cash back to work along the way to that goal.
And if you are inclined to do so, follow along with the covered call writing strategy here in the blog or design one for yourself as it can provide very nice returns.
There are pockets of overvaluation in the market, BUT there are plenty of places to make nice returns as we move forward. Look at my recent comments on individual names, EBAY bought this past week is higher as the market sold off, AAPL up 15 on Tues, when the Dow was DOWN 94. JPM, GS all added recently .. It's not a stock market it's a market of stocks and I believe that theme may be very important in '14.
What could derail S & P 1900 or so ? The Inept DC crowd and the leader of the free world continue to keep their fingers in the mix. A wild overreaction as The Fed reduces it's asset purchases which I believe will commence sometime in '14. If that negative knee jerk reaction takes the averages down dramatically in the midst of the earnings backdrop I envision , it sets up nicely for the bulls. Interest Rate normalization and the coinciding Fed reduction of asset purchases will be a "positive" for the markets, as it simply signals an improving economic backdrop. Add these factors to any market selloff and you have a HUGE buying opportunity.
What could give us S & P 2000 ? The same DC crowd actually contributes some positives , a budget deal, or other compromises. ( a long shot for sure) . More likely --PE expansion takes root along with the anticipated earnings improvement , we get my forecasted 3% +GDP growth , along with an even keeled reaction to the Fed and tapering which doesn't crater the averages, and we just may see 2000 in 2014 .. .
The first small step, get thru '13 and into the first quarter , reevaluating along the way. I expect to have a list of individual names that I am looking at for 2014 sometime next week. If the market continues to be weak here look at financials on any dips BAC,C,JPM,GS, as they surely are on my list of outperformers for next year.. Oil plays in the Permian basin PXD,CXO & WLL are selling off after huge runs , all three are LT winners.
Best of Luck to all
Disclosure: I am long C, BAC, JPM, GS, CXO, PXD, WLL.
Additional disclosure: I am long numerous equity positions, all can be seen here in this blog