I'll start off with just two of the trends that are in place today, and for me they are "difference makers"
1.Americans' debt burdens are as low as they've been in a generation.
2.The federal budget deficit has fallen off a cliff."
These are huge events. The easing of the twin headwinds of private sector de-leveraging and public sector austerity will bolster the improved outlook here in the U.S. Many emerging economies will also likely enjoy stronger growth in 2014, pulled along by export-led growth to the United States, Europe and China. That said, the global growth rebound is likely to continue its slow improvement in '14.
The trend continues, Federal outlays have declined by 1.4% month over month in November and have been flat for nearly five years, Federal tax receipts have surged by 2.8% month over month, and personal income and corporate profits have risen dramatically. I have stated this before but its worth mentioning again. The federal deficit has narrowed to less than 4.0% of GDP, and the CBO is estimating it will narrow to 3.3% in 2014. My statements during this entire year have carried the message that the stock market does not care about the absolute of "good or bad," but merely if things are getting "better or worse." Well, things have improved and continue to get better.
Look at the headlines that have been written lately "Capital leaders Agree to a Deal on the Budget," (New York Times, 12/11/13); "Wall Street Exhales as Volcker Rule Seen Sparing Market-Making" (Bloomberg, 12/11/13); the "WTO Seals Deal for First Time in 18 Years to Ease Trade Tensions" (Bloomberg, 12/7/13) ... These are important items that haven't received the attention they deserve simply because the majority have their eyes and ears on the FED.. It's speculation on my part BUT maybe just maybe we will in fact see a "grand bargain" come out of DC. simply because the Obama administration is afraid of the negative effects of Obamacare on the mid-term elections.
And just look at the recent dividend increases announced lately, (NYSE:BA) 50% increase ,(NYSE:MMM) 35% increase, (NYSE:GE) 15% increase,(NYSE:CVS) 22% Increase. These announcements were made in just the last 2 Weeks ! Examples of how corporate balance sheets are in great shape. All of this in the midst of the naysayers moaning about how the earnings "quality" isn't there .. Ridiculous !
Now, one can see why the market has done so well and in my view will likely continue the upward trend again in 2014. Maybe not at the same rate as '13 (~25%) , but if earnings arrive at anywhere close to what the bottom-up, operating earnings estimates for 2014 that are being suggested ($120) with the same multiple as today, well, we have the making of a nice year ahead.. All of that , and now add a bit of history on our side.. from JPMorgan,Factset Research:
Many are highlighting the fact that this bull market is "old" and tired . I already spoke to this in my commentary here as it may not be as old as everyone thinks: http://seekingalpha.com/instablog/706857-fear-greedtrader/2445241-the-markets-where-we-are-my-first-look-at-2014-part-i
So, how does this bull market fare vs. other secular bull markets ? Their take --5yr old bulls turn into stronger 6 yr olds ..
(click to enlarge)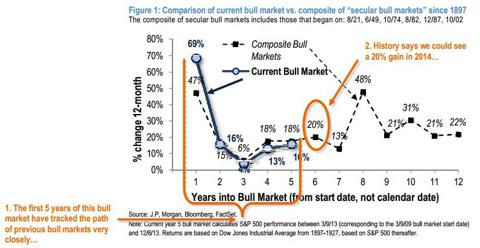 Click to enlarge
Then we have this fact - when markets are up 20-30% in a year they continue to be positive 75% of the time with an average gain of 8.1%:
(click to enlarge)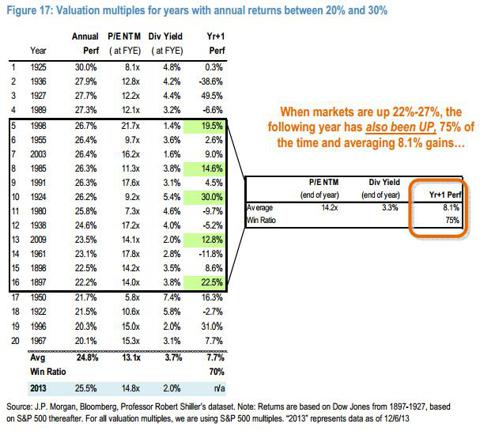 Click to enlarge
These are nice to know facts, but of course they do represent "history" and there is no guarantee that 2014 will follow. However, unless we get an unexpected jolt from somewhere, or a total turn in market "psychology", I believe as stated earlier , the equity market will be higher in '14 as the secular bull market that is currently in place prances on..
Where is the money going to come from to fuel this potential next leg up..? Sure there has been a lot of Bond fund outflows already as they are on track to have another -$20B outflow in December, making for an almost -$260B outflow over the past eight months. However, given that over 1.3 TRILLION poured into bond funds over the past five years, there's much much more to go, particularly if bond yields continue to rise. We are just at the beginning of this trend, which will take a long time to unwind completely.
Ok, I know its repetitive but that's the way I envision it, but before we get there i would like to see a healthy correction.. A drop to get the "bears" giving me their "I told you so song". The bears will get suckered in again to their beliefs and the "other shoe" will drop for them .. The question is when,, My latest indicators are suggesting that it may be near , but they have flashed this info before.. And the bullish reaction to the Fed today may have just reversed all of those for the near term. The caution was predicated on the fact that recently I noticed that a lot of stocks reached new highs only to close lower than the week before , and that is indicative of short term topping.. Making a top is a process and we may be in that phase now. I maintain that it won't be a "major" top and it should be viewed as an intermediate top in an overall LT trend. I will now add that a close on the S & P above 1812 , should set the stage for another leg higher .
The fed announcement and the initial reaction with the S & P up 29 points today indicates that many market participants have come to grips that tapering isn't tightening.. I wonder what the folks that have preached that's "it's all about the Fed" will offer now as an argument. It is the first step in proving what many including myself have been saying all along , "it's all about the economy" .. Don't be " fed obsessed "
I am trimming extended 'winners'. Harvesting some cash as I believe that being flexible will be the key as it is so difficult to call the day to day , week to week movements of the markets. However, I am using the backdrop of the secular bull trend as a guide to add selective issues when they enter into a buy zone.. Of the names I mentioned last week, (NYSE:PXD),(NYSE:CXO),(NYSE:WLL),(NYSE:CAM),(NYSE:CRM),(NASDAQ:CTRP),CVX) are all in that range as I may start to scale into those names .. I added (NASDAQ:CSCO) today , its my favorite play on the "Dogs of the Dow" theory for 2014. (PE 11, FCF% yield 10% Div Yield 3.3% )
And the sector I have highlighted recently (the financials) rallied hard on the Fed news.. Add on dips as they are winners in '14.
Best of luck to all !!
Disclosure: I am long CXO, PXD, WLL, CSCO, CAM, CTRP, CVX.
Additional disclosure: I am long numerous equity positions, all can be seen here in this blog