Alere Inc., based in Waltham, Massachusetts, provides diagnosis, monitoring, and health management solutions. The company's products and services, as well as its new product development efforts, focus on cardiology, women's health, infectious disease,diabetes, and toxicology. Its operating segments include professional diagnostics, health management, and consumer diagnostics.
Alere has reported four consecutive quarters of increased earnings reported with the latest "beat" on their Feb 6th release that 4Q13 EPS of $0.68 exceeded the $0.62 Street consensus; adjusted EBIT of $142.9 million also exceeded the $132.7 million consensus, and was +6.3% y/y.
However as they have done in the past , Alere did not provide formal 2014 guidance, but did reflect on the progress made to date in achieving its three strategic priorities. Surprisingly, the stock sold off on the report falling to the 33 area.. After listening to the conference call I believe investors may have misinterpreted some of management's comments with regard to asset sales, 2014 growth expectations,etc.
However the takeaway that was apparent to me is that management is still on track with all previously outlined objectives. So with the fourth straight earnings improvement in the last year now in the books , and nothing changed in the company strategy or goals , the sell off created an opportunity.
2014 EPS estimate is $2.58. For 2015, we can see EPS of $3.00 I remain confident in management's ability to achieve its strategic objectives. That reveals a current PE of 13.4 and a forward looking PE for 2015 of just over 11..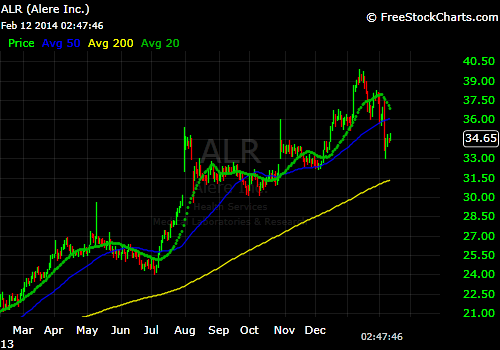 The daily chart above indicates that the stock is still in a solid uptrend despite the recent weakness... I added shares today (2/12) @ $34.69 and believe the shares can get back to and exceed the highs it just achieved in January with a price Target of $40-$42 or some 20% from here..
Given the solid fundamentals , the shares present a favorable risk/reward here....
In addition, I added another block of shares at the same price , & sold the March 35 call against that position @ 1.20 .. That works out to a 3.4% yield and if called away @ 35 it is a 4.4% return for holding period of 5 weeks... If the shares are not called away , I will have the option to sell another call for more income or wait until my price target comes into play ..
The initial block of shares will be an intermediate (6- 9 months) holding in my portfolio .
Best of Luck to all ......
Disclosure: I am long ALR.
Additional disclosure: I am long numerous equity positions -- all of which can be seen here ..