Major peaks usually coincide with euphoric behavior, but I am not seeing the euphoric behavior that many are suggesting as they proclaim that we are now at a "Major Top" and about to enter into a new "bear" market.
Perhaps a reality check is warranted. Scary headlines are still abounding , charts of 1929 are making the rounds on blogs everywhere. Many are still obsessed with Fed policy, & earnings quality is questioned (yet again). China, emerging markets, Congressional bickering, Lower GDP forecasts all recently made the headlines. Throw in two bear markets still fresh on investors' minds, and multiple short-term pullbacks since the 2009 lows have all combined to push investors out of the market and dissuade potential investors to "stay out" & sit on the sidelines.
Add the cries of many who are "warning" that we will revisit the lows , that the S & P's "real" value is 1100 , that earnings will crater and its easy for an investor to be concerned and confused.
Facts that I gleaned from Schaefer Research;
Here are the Inflows/outflows into U.S. equity mutual funds in the three calendar years ahead of a bear market, along with the S&P 500 Index return over the same three-year period. Per the table immediately below, the sentiment among retail investors looks absolutely nothing like the years preceding the bear markets we witnessed in the 2000s.
To the contrary, fund flow data represents skepticism and disbelief among retail investors.

I have stated repeatedly that the current bull market is one of most hated bull markets in history and I continue to pound that drum..
Lets reveal what the "short" interest numbers are now telling us :
The "short" interest on S & P component names is near three-year highs and far above the 2012 low. Meanwhile, the SPX is near all-time highs and nearly 50% above 2012's low (see chart below).
The large outstanding short interest and performance figures suggest that the $2.8 trillion dollar hedge fund industry is underweight U.S. stocks. Hedge funds represent another source of buying power, if they decide to increase U.S. equity exposure.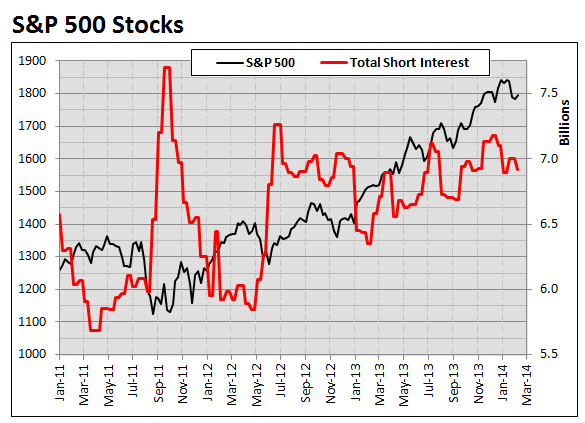 Even though "buy the dip" has worked and potential investors "claim" to be waiting for a dip to buy, pullbacks within the trend have actually generated spikes in "fear" that have marked excellent entry points. This past pullback was no different in terms of a spike in fear.
Below are just two examples of evidence that suggest that when fear spikes, as it did recently, it gives reason to believe that market participants continue to sell pullbacks to support areas, instead of taking advantage of what has worked for the past couple of years (buying pullbacks when support is reached):
"Traditional U.S. stock mutual funds and exchange-traded funds together saw withdrawals of $18.8 billion in the week ended Feb. 5, their biggest weekly withdrawals on record. The abrupt reversal, led by ETFs, came while the VIX Spiked & the S & P bottomed @ 1737.
"Euphoria" ?, Irrational exuberance ?, everyone is "all in" ?, I suggest the data shows otherwise.
Lets examine the VIX chart below highlighting the latest three "spikes" in fear: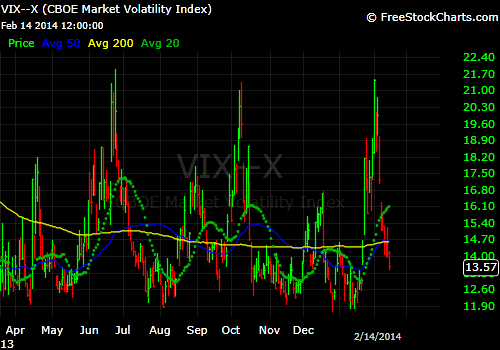 And a chart below of the S & P to further illustrate those dates when the "VIX" spiked..
June 24th,'13 S & P hits its low of 1560 then rebounds to new highs .
Oct. 9th,'13, S & P corrects to 1656 then rebounds to new highs.
Feb. 4th,'14 S & P dips to 1737 - will we see the same ? will the S & P rebound to new highs ? will this time be different?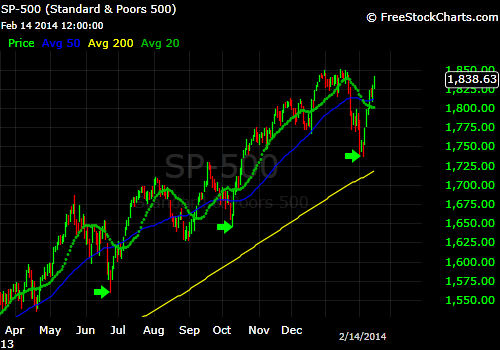 I don't have those answers, but I do suggest based on the facts shown, that if we don't in fact vault to new highs now, we "may" be carving out an "INTERMEDIATE" top OR settling into a trading range.
In my view, either way, that will be a pause in the secular bull market that will take the S & P to new highs in the future. I do not believe that we are in fact at "THE" top with a 40-50% fall into a bear market that will ensue as many are now suggesting.
And in fact IF we do vault to new highs , it profoundly rejects the argument of the naysayer's once again. The crowd that has disbelieved and questioned the entire economic recovery along with the market run will need a "Black Swan" event that no one can predict to eventually make their position a viable one..
Having an investment strategy and setting a foundation for one's financial future predicated on such an event, is at best, convoluted.
Predicting, suggesting and waiting for a systemic collapse or the next war as your backdrop is hardly the way to create & build wealth over time.. It's twisted, counterproductive and a waste of time..
The naysayers seem to have cornered the market on such thinking as they continue to suggest the market's demise.
Best of luck to all.....