As a follow up to my commentary last week concerning a Major Market TOP. I note the following statistics:
Last week the New York Composite Advance/Decline Line rose to a new bull market high. That is not the kind of action one sees at MAJOR market peaks. Indeed, the 1929, (haven't we heard & seen enough of that lately), 1973, 1987, and 2000 stock market peaks were all preceded by LONG periods of deterioration in their respective Advance/Decline Lines.
Also, all of those prior peaks were preceded by a parade of other "tops" in the New Highs/New Lows Index, the D-J Transportation Index, the D-J Utility Index, etc. Accordingly, this isn't similar to any of those market peaks. !
This activity indicates, that if anything, it represents action coincident with "trading" tops, not a Major Peak.
I am still holding on to my thoughts from last week when I commented " I do suggest based on the facts shown, that if we don't in fact vault to new highs now, we "may" be carving out an "INTERMEDIATE" top OR settling into a trading range.
I will now add that a re-test of that "sustainable " low of S & P 1737, may be in the cards. Therefore I remain cautious, yet still willing to buy select stocks.
Here's the exclamation point on this past quarters earnings results.. 61.9% of reporting companies have beaten their 4Q13 earnings estimates, leaving aggregate profit growth in the 4Q13 at +9.3%. As for revenues, they have bettered revenue estimates by 64.1%. That "beat rate" suggests the bottom up, operating earnings estimate for the SPX is close to the mark at $107.75, leaving that index trading at a P/E multiple of ~17x earnings. If this year's estimate is accurate at $120-$121, with no P/E multiple expansion, a like multiple would give the SPX a year-end price target of 2053 ,or approximately 10% higher from here.
Another fundamental point that I have stated and perhaps the most under-appreciated statistic today; the unprecedented and the continuing decline in federal government spending.
In the 12 months ended January 2014, spending was 4.4% below the level of January 2013. Annual spending has not increased at all since mid-2009. Approximately Four and a half years of zero net change in spending, and almost three years of steadily declining spending.
This is excellent news, and its news that has proven to be the exact opposite of what was expected to happen. The "naysayer" arguments had spending continuing to rise for as far as the eye can see, by at least 4-5% per year, and they were wrong as the chart below illustrates.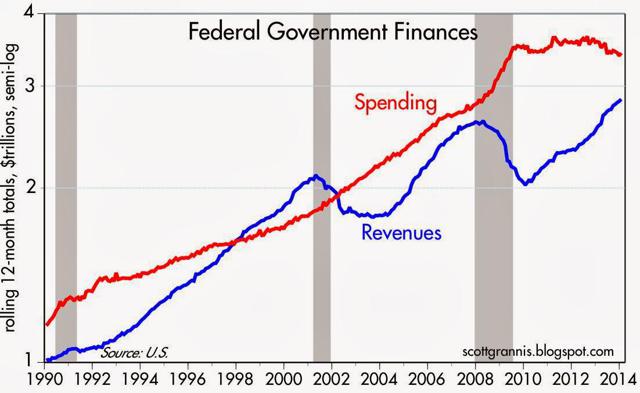 The federal budget deficit has fallen to a mere 3.3% of GDP.. If recent trends continue, the budget deficit could be less than $400 billion by the end of this year, and that would probably be only 2.5% of GDP. What happened to the "scary" cries of the "bears" ?
Another "positive " that came out of the DC crowd recently :
The resolution of the debt-ceiling debate is good medicine for the recovering US economy, and its beneficial effect is already visible in the short-term interest rate sector of the financial markets and that is the important news that did not make the headlines.
Maybe this is a start, the first sign that things can change , and there is plenty more for the dysfunctional D.C. crowd to achieve. Keeping D.C out of the "spotlight" is good news for the markets ..
Rather than list the results of surveys or polls here is the actual data showing what people are really doing - not what they want to project or what they think they might do.
After a long time , confidence is finally returning. One item to support that view; the household deleveraging cycle is being replaced with a new borrowing cycle. This is being driven, undoubtedly, by the tightening labor market, the muted pace of layoff headlines, the improvement of our 401(k) balances and the stabilization of national home prices.
More evidence on the state of the U.S Households and its also positive. From JP Morgan :
"We have written in the past about the $13 trillion increase in U.S. household net worth in the past two years. This works out to about a 7,500bp increase in household equity/GDP ratio (Figure 10)."
"What most investors may not be aware of is that the increase in the U.S. household equity/GDP ratio is the largest increase for any developed nation. There is likely to be positive consumer spending effects in the coming periods from U.S. household net worth being meaningfully higher than that in any other country today."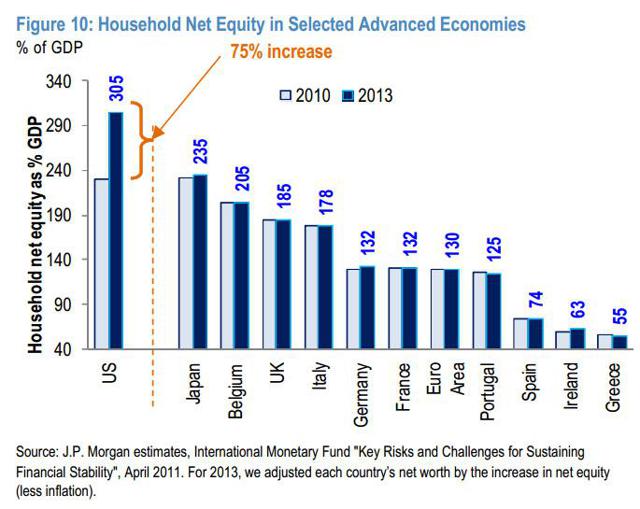 These improving macro fundamentals which I highlighted in 2013 are just some of the continuing evidence to support the secular bull theme.
And what does that mean for the markets ? The return of confidence-should it continue-has huge implications for the price of risk assets (equities) and for the future course of monetary policy.
Investors are now more likely to prefer the higher yields available on corporate bonds and equities than they are the safety of bank deposits. The shift into riskier assets could become a stampede unless the Fed raises short-term interest rates by enough to make savings accounts attractive on a risk-adjusted basis with other assets.
Bank savings deposits started to surge right around the end of 2008, when global financial markets teetered on the verge of collapse. Savings deposits at U.S. banks totaled $4 trillion at the time, and now, just five years later, they stand at $7.1 trillion. That works out to a 12% annualized growth rate.
Now savings deposits have only grown at a 3.2% annualized rate over the past six months, and have posted zero net gains over the past three months. It's is on my watchlist as I believe its the start of the return of confidence. That is huge news.. and its just at the beginning stages. Fuel for the secular growth story..
PE ratios are still only "average" so i contend that there is no sign yet of euphoria that was evident at the top of other bull markets.. In fact its far from it...
I believe If confidence continues to increase, we should see the prices of gold and TIPS decline further and once again that plays directly into the bull story..
Here is another bone of contention between the "believers" and the crowd that wishes to cast a shadow on every piece of information.
"Weather", The severe global weather continued to impact the U.S., European and Japanese economy at the macro and even micro level…Its the reality of the situation, yet the negative crowd will say its an "excuse" However , don't lose sight on the potential upside from this winter's wrath…
The Fed -- "nothing has changed"
Yellen reiterated that it will likely be appropriate to maintain the current funds rate well past the time when the unemployment rate declines below 6.5%, especially if inflation continues to run below 2%. A Federal Reserve continuing an accommodative monetary policy, with a quiescent bond market (the 10-year UST closed with a 2.73% yield last week), is typically a good recipe for continued strength in the stock market.
In summary, I continue to believe the fundamentals for the Secular bull theme are in gear and buoyed by some of the macro trends that are now in place and showing signs of getting stronger..
I continue to use that as my "backdrop" going forward. While keeping an eye on the short term market action and using any weakness in issues that I favor to add or initiate...
(NYSE:CVX) quality name that recovered recently from some of the selling that drove it lower..Might it drift lower , of course but if one has a time frame longer than 6 months they will be rewarded. A great yield with 10 yr div growth over 10% . Sound frothy and wildly overvalued to you ? Plenty more out there ...
(NASDAQ:MU) continues to make new highs, (NYSE:ALR) , a new addition is acting fine.
(NYSE:CPA) just beat earnings estimates by 25%, raised the div 30%, reiterated their guidance as their strong growth trends continues.
That puts it into my "triple play" category .. Beat , raise & raise.
The stock popped on that report, then weakened during the volatile trading week. It can be bought in the 136-140 range -- My PT $185- 190 .. More here :
seekingalpha.com/instablog/706857-fear-a...
And for those that look for VALUE there is (NYSE:RIG)
The shares are going for under 8.5x forward earnings, a deep discount to the overall market multiple in addition to the company's five year average valuation of 10.7. The company has also beaten bottom line expectations five of the last six quarters. RIG sells for just under book value and has a five year projected PEG of under 1 (.63). The company has a ~$30B order backlog. Add the 5.2% current div. yield & all of that makes a compelling case to add these shares currently trading @ $43..
Yet many are still saying the market is in "bubble" territory.. Can they really be serious or just rolling out the "fear" trade to make their bearish views seem plausible.. ?
Ok, the fundamentals for LT secular bull, seems ok, how about the "next move " .
With the S & P now back up sniffing the old highs of 1848, we can certainly see a tipping point either way in the next week or so.
Will it be a vault to new highs which will have the shorts scrambling yet again, adding fuel to that move ? Or a failure here once again to break thru, sending the S & P down to test the recent low ? A trading range or perhaps even a further probe of the downside if that's broken ?
I don't have those answers and suggest that anyone that can definitively tell us that next move is simply making a "bet on their best guess".
For those that have been listening, taking profits along the way, trimming stretched positions, selling upside calls for income , It's simply stay the course and let the market decide the next move , if any ...
Best of Luck to all.
Disclosure: I am long CVX, GS, MU, ALR.
Additional disclosure: I am long numerous equity positions all can be seen here in this blog--I may initiate a position in CPA in the next few days...