Copa Holdings, (NYSE:CPA), is a Panamanian holding company consisting of Copa Airlines and Copa Airlines Colombia, which provides service to 64 destinations across 27 countries in North, Central, and South America and the Caribbean through a hub-and-spoke operation from Tocumen International Airport in Panama City, Panama. As of September 30, 2013, Copa Holdings operated a fleet of 90 aircraft consisting of 64 Boeing 737NGs and 26 Embraer-190s.
Copa's 4Q13 EPS of $3.21, up 60% year over year, was sharply above the consensus estimate of $2.57. The earnings outlook for Copa continues to be favorable as the company anticipates y/y EPS gains of 11% to $11.70 in 2014 and 12% to $13.15 in 2015.
One issue that was an "overhang" for the company is the weakening LatAm currencies. Shares have been pressured by concerns over the impact on profitability from weakness in other Latin American currencies against the U.S. dollar.. YTD, on average the Chilean peso has weakened 12% y/y, the Brazilian real 15%, the Colombian peso 17%, and the Argentinean peso 30%. While 55% of Copa's costs are USD-denominated, only 40% of its revenue is in USD. However, given Copa's predominantly international network, 95% of revenue is either in USD or pegged to the USD.
So far, as currencies have weakened, the resulting pseudo-fare increase in local currency terms does not appear to have had a significant impact on demand.
Jan 13,2014
IATA ,(International Air Transport Assoc.) the industry watcher, says strong reads on consumer and business confidence bodes well for an acceleration in the next few months for passenger traffic.
Regional traffic growth: Asia-Pacific carriers +5.5%; European carriers +4.1%; North American carriers +1.7%; Latin American carriers +6.9%.
Dec 10,2013
The IATA expects global airlines to post profits of $12.9B this year to represent a margin of 1.8% of revenue. Last year, the industry saw a profit margin of 1.1%.
Profits are expected to soar to $19.7B in 2014 which reps a healthier margin of 2.6%.
The stock is currently selling at a PE multiple of 12x 2014 earnings estimates and approx. 10.8x 2015 expectations.. Combine these stats with the industry growth expectations and CPA becomes an attractive situation.
The recent dividend increase to $3.84/sh. now gives CPA a forward yield of 2.7% making it a bit more appealing.. Also making Copa unique as other regional airlines offer a token dividend or no dividend at all.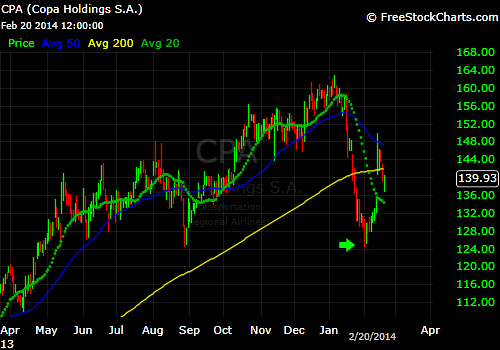 The chart above shows a "double bottom pattern as indicated by the arrow at the low of ~ $125 . The same pattern I pointed out to investors when AAPL traded @ $390.
Given the improved fundamental picture that is presented to us and now these technicals , I believe that the $125 low has a slim chance of being revisited.
Notice that there is a gap that has to be filled @ around the $136 level.. and I suggest accumulation begin in the $136-142 area. The stock has a thin float and can be volatile..
I will be initiating a position in the next day or so , especially if I see the "gap" filled and a move higher after that ...
I will update after my purchase...
Disclosure: I have no positions in any stocks mentioned, but may initiate a long position in CPA over the next 72 hours.
Additional disclosure: I am long numerous equity positions - all can be seen here in this blog