Last week I noted where the equity market might be headed with these comments :
"With the S & P now back up sniffing the old highs of 1848, we can certainly see a tipping point either way in the next week or so.
Will it be a vault to new highs which will have the shorts scrambling yet again, adding fuel to that move ? Or a failure here once again to break thru, sending the S & P down to test the recent low ? A trading range or perhaps even a further probe of the downside if that's broken ?"
The market has spoken with new highs on the S & P , the Russell 2000 and the S & P 400 midcap indexes this week..
Add those facts to my comment from last week --"The New York Composite Advance/Decline Line rose to a new bull market high. " -- and the near term outlook becomes encouraging ..
For now we can dispel the notions of "double tops' , head & shoulders " patterns , 'the small caps aren't performing" , et al , that were rolled out as cautionary chants and impending doom alarms from the sidelines.
The two laggards are the Financials and the Dow 30 and at least for now we'll have to welcome the new highs without them.. (That is still a concern to me). I have seen some sector rotation taking place in the market as both the energy and now retail sectors have firmed up and look stronger here..
IF the financials do get a bid and money starts to rotate back into those names , the market could further strengthen from here...
Some other notable facts I saw this week :
More M&A activity. Corporate deal activity has been on the rise in recent weeks. In a world of relatively slow growth, and fewer opportunities for organic growth, it's no surprise that companies are willing to deploy cash - and in some cases rich stock valuations - to buy growth. The willingness to engage in mergers and acquisitions may also be a precursor to rising capital spending.
So what does this mean for investors? Low rates should support equity valuations and help keep long-term Treasury rates from rising too aggressively. In addition, higher levels of deal activity and higher capital spending levels also tend to act as tailwinds for equity markets.
I mentioned the retail sector earlier ---- The S&P 500 is up roughly 6% since its 2014 low but specialty retailers? +8.3%. The (NYSEARCA:XRT)retail ETF is up 8% since its low. Its money rotating into these names.
Consumers -- and consumption -- have been a major worry for investors and as such, the reversal in these shares is something to watch as evidence that investors are looking beyond near term concerns.
As stocks move higher and higher, you would expect brokers to get more and more optimistic and bolder in their predictions. However, that is not the case :
Analyst "Buy" Recommendations: The following chart represents the total number of analysts recommendations for the S & P universe . A percentage of "buy" recommendations from that data set was then calculated.
The trend in the percentage of "buys" has, for the most part, coincided with the trend in the S& P. However, since late 2011, the percentage of "buys" on individual stocks has declined significantly -- even while stocks have continued to climb.
One can draw a simple conclusion that analysts and brokers don't seem too be getting bolder in their predictions. In fact, they seem to be getting more and more cautious.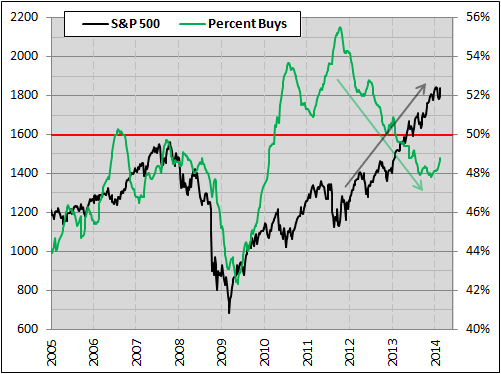 Now if we look at a longer term perspective and its easy to see the euphoria that was present during the tech boom, when nearly 75% of analyst recommendations were "buys." The percentage of "buys" has never been close to that level since, and the current trend is down. It's not 2000 folks.......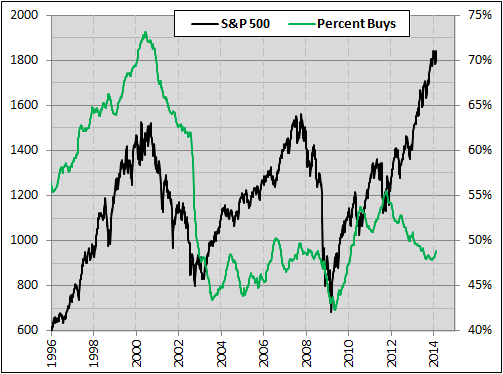 "Euphoria", "all in" , "Bubble" are words that are thrown around by the doomers to "make" their case seem more plausible.. They've been grasping at these straws for months if not years.... Pockets of euphoria , in certain names , of course, but that is the case in any market.
The data isn't there to support the ill fated strategy that they have chosen, and its been that way for years now..
A note from Schaefer research also indicates everyone isn't 'All In"
Short interest on SPX components is near a multi-year high, that shows there is the potential for a lot of short covering to drive things higher over the coming months. Then -- considering March and April have been two of the strongest months going back the past 20 years -- seasonality looks nice here.
It is more important to focus on fundamentals - the economy, earnings, and always look for the risk of recession. On those fronts all of the data seems encouraging.
I mentioned that M & A activity is ramping up and that bodes well for the investment banks.. (NYSE:LAZ) , (NYSE:MS) & (NYSE:GS) should all benefit
(LAZ) is my favorite now , with its 2.7% yield , the earning power that might be unleashed with increased M & A activity is tremendous..
From my list of 2014 picks --- These stocks have recorded nice YTD gains
(NASDAQ:CTRP)+16.8%, (NYSE:CRM) +13%, (NYSE:PXD) +9.3% ,(NYSE:WLL) + 11.24%(NYSE:CXO) +11.9%, (NYSE:CAM)+7.6%, (NASDAQ:EBAY)+7.11%,(NYSE:AAP) 15% all while the S & P is now up less than 1% to date.. These stocks are up even more if they were purchased when I first mentioned them here in Dec. '13 :
seekingalpha.com/instablog/706857-fear-a...
Notice the 'energy" names there, more evidence of money finding a home in what was an underperforming sector.. Individual Stock selection will continue to be "key " to this years performance..
With the latest breakout , I believe there is a decent possibility to continue to the 1900 level on the S & P. For anyone that has been on the sidelines and wishing to commit funds here, I don't recommend chasing but instead continue to pursue the names that continue to look attractive and pick good entry points.
Since all of the names I listed above have made nice moves, Its best to be patient and wait for a pullback in those stocks to initiate positions there. (EBAY) is the one exception , as it has just broken out of a very long basing pattern and has plenty of room to run ..
I'll have a detailed report on that one later..
There are always opportunities , and here is a list of names that should provide nice returns .. Nothing wrong with (NYSE:T) or (NYSE:VZ) , the telecoms have underperformed and they are at their lows.
(NYSE:RIG) - undervalued, (NASDAQ:CSCO), (NASDAQ:AAPL) , (NASDAQ:MU) are at attractive prices. (LINE) solid choice for income .
Retail names - (NYSE:TGT) , (NASDAQ:BBBY) ,those two are undervalued --(NYSE:COH)
(LAZ) mentioned earlier, Recent purchase (NYSE:ALR) has performed well and should trend higher..
(NYSE:CPA) - My latest addition --- They beat earnings estimates handily , raised Guidance, and raised the Div. I Like what I see here.
That is not an endorsement to throw caution to the wind and buy indiscriminately. Using good judgment and scaling into any new purchase is the way to approach it.
There is always a caveat , & this time ----what impact the Ukraine situation may have on the equity market ?
Late Friday afternoon the market gave up all of its gains for the day when there was more news on that front.. However I didn't see any panic buying of Gold or Oil during that timeframe, and the averages came back and finished with a decent gain, posting another new high for the S & P . That was meaningful to me since I believed the selling would intensify going into the weekend as the 'traders" would not wish to be "long" with this situation at hand .
So that last 20 minutes of buying into the close MAY be a sign that cooler heads will prevail.. Maybe :)
Best of Luck to all
Disclosure: I am long CXO, WLL, PXD, EBAY, CTRP, ALR, AAP, T, VZ, RIG, CPA, CRM.