The S&P 500 hit an all-time high just a few days ago, on April 4. However, if you take a look at the chart below, you'd see the market is flat for the year (light yellow line=2014 open). And this may be a good development for the long term. Perhaps as I have mentioned before the market is consolidating in "time" and not price. In my view, this will set us up for a healthy, longer-term move higher.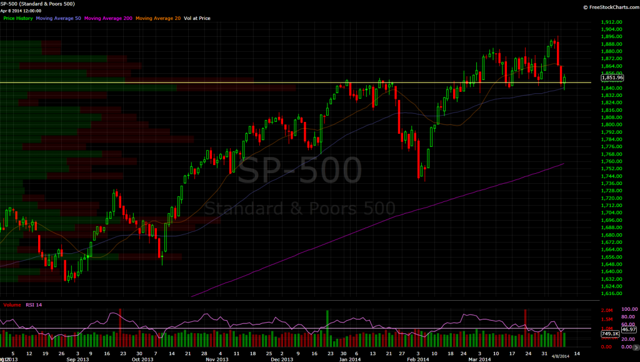 And that's the good news for the Long Term. However, what about all of the talk recently about corrections, and even articles about "bear markets" surfacing lately.
There have been 27 corrections of between 10 and 20 percent in the post-World War II period that did not become full-blown bear markets (20% or more drop). This averages out to one 10 percent-plus correction roughly every twenty months. The average one of these episodes results in a decline of 13.3 percent and plays itself out over about 71 days. We've had three of these episodes since the market bottomed in March of 2009 - a 16% correction in 2010, a 20% correction in 2011, a 9.9% mini-correction in 2012 and nothing in 2013, not even a hint of volatility. So far 2014 has ushered in more volatility in 3 + months than we saw in all of 2013.
Perhaps last year's absence of "fear" has given rise to a mindset where many investors and traders now seem to be unaccustomed to short-term declines. In my view that really isn't a good thing, as history suggests market participants will be better off getting used to them, as they are a permanent feature of equity markets.
There are two 'themes' that are currently being bandied about lately.
First , the 'mid term" election cycle :
www.prweb.com/releases/Hirsch/STA2014/pr...
www.financialsense.com/contributors/chri...
As the information in the two articles suggest, this cycle maintains that a significant correction will materialize during the second and third quarter of this year, as they suggest history calls for that in 2014.
Second, is it 2011 all over again?
In 2011, the SP 500 earnings grew 15% year-over-year, but the SP 500 corrected 20% from the spring through early October, 2011. The p.e compressed from 13(x) to 11(x) from the first week of January, 2011 to the first week of October, 2011. The SP 500 total return in 2011 was 2.11%, far from the earnings growth that was shown.
What many are now suggesting is that 2014 looks like and maybe will play out like it's 2011. There were friendly bond markets back then, but the market was a difficult place to make money in that year given that 20% mid year drop.
Now, one has to wonder if the weakness we are experiencing is simply a self fulfilling prophecy, since it is THE "talk' around the investment manager circles. OR is there really something to these cycles and comparisons. Well, no one can be absolutely sure .
One thing i do know for sure are the two important issues I discussed last week, sentiment and earnings . & then highlighted this message ;
"And yet the potential change in sentiment in the latter part has me concerned as it should not be dismissed, It can trump all of the fundamentals on a temporary basis."
During this past week, the S & P hit an all time high of 1890 and then tested the lower end of the short term trading range @ 1840, and then broke decisively to the downside. Amidst the volatility and choppiness we witnessed in the market this week, no one should lose sight of the fact that the LT trend is decidedly "UP". As mentioned on 4/4, the "sentiment" surrounding equities seems to have changed, traders now appear to be in charge as the market and individual stocks react to every headline & word that is uttered on a given day. I believe anyone can make an argument that the market can continue to make new highs and on the other hand a case can easily be made that the market is about to break down. That's the tug of war, and For investors, it maybe time to sit back and watch.
Looking at the recent market action, combined with the sentiment backdrop in place, I am now inclined to believe that even if we see decent or good earnings reports, the markets may in fact shrug them off and the weakness in the equity markets might well continue. Case in point --- regarding good news - and market reaction -- the jobless claims number came in at the lowest level since 2007 , yet that was the same day the NASDAQ sold off 3+% and the Dow was down 266 points. Then the Consumer sentiment index reported the very next day on Friday as it comes in at the highest level since last July and the sell off continues during the day ..
My comments from last week :
Putting the pieces together, investors should not lose sight of the fact that with the 8% 2013 earnings growth that was achieved we also had the S & P rise 32% . and that may be what this is all about folks.
So, perhaps this recent weakness should come as no surprise given the gains on the S & P as they are the signals that may be telling us all that it is time to rest now, work off the excesses and recharge for the next move higher.
While the volatility continues and both the upper and lower trading levels are tested, what you don't want to see if you have a "bullish" view, is the next pullback be lower than the pullback in mid-February or 1735- 1740 on the S & P . So far, over the past two years, every major pullback "low" has been higher than the previous one as shown on this weekly S & P chart.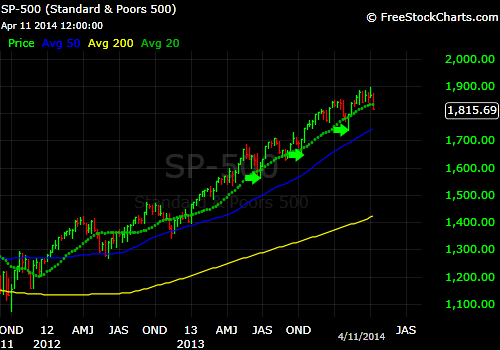 But let's not get ahead of ourselves like so many others.
Both the 'bulls" and the 'bears " seem to be doing just that with this recent volatility. Speaking to that , the latest AAII survey indicates the lowest reading of "bulls" since Feb. when the S & P closed at 1741.
That low puts everything into perspective as in my view, there wont be a material change in the uptrend until the 1730-1740 area on the S & P is decisively violated. So sitting and watching the action to the downside may be nerve wracking to some, however there are times when doing nothing is the best approach.
I will say, this sell off has a different "feel" to it. And that is because of the negative "sentiment" out there. No one can tell when this present market mindset will subside and when that sentiment will shift back. I do believe the volatility will continue, the market can just bounce around, bide time, & remain in a trading range with wild swings in between.
I've heard many tell me in the last week that the economy looks good, why is the market selling off now.?
The market will confound many, remember when the market was in full bull mode and the economy didn't look so good and the same folks questioned how can the market go up in this environment...? I explained how that was surely possible by "watching the price action", and I believe we may be seeing the "reverse" here....as the price action now tells a different story, in spite of what appears to be good economic news.
It's simple market psychology, just when the masses think they have it figured out -- the market spoils their party.. It's nothing new, as soon as investors realize that fact, the better they will be at managing their portfolios.
Bottom line : "this too shall pass", as market psychology & sentiment are fickle..
It is a time to look over & evaluate portfolios. If you are so inclined and haven't done so as recommended, sell calls for income...Be diligent and watch the companies that report good earnings , yet their stock price comes under pressure, as these will be opportunities.
I don't believe its a time to panic nor do I believe we take out the "wish" list of stocks and start buying indiscriminately. Depending on one's equity exposure, LT investors can either choose to sit back & do nothing, while others can add or initiate slowly, with the thought that what you are buying today "may" in fact be a bit cheaper later.. However since there is no way of knowing that, assess what u want to purchase and answer a few simple questions..
How expensive is the stock compared to the overall market.?
Has the fundamental backdrop changed for the company.. ? Is it better, worse , or the same ?
If the answers lean to the positive, and the stock has been thrown away with the overall market sell off, it surely may be an opportunity as a good LT investment.
With that in mind, (NYSE:BAC) and (NYSE:C) have been trashed and if one does not have any exposure to the financial sector, now would be the time to start a position. (NYSE:LAZ) has also come down, while it may have a bit further to go, the 2.8% yield and what I believe are above average growth prospects, make it a name worth looking at.
Both (C) & (BAC) reports earnings next week. (BAC) is very interesting, now that it is under $16.
I may add to my position after the announcement, assuming the stock is still under 16 .. As of now my 12 month target is 20, or 25% upside from these levels.
Looking over my portfolio, other dividend names that have above average yields and are selling below market multiples are (NYSE:RIG), (NYSE:ESV), (NYSE:FCX).
Best of Luck to all !
Disclosure: I am long C, BAC, RIG, ESV, FCX.