The April option series expired last week, and with that the (NASDAQ:EBAY) & (NASDAQ:NUAN) options that were sold earlier, expired worthless.
Today, I sold the Mar 30 Weekly (EBAY) 56.5 strike options today for $1.25 . Also sold the June (NUAN) 18 calls for $.35.
Ebay continue to be a cash cow as I have now taken in $2,845 since 12/23/13. That works out to be a 10% gain on the initial $27,390 investment in 5 months. If the shares are called @ $56.50 that will add another $1,475 , for a combined 15.7% gain.
I finally was able to dig my way out of the NUAN position which had floundered right after the initial purchase. Now with the latest sale of the June 18 calls the income on that position is $2,060. An 11% yield on the initial investment in a 9 month timeframe..
The (NYSE:FCX) position remains below the purchase price but with the 5% dividend yield, It will allow me to exercise patience and wait for shares to rebound before i sell another call against those shares.
(NASDAQ:MU) options expire this week and the shares are now above the strike price and my be called away -- I'll update after expiration day.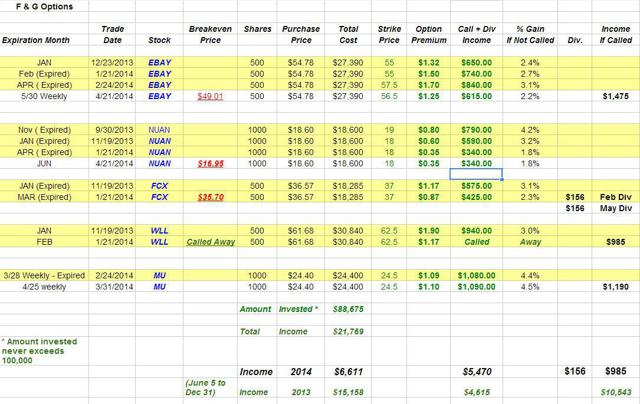 From the accompanying table the total income since inception on June 5, 2013 is now $21,769. That equates to a 21.7% increase form the original 100,000 investment, compared to the S & P performance of 16.2% in the same timeframe..
This is an actual portfolio. At no time did the total amount invested exceed $100,000. All trades are documented in real time in this blog..
Best of Luck to all !
Disclosure: I am long MU, NUAN, FCX, EBAY.