The market will surely "fool most of the people a majority of the time", and so it was this past week.
After GDP was revised to show an anemic .1% growth for the first quarter. I penned this comment here on SA. After two positive days to start the week, my optimism grew for a continued upward move in the equity market. Then the report came out and I thought for sure the air would be let out of that balloon.
However, I too became one of the crowd that was fooled, as the Dow had just enough gas in the tank to record yet another Dow theory buy signal when it closed Wednesday at an all time high of 16,580. That move finally confirmed the earlier Dow transports high which was recorded on April 23rd. This confirmation now marks the 13th positive signal, since this bull market run began.
I also note that for the most part, this Dow Theory confirmation was totally ignored , similar to the others that were recorded earlier. I have heard and seen the commentary throughout, from all of the non believers and naysayers, citing the commentary mentioned here in this article from Sept 2013. It's just one example of what I am referring to . I'll simply note how wrong many have been as the Dow closed @ 15,676 after the Sept. Dow signal mentioned in that missive, and the new high just recorded is over 900 points higher at 16,580.
However this doesn't suggest that anyone go "all in". As I have demonstrated in past missives regarding the Dow Theory buy signal, once achieved, they are often met by a pate of selling first, before a further advance.
Over the course of 2013 I highlighted the secular changes that are in play which will be the "demand drivers" to fuel the secular bull market as we go forward. The American Shale Oil Play was just one of those drivers and it surely seems to be playing out that way.
America's shale energy revolution is taking us from "resource scarcity" to a new era of "resource abundance" as the US now consistently produces more petroleum products than Saudi Arabia, and for 14 straight months has led the world in petroleum production. This energy bonanza in the US, would have been largely unthinkable even six years ago.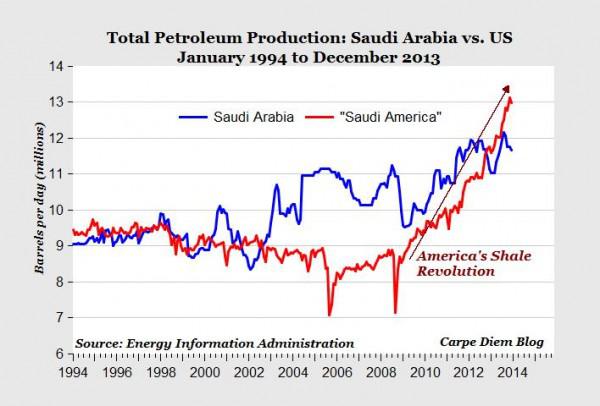 In the span of a mere four years, U.S. production of crude oil has surged by 67%, according to the Dept. of Energy, reaching levels not seen since the late 1980s. Crude production is up 14% in just the past year. Primarily the result of new fracking fracking technology. Natural gas production is up almost 40% over this same period, and-since natural gas is not easily exportable-this has resulted in a two-thirds decline in the price of natural gas, which in turn gives our energy-intensive industries a big competitive advantage. Cheap Energy is a catalyst that will give a huge boost to the economy as we go forward.
A couple of positive tid bits that were reported after this weeks disappointing GDP number.
Housing - The National Association of Realtors said its pending home sales index rose 3.4% to 97.4 in March, topping economists' expectations. What's more, it was the reading's first increase in nine months.
Rail Traffic - While movement of freight by rail was slowed down by weather in January and February, the latest data show freight movement is picking up substantially. Total combined U.S. weekly rail traffic week ended April 19 was 549,826 carloads and intermodal units, up 6.3 percent compared with the same week last year.
www.aar.org/newsandevents/Freight-Rail-T...
The Sell in May crowd became even more boisterous this past week, of course May 1st was their cue . Here is a chart from the stock traders almanac indicating a counter argument to the Mid -term election cycle where they warn us that equity price weakness is just ahead.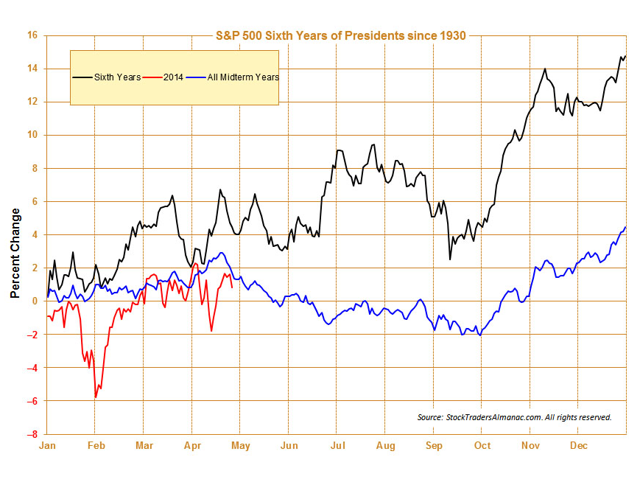 Ahh yes, just what we need, another chart - its the sixth year of a Presidents term and it appears pretty favorable ... The DJIA and S&P 500 averaged 14.3% and 14.8% respectively in Sixth years and only 1974 was negative. However, in typical midterm-year fashion, the bulk of these gains were delivered in the fourth quarter of the year, on average, while chopping trading was the norm during the first three quarters."
Ok, and now another contrarian data point to further confuse us all. Currently the hedge fund crowd is short the Russell 2000 at levels last seen in 2004. In Sept. 2004 the Russell was trading @ 550 -- it peaked in May 2007 @ 847 , a 53% move without ever violating the low ..
I'll simply add this thought -- that IF the majority is now positioned with a "sell in May" attitude , overcrowding that side of the boat , and IF the market hangs in here -- it COULD add fuel to more upside, as they then look around and get "caught" by not participating . At least as far as the (RUT) is concerned many are already on that side of the trade as indicated by these stats.
Now a "trader" has to position his/her holdings based on whatever premise they pick and then believe in it for that day - & that leads to the indecisiveness, then wild swings as we have seen in the market lately.
However, the "Investor" has an "edge", as he/she can look around at the landscape, use the secular view as their backdrop, and position themselves for that eventuality. Always using a flexible strategy and being vigilant for the opportunities that are presented to them.
An opportunity like Lazard Capital that I pointed out when I wrote an article back on March 9th. The stock broke to a new high this week after earnings. Another that I see developing is Advance Auto Parts (NYSE:AAP) - and my thoughts are contained in a recent article I wrote this past week.
There is no reliable roadmap for determining when corrections occur. Most come when investors least expect; fundamental and performance conditions have varied considerably at the start of prior corrections. For instance, P/E ratios and EPS growth have been both high and low at the start of prior corrections, while performance in between corrections has ranged from good to exceptionally strong. Bhirud Associates says stock market corrections, especially technical ones, can occur at the drop of a hat and don't need many catalysts; it is the nature of the beast. We do know that, seasonally, market performance between April 30 and Oct. 31 is significantly weaker than the comparable Oct. 31 to April 30 periods.
Now, we are reminded daily with the pervasive "correction" talk in many blogs and in articles everywhere due to this or that "pattern"...
My view; There is nothing cast in stone tablets here - with any "cycle " or "pattern" that is presented to us, because as we have just seen, the market often has a mind of its own.
The message here is that anyone can roll out charts to make a "case" either way .
What I believe is occurring ; Currently, we are in an extended consolidation phase, which is not uncommon in secular bull markets that are in transition.
I've taken part of my view from the 88 year history of the Lowry Analysis which shows that such stalemates are relatively common developments during most bull markets. They simply reflect periods in which investor buying enthusiasm is temporarily fatigued, at the same time that sellers are reluctant to part with their stocks, in anticipation of eventually higher prices.
Thus, there is not enough demand to push prices up to new bull market highs, and there is not a strong enough desire to sell to drive prices sharply lower. Eventually, sideways trading patterns are usually resolved through the process of a short term correction, in which investors become impatient and sell, pushing prices low enough to revitalize buying enthusiasm and launch the next leg of the bull market.
So, did we see some of that play out when the S & P dropped to 1815 in early April?
Only time will tell. What i can tell you ; The earnings news has been positive. The bulk of S&P companies that have reported so far are beating reduced earnings expectations, and importantly, the full year guidance has been decent. The $120 earnings estimate on the S&P is very much intact. At this earnings level, the market is inexpensive at only 15.5 times forward earnings. And versus bonds, this level does not in any way shape or form indicate overvaluation or a "bubble".
Furthermore, the recent Dow theory Buy signal indicates to me that equity prices will be higher down the road that they are today. Just as they indicated with the other 12 Dow theory buy signals, that some are still disputing.
Now, if we do get a sideways market with some volatility, it is a perfect environment for selling short-term calls against some of your holdings.. Another way to profit from the uncertainty out there.
For those that do not wish to use any option writing strategy , Stay the course, and use dips to average in at more attractive prices. Individual stock selection is more important than ever in 2014
Take what the market is giving you - It's a path not chosen by the crowd.
Best of Luck to all
Disclosure: I am long LAZ, AAP.
Additional disclosure: I am long numerous stock positions , all of which can be seen here in this blog