The equity markets churned around again this week , S & P and NASDAQ had big moves during the week but finished slightly lower from where they started last Monday, so for the most part the markets just "ran in place". The upside exception -- a small gain for the Dow 30.
If you are looking at your portfolio and scratching your head, you are not alone. While the S & P is off less than 1% from an all time high. Individual stocks and select sectors tell a different story.
I've mentioned "sector rotation" during the course of the year and often that spawns what is often referred to as an "internal" correction. For example, there are a lot of NASDAQ stocks are already down 20% - 30%. In addition, the average stock in the small-cap S&P 600 is off ~19% from its high, while the average larger-cap S&P 500 stock is down a little over 9%.
As a side note, the Dow 30 which had been a laggard for quite some time, outperformed the other indices this past week and when I look at the valuations there, they arent expensive at all.
The point is that while the major averages are hovering near their highs, the average stock has been hurt over the past few weeks.
This type of action is "positive", as many stocks are, and have been correcting, both in price and "time". If you are a long-term investor, shopping for new positions, you can use volatility to your advantage. More on that theme later...
Truth be told, it is the business cycle that determines equity returns and that is true in any season of the year, even in the summer season where everyone is expecting equity weakness.
The direction in leading indicators is the best gauge of market returns in the summer months. In years during which PMIs are headed higher, the average performance of the S&P 500 has been almost +6% percent, while those in which PMIs are falling have come in at -2%. It is important to note that the PMIs in the U.S. are just turning up. To that end, the April PMI report didn't disappoint -- coming in at 54.9, beating the consensus of economists that track this data of 54.1 The new orders segment of that report registered 55.1 percent, equal to the reading in March, indicating growth in new orders for the 11th consecutive month. That dovetails nicely with the strong Chicago PMI numbers that were released on April 30th.
On the employment front there is continuing consternation about the employment numbers. Much of it is coming from the same crowd that has dissed the economic recovery from the beginning -
From the Scott Grannis Blog : "As the chart below shows, the number of private sector jobs hit a new all-time high in March. The private sector has finally finished recovering from the Great Recession and is now moving on to new highs. Since the post-recession low in early 2010, the private sector has created almost 9 million jobs, and private sector employment just reached a new high."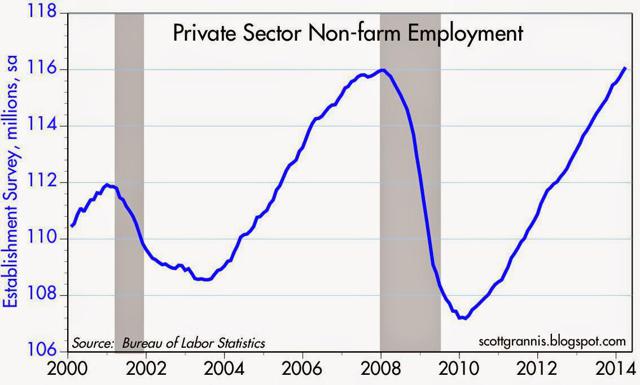 Enough said -- This is one reason that tells me its not at all necessary to have the employment issue on my radar screen. Yet many pundits, the media, and of course the naysayers continue to pound their drum.
The 'cry" now is that the job participation rate is trending lower month by month.. and of course they weave that into how frightful that will be for consumer spending.
I have quite a different "take" on that situation and have believed for quite some time now that what we are seeing on that front is a function of the demographics here in the U.S. In my view, anyone waiting for this number to trend up will be waiting for quite some time.
Consider that the first baby boomer turned 18 in 1964 and there is no coincidence that the participation rate began to rise.
Conversely, the first baby boomer turned 60 in 2006 and the participation rate has been declining ever since. Its hardly a coincidence .. Now with 10,000 boomers retiring per day, (that is not a typo) this trend has a long way to go ..
I'll also add thoughts form my personal experiences. Many boomers that left the Corporate world due to downsizing initiatives by the various industries or just plain retired before the financial crisis found themselves in a quandary. They woke up and found their nest egg had been drastically reduced. So many decided, and some were simply forced, to go back to the job market & take any job available to bridge the income gap after looking at their IRA's.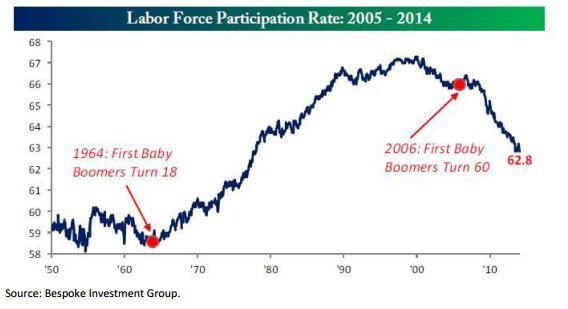 Turn the page to the recent Bull run and the "wealth effect" & positive changes in the accounts of these same folks has been remarkable. Many that went back to work no longer have that desire or need to be back in the workplace. This all adds to the participation rate falling off a cliff.
And its nothing to fret about, consider this recent report I found on a PR newswire;
Widespread Labor Shortages Ahead for the U.S. - For Now, Jobs Remain Scarce - But an Aging Population and the Recession's Aftermath Are Poised to Create Historic "Seller's Market" for Skilled Workers - PR Newswire . . . new study from The Conference Board. From a Buyer's Market to a Seller's Market predicts unemployment in the United States - currently 6.7 percent and falling rapidly - will reach its "natural rate" of 5.5 percent by late-2015.
The decline will continue well past this benchmark; over the next 15 to 20 years, U.S. unemployment may even dip below 3.8 percent, the lowest rate recorded since the 1960s.
M & A activity and earnings positives continue.
M&A deals have been coming fast and furious, reflecting a better economy, lots of funds to be invested, and accommodative monetary policies that the Fed this week signaled will remain in place. Deutsche Bank says the volume of large-cap M&A deals is now reaching pre-financial crisis levels, with 14 deals or bids worth at least $10 billion announced so far this year, the most since 2007, and the dollar volume of deals topping $1 trillion in the year's first four months, also the fastest pace since 2007. Bloomberg reports that the average premium paid by acquirers remains in line with historical averages (19-20%), suggesting there is some restraint being shown by corporate management. A beneficiary of all of this is LAZ
On the Earnings front :
Per Thomson Reuter's "This Week in Earnings" the forward 4-quarter estimate for the SP 500 actually increased this week to $123.19, up from last week's $122.77.
The p.e ratio on the forward estimate is now 15.3(x), and the PEG ratio as of Friday, May 2nd, 2014 is 1.86(x).
The earnings yield on the SP 500 is 6.55%.
Most importantly, the year-over-year (y/y) growth rate is 8.21%, which exceeds the previous highs of 8.02% in late December '13, and is now the highest y/y growth rate since January, 2012.
A number of metrics this week show the SP 500 at a valuation that is fairly valued, almost attractive if you look at the 1.86(x) PEG (P.E-to-Growth) ratio, and the y/y growth rate in earnings. The 1.86(x) PEG hasn't been this low (consistently) since the first quarter of 2012, so it will be nice to see if this trend continues for a few weeks or months. The increase in the y/y growth rate for the SP 500 is very important, but it also needs to be sustained for the S&P 500 to continue on a march higher.
There has been a significant change in earnings estimates for the Health Care sector. Not only have the earnings growth estimate revisions been higher in April and through early May, but the full-year 2014 earnings growth estimate for full-year 2014, is now HIGHER than on Jan 1, 2014. That is a very unusual, and out-of-the-ordinary pattern for estimate trends, and bodes positively for the sector. Many inexpensive names here, my pick is GILD. In addition to the positives I have mentioned about the stock, they just announced a new share buyback program.
The other sector with improved earnings is Technology: and I continue to think the sector is attractive. Of course Im referring to the names that have solid fundamentals and earnings to match.
So with an improved earnings picture on the horizon combined with some indiscriminate selling in that sector - it spells opportunity. As we can see from the accompanying chart, tech investors have recently given up on this group.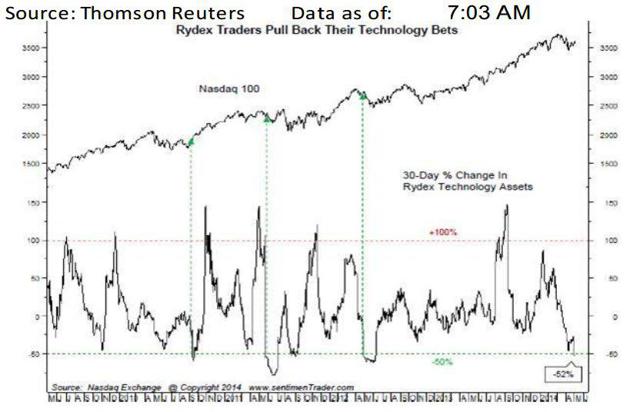 Note that every time this index has dropped to these levels there has been a very nice rebound.. The companies that have real earnings and true growth will bounce back the quickest.
Nothing wrong with MSFT at these levels.. and a stock like MU continues on its trek to new highs. A name I have owned in the past and am now considering again is (NASDAQ:FFIV). They reported a nice quarter and the shares are down to $102 from a high of $117, as they too have "corrected" because of overall tech weakness, while their fundamentals are improving. I like this name now that it has come down in price, My target -- $130.
(NASDAQ:NVDA) sold off sharply because of tepid guidance after another stellar earnings report . Nvidia does NOT give upbeat guidance, ever, yet has beaten consensus earnings estimate for the last 8 quarters ! The shares hit 19.50 on April 24th, yields 2 %, is cash rich, and with all of that it dropped to a low of $17.70 this past Friday. I have owned the shares since early 2013 getting in at $14.78. My target is around $22-23, so there is plenty of runway left in this name after the drop.
Healthcare and Technology are roughly 13% and 19% of the SP 500 when weighted by market cap. If these two sectors continue to improve on the earnings front the market may soon recognize the value there.
Volatility continues to produce opportunities for the astute investor with recent examples of names that I own (NASDAQ:CTRP) & (NYSE:CPA).
(CTRP) a 2014 stock pick, has been punished because of it's "internet " connotation. The stock hit a high of 55 in March , and has sold off with the tech sector hitting a low of 45 on May 7th.. The company just reported another solid quarter. Now with revenue growth of 35%, this is the largest online travel agent for the republic of China. The shares rebounded after saner heads prevailed on Friday 5/9 as they advanced $4 to $49 . In my view this price represents an opportunity to participate in this growth story.
Copa Holdings (CPA) another 2014 stock selection that has been whipsawed due to market volatility this year. Another great quarter was just reported for this Latin American Airline. The company also recently raised its dividend by 30% in February, the shares now yield 2.9%
Both of these shares are attractive at these levels. (CTRP) @49 (CPA) @ 140... Target $60 and $160 respectively .
But - it doesn't end there,
Advance Auto Parts (NYSE:AAP) is a specialty retailer that I recently commented on. They have catalysts in place that will take their shares much higher over time.. Shares are down from a high of $129 to a recent low of $116 where I picked up these shares at a discount -- Any weakness in these shares represents an opportunity, as I believe the shares have upside to the $135 - $140 level..
Unloved, underappreciated and downright thrown away - Im referring to the shares of (NYSE:RIG) .. A good quarterly report was dismissed - The earnings call transcript had this opening remark ; "Our revenue efficiency for the first quarter was 95.7%, the highest we've achieved since early 2008." The possibility of the dividend being increased to $3 next week is also being dismissed. Rather than go into more detail, I found a report here on SA that says it all .. The shares are value at these levels and when this sector comes back into favor, an investor buying this 7% yielder will not be disappointed..
These are but a few examples of how "good" companies get tossed away due to sector rotation and how volatility creates great opportunities for the savvy investor..
Stay the course.. use the Secular Bull theme as a backdrop - pick up shares of companies that show improving fundamentals, yet are 'correcting' due to sector rotation. These names will bounce back the quickest, the "cream" will rise to the top - it just takes time & patience...
Best of Luck to all .......
Disclosure: I am long MU, GILD, LAZ, MSFT, CPA, CTRP, AAP, RIG, NVDA.
Additional disclosure: I am long numerous equity positions , all of which can be found here in my blog . "It is my intention to present an introduction to these securities and state my intent and position. It should be used as a 'Starting Point' to conduct your own Due Diligence before making any investment decision."