The May series of options expired today and with that expiration, the (NASDAQ:GILD) position that was executed on April 28th was called away. The yield for that 3 week holding period was 3.8% as it generated $1,146 in total income.
The portfolio has now garnered $24,000 in profits since inception on June 5th '13. The starting investment at that time was $100,000.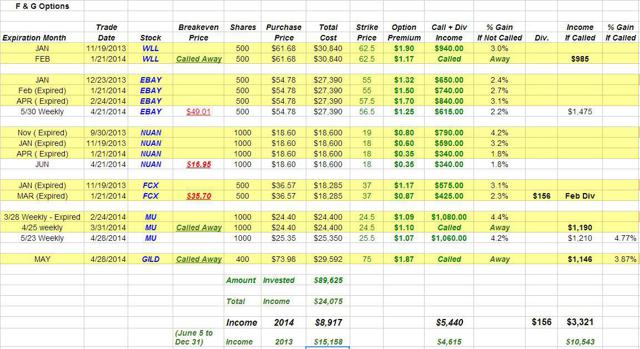 We now have $89,000 invested, leaving room to add another position next week. The (NYSE:FCX) position remains uncovered, as I wait for a rebound in the share price - in the interim we will collect the 4% dividend while we wait.
This is an actual portfolio - all trades are documented here on this blog.
Best of Luck to all..
Disclosure: I am long MU, GILD, FCX, EBAY, NUAN.
Additional disclosure: I am long numerous equity positions all can be seen here in this blog....