Putting the money we received from the (NASDAQ:GILD) positon that was called away, I purchased 500 shs of (NASDAQ:FB) this morning @ 58.14 and sold the June 27 Weekly options with a strike price of $58.50 @ 2.59. The yield on these shares will be over 4.4% for the 5 week holding period.. If shares are called away the yield will increase to 5% .
The following spread sheet show the portfolio as it exists after the trade.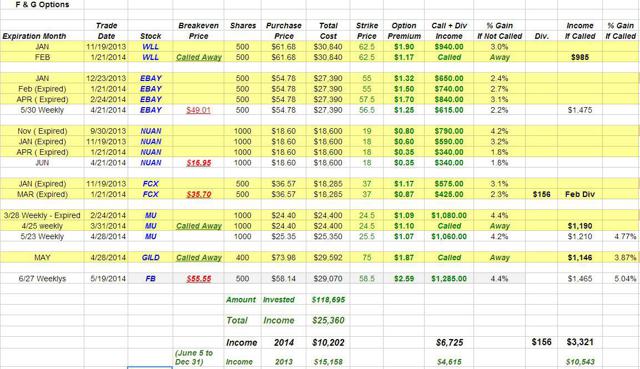 Total income now stands at $25360 as we approach the 1 yr anniversary of this portfolio which was started on 6/5/13..
This is an actual Portfolio.. results have been recorded here in this series on the blog.
The FB position may not be suitable for everyone - I am comfortable with owning shares at the breakeven price of $55 IF they are not taken away ..
The technical picture looks fine at the moment and the stock offers a wide variety of strike and date ranges which adds to the attractiveness and flexibility of this position ..
Full disclosure - I already own shares of FB - purchased in 2013 ..
Disclosure: I am long FB.
Additional disclosure: I am long numerous equity positions - all of which can be seen here in this blog