Last week I highlighted all of the attention the Russell 2000 (RUT) was getting from many of Wall street Pundits and the media. Why all of the fuss over this one index?
It seemed to be the "lynch pin" in the new "bear" arguments where many were suggesting that the Russell(RUT) could take down the other averages in its wake..
I simply wasn't sure that was the case. While looking through the charts last week I noticed the potential "double bottom" pattern that seem to have developed. I also noted the S&P 500 has mostly shrugged off the big decline in smallcaps, and it has managed to hold above support at its 50-day moving average while the Russell has blown below its 50-day and 200-day, UNTIL this past week where the (RUT) regained and closed above its 200 day MA.
Here is an updated chart and so far that pattern I mentioned is holding..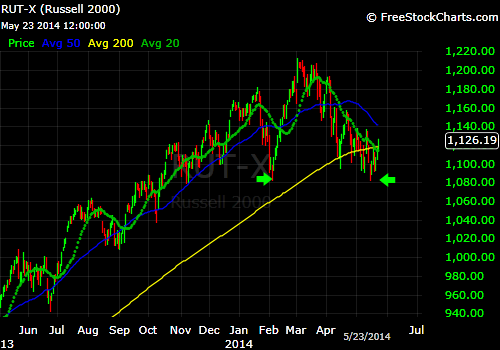 And now the index has put some "space" between the 1082 low and the Friday close of 1126. Perhaps indicating a stabilizing trend has emerged to allow the index to put in a base at these levels. A positive step in the right direction for the bulls, and now a big question mark hangs over the "bears" that are short the index at record levels.
So as my other missives pointed out --- IF the "sell in May and go away" theme isn't working, it may spark a rally from the short sellers and those that feel that they are being left behind once again. Well, here we are. May 25th and the S & P is now @ 1900, an all time high. The Dow Transports made another new all time high as well on Friday . For the moment the RUT has stabilized, So my earlier thoughts seem to be playing out in a positive fashion.
Adding to the positives, the Nasdaq tested and held its 200 day MA after several tests of that level. Its broken above its 50 day MA that is still declining; However a few more positive sessions, and that MA could start to rise, which is a bullish sign. All of these technical signs may be more bad news for those that believed the entire equity market was about to unravel.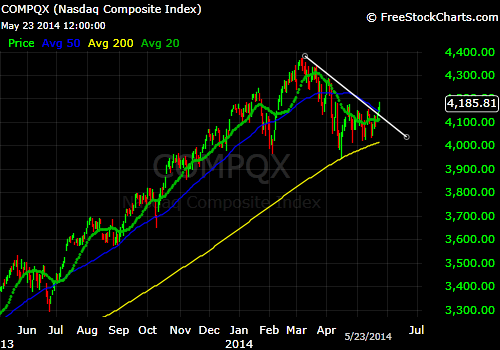 There are still many "issues" that face the market, & given the outsized gains in 2013, I am not anticipating a "liftoff", perhaps a slow grind higher. For those that are still presenting a "bear" case for owning equities; in my view that is completely unsupported by SP 500 earnings data.
To that end, Per Thomson Reuter's "This Week in Earnings" , the forward 4-quarter estimate for SP 500 earnings remained flat this week at $123.08. The forward p.e ratio on the SP 500 finished the week at 15.5(x). The PEG ratio remains under its recent range at 1.82(x), far below the 2013 average of 2.10(x) to 2.60(x).
More economic news that helped the equity markets move higher this week ;
From Reuters :The Commerce Department reported a 6.4% bump in sales of new single-family homes, hitting a seasonally adjusted annual rate of 433,000 units to top economists' expectations. The inventory of new homes on the market edged 0.5% higher to a 3-1/2 year high of 192,000 units.
The Conference Board Leading Economic Index® (NYSEMKT:LEI) for the U.S. increased 0.4 percent in April to 101.4 (2004 = 100), following a 1.0 percent increase in March, and a 0.5 percent increase in February.
"The LEI rose for the third consecutive month, driven largely by improving housing and financial market conditions," said Ataman Ozyildirim, Economist at The Conference Board. "This latest report suggests the economy will continue to expand, and may even pick up steam through the second half of the year."
ISM service index soars The Institute of Supply Management's (ISM) general sentiment business activity index-a proxy for economic activity in the service portion of the economy and which accounts for about 80% of all U.S. economic activity-leapt to a cycle high of 60.9 in April, up from 53.4 in March.
AND is the consumer dead - yet again ? Not just yet.
Personal income & spending rise Personal spending leapt by a stronger-than-expected 0.9% in March, the most since August 2009, while incomes rose by a solid 0.5%, which was the largest amount in seven months. Some of this increased spending was due to the implementation of the Affordable Care Act (ACA). Due to the aforementioned improvement in consumer confidence, the personal savings rate dropped to its cycle low for the year at 3.8% in March, down from 4.2% in February, which helped to fuel this increase in spending.
Two weeks ago I mentioned the importance of rising PMI's and market performance
"The direction in leading indicators is the best gauge of market returns in the summer months. In years during which PMIs are headed higher, the average performance of the S&P 500 has been almost +6% percent, while those in which PMIs are falling have come in at -2%. "
And so I note ---Manufacturing's spring bounce continues , Rising output helped Markit's flash U.S. manufacturing PMI for May climb to a better-than-expected 56.2, in line with the solid prints in May's Philly Fed, Empire State and Kansas City Fed manufacturing indices. Combined with the 0.4% increase in the Conference Board's leading indicators, the report was in line with signs that economic activity is accelerating.
Sometimes we can be inundated with indicators, data and statistics regarding the economy. There are many that continue to call for weakness in the economic recovery as we move forward for a myriad of reasons, citing the 1st quarter GDP as their starting point.
Here are two simple indicators I will use from time to time to tell me what the market believes the economy will look like in the coming months.
The DJ Transports --- and they continue to make new highs and that does not portend weakness in the U S economy. Why are transports doing so well ? -- one reason -- Rail traffic continues to perform nicely in Q2 after a slowdown earlier in the year. The latest intermodal reading of 6.8% year over year brings our 12 week moving average to 8.5%. That's the highest reading in three years.
The price of Oil @ $103 is not forecasting that there is any weakness on the horizon for the global economy as it has been steady as a rock, despite many calls for Oil to break down to the 85- 90 level..
I believe we have been in a stock picker's market since the beginning of the year and will remain in one throughout 2014.
With that mindset, I continue to look for "potholes in the pavement" - stocks that have taken an undeserved or temporary fall for some reason. Companies that have reported good earnings - beat estimates and raised guidance, but are being overlooked. These names will hopefully provide a buffer if we encounter a correction or play "catch up" if the market continues its upward path.
These stocks are best bought when overlooked or simply out of favor, not when everyone else is buying them
A few of my favorites at this point in time:
(NYSE:AAP) -1Q14 EPS Exceeds Consensus.
Advance Auto Parts' EPS increased 35% in 1Q14 to $2.25 vs. $1.66 a year ago. This was $0.09 above the consensus estimate of $2.16 and in-line with the Street-high estimate of $2.25. As a reminder, 1Q14 results reflect the combined performance of Advance and General Parts International (NYSE:GPI) for the first time. Strong Comps. Advance's same-store sales increased 2.4% in 1Q14
Raising 2014 Guidance; Core-Business & GPI Integration On Track. Management is raising its 2014 EPS guidance to a range of $7.30-7.50, compared to the company's prior forecast of $7.20-7.40; effectively, the increased guidance is a function of the company's 1Q14 EPS beat. Further, management comments indicate that Advance's core business is improving and that the integration/realization of synergies for the GPI acquisition is on track. The Genuine parts acquisition was a "game changer" in my view and the reason I was attracted to these shares initially.
The company resides in the "retail " space and has been ignored with all of the negativity in the air about the entire retail sector. In my view this is a specialty retailer that has a lot going for it and should NOT be lumped in with the average retail stock.
(NASDAQ:FFIV) another "beat" & raise. Yet, because its "tech" related its been ignored dropping from a March high of $116 to a recent low of $103 where I picked up some shares. Real earnings with real growth prospects.
The trifecta ---a beat , guidance raise and a dividend raise (NYSE:CPA) now yields 2.8%. However the growth and recent div. increase is basically being ignored in a "churning" market. I added shares back in Feb. around the $135 area and the stock is still trading there at reasonable valuations.
Buying when no one wants them - (NYSE:RIG)- Now with a 7% yield, as the company just approved a dividend increase from $2.24 to $3 share. The market reaction-- a big "Yawn" after the company made that announcement. And that was after a very good 1st qtr earnings report on May 8th. Sentiment for this industry is at lows I haven't seen since 2008. The market is pricing Transocean as if deep water drilling is dead -- Its not 2008, Global energy demand is growing. The shares sell with a PE less than the market and a div. yield of 7%.
(NYSE:LVS)- Las Vegas Sands - A great way to share in the tremendous growth in the new Asian gambling mecca - Macau. The "Las Vegas" name is a misnomer as the bulk of revenues and earnings come from their Asian properties.
Quarterly earnings results were posted on Thursday, April 24th. The company reported $0.97 EPS for the quarter, beating the Thomson Reuters consensus estimate of $0.93 by $0.04. Revenue came in at $4.01 billion for the quarter, compared to the consensus estimate of $3.88 billion. During the same quarter in the prior year, the company posted $0.72 earnings per share. The company's quarterly revenue was up 21.4% on a year-over-year basis. Analysts expect that Las Vegas Sands Corp. will post $3.93 EPS for the current fiscal year.
The stock has come down from its March high of $88 to a recent low of $71 yet the fundamental picture is in tact and improving.
I picked up shares this past week @ $73.15, and look for the stock to rebound back to the old highs. In addition, the company has a 2.7% dividend yield. A nice " Growth & Yield " story.
Best of Luck to all !!
Disclosure: I am long AAP, LVS, FFIV, CPA, RIG.
Additional disclosure: I am long numerous equity positions-- all can be seen here in this blog. "It is my intention to present an introduction to these securities and state my intent and position. It should be used as a 'Starting Point' to conduct your own Due Diligence before making any investment decision."