Last week I mentioned IF the "sell in May and go away" theme isn't working, it may spark a rally from the short sellers and those that feel that they are being left behind once again. Two weeks ago it was S & P 1900 - this week its S & P 1923 . All with a 1st Q revised GDP 0f -1% .. and yes another Dow theory Buy confirmation. Dow transports at a new record and the Dow 30 industrials closed @ 16,719 on Friday , to notch another record all time high ..
Part of the reason - continued positive economic news, as the market looks ahead to the remainder of the year. As noted in past missives - Rising PMI and Business data are keys to future positive GDP reports and higher equity prices. This week they did not disappoint.
The headline U.S. 'flash' PMI figure, which is based on approximately 85% of usual monthly replies, was well above the neutral 50.0 value, thereby indicating a robust expansion of service sector business activity. Moreover, the rate of growth was the fastest since March 2012
The Chicago Business Barometer Up 2.5 points to 65.5 in May from 63.0 in April, the highest since October, as demand strengthened and the economy continued to recover from a weather related slowdown in Q1. Backlogs Surge Above 60, New Orders Highest Since October.
and there is more ......
Concerns about the housing industry were put aside for the time being as the Case-Shiller Home Price Index continued its sharp rise in March. Prices were higher than a year ago in all 20 metropolitan areas (all were higher than three years ago, and all but one were higher than five years ago.) The quarterly national index was also up sharply over the last two years.
A highlight I have mentioned before and a market positive; The rise in M&A is likely to continue, for several reasons. First, companies sit on plenty of financial firepower. In the U.S., non-financial companies in the Standard & Poor's 500 index hold a record $1.4 trillion in cash. Meanwhile, borrowing is cheap. Among S&P 500 companies, 88% of those with credit ratings are investment-grade, and bond yields of 2% to 4% are common.
So as the market powers to new highs, an interesting tidbit of where investors are putting their money . Info from Guggenheim Investments --"Rydex" family of funds. The chart of fund flows (below) is looking at the cumulative assets held in the Bearish funds as well as Money Market funds at Rydex.
By adding the Bearish fund flows to the chart we can see another view of where investors are putting their money. This chart shows the duration of the current bull market, and as you can see when the cumulative level gets above 8,100 it's typically marked a bottom in the equity market. This makes sense, as investors run for the safety of cash and try to profit from a decline as they shift to the bearish set of mutual funds - although often at the wrong times. But over the last week or so as stocks have risen we've seen this data set rise up to 8,230. Even though stocks are at new highs, assets have continued to steer towards the bearish and money market funds.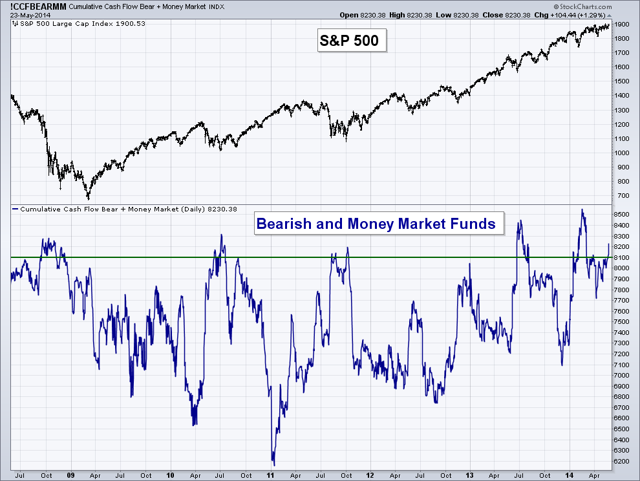 The Bottom Line :
Once again, this latest rally seems like one of the least trusted rallies we've had in a while. Will the pain of being on the sidelines and/or in bearish funds be too much, causing investors to chase the market higher? (Some of that angst has already been displayed in the past 2 weeks.) It'll be interesting to see what happens going forward.
Oh the naysayers keep repeating "the volume is so light" , its a warning sign. A look at one measure of market "breadth" from Oppenheimer Asset Management .
And a possible answer to those criticizing the "light" volume of this advance . While Trading volume is down to its lowest levels of the year and should remain light as the unofficial start of summer has begun. However, volume trends remain positive as measured by the NYSE Advance-Decline Volume line; this is the cumulative count of advancing volume net of declining volume on the NYSE. This volume metric reached a new high with the S&P 500 in May indicating that advancing volume continues to outpace declining volume despite the light total volume number.
Within the context of a generally mixed near-term market outlook, I suggest accumulative volume trends argues against a bull market cycle top.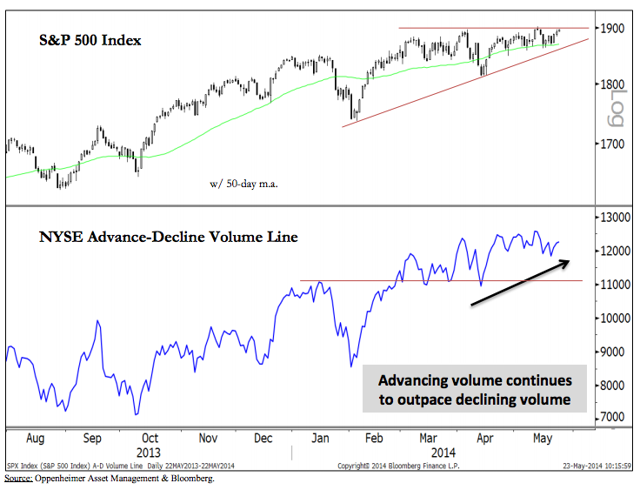 So as indicated by the Guggenheim chart presented earlier investors are back into money markets and bearish funds and now it appears they can't get enough of Bond funds as well.
But first - Its everywhere -- from the TV media to the internet , seemingly a day does not go by without hearing this question -"What is the bond market telling us "? , something has to give here, they both can't go up at the same time. Of course the conclusion that many are drawing from this - the equity market is vulnerable because the action in bonds portends a slowing economy.. & bond investors must "know something" ..
As interest rates continue to decline, mutual fund and ETF investors continue to buy bond funds in the typical fashion of flows following returns. Hence, over the last four weeks as 10-year Treasury yields declined 20bps,, inflows into fixed income funds totaled $19bn. Stocks, on the other hand, saw $7bn in
outflows over the same period, suggesting reverse rotation OUT of stocks and INTO bonds.
Now lets take a good look at this and those that are rushing into this trade :
Assuming 2% inflation minimum over the next ten years, investors are essentially handing their investment capital over for a near-zero return - and that's if they're lucky and rates don't rise anytime soon.
So, I'll now make an observation-- anyone pursuing that strategy at this point in time isn't 'smarter' than the average equity investor and he/she isn't telling me anything that I wish to get involved in, nor do they appear to "Know something" ..
and here is more evidence that this narrow minded thinking with the stocks/ bond correlation will get you in trouble;
I commented on the misunderstanding of the correlation between stocks and bonds on May 18th. When i wrote " Stocks and bonds have close to a zero correlation historically, which means there is basically no relationship in their movements."
Bond traders primarily care about the return OF their capital and the real return ON their capital. So bond investors in the USA mostly care about the real return on their capital. So, when inflation is low bond traders are happy to take a bit lower yield in return for owning something that's essentially risk free.
This gets tricky when we assume some economic or stock market correlation because of all the moving parts. In general, the assumption is that lower yields are a sign that inflation expectations are low which means expectations of future growth are low which means that the stock market will go down, etc. But this assumes three things which are easily debunked.
it assumes that the economy can't grow during a period of low inflation;

it assumes that the stock market is directly correlated to the economy;

it assumes that bond traders are more prescient than stock market traders.
Inflation expectations can drop for decades during a relatively healthy period of growth. That's been the experience in the USA for the last 30 years. The stock market does not perfectly correlate with the economy and in fact, the economic cycle tends to lag the market cycle. And it would be somewhat presumptuous to assume that bond traders are necessarily smarter than equity market traders even though that's a commonly held belief in Wall Street circles. Just look at the observation and commentary I cited earlier.
The bond market is telling us that inflation is currently low. But why must we assume that those bond traders are necessarily right about future inflation expectations or that they won't overreact when the facts change.
Low inflation does not mean no growth or negative growth. Don't assume that falling bond yields represent a bad environment for stocks. So be careful listening to this narrative about bond yields which assumes falling yields portend big problems or some disconnect relative to the equity market.
The equity market is at new highs yet money flows indicate that once again - no one seems to care or believe. New highs everywhere and there are no parades , no evidence of euphoria. Everyone isn't "all in" and the wall of worry stands tall. And amidst all of this we are being told the bond market "knows something". My conclusions to all of this -- they are all bullish implications.
I maintain we are still in the early stages of a secular bull market. The primary trend is in fact UP , and LT investors should use that as their backdrop when making investment decisions. Always mindful that a 10 -15% correction can come out of nowhere at any time. Its part of the risk involved in investing, that doesn't imply equities should be shunned because the S & P is at 1923..
In the short term - the S & P appears overbought, and we may now see more churn or a drop back to the 1880-1890 level or perhaps the 50 day MA (1875) .
Next week, it will all be about Mario Draghi and the ECB, and the jobs report. Since we have rallied nicely, the anticipated ECB cut in its deposit rate is probably factored in and may be a "sell on the news" event. I dont view any of this as effecting the LT trend that is in place.
I noted last week GILD ($81) looked somewhat overbought - watch this one if it weakens further - the story here is just beginning .
MU ($28) ran to another new high - I like it if it pulls back to the 26 area.
CPA($142) added $6 dollars this week - its still inexpensive and pays a nice Div.
LVS ($75) has come off of its 200 day MA, added $3 this week and the fundamental story gets stronger.
Look for any weakness in FFIV ($108) as a buying opportunity, for a run back to the 115-118 level.
AAPL - I have maintained all along that this was a situation with a great fundamental backdrop that was being overlooked and underappreciated, amidst all of the negativity. The train has left the station, but the story isn't over just yet.
And there are more gems that can produce a nice return on your investment.
Find a stock where the fundamental picture is improved and/or improving and use any market weakness or "noise" to accumulate.
Best of Luck to all !
Disclosure: I am long GILD, MU, AAPL, CPA, LVS.
Additional disclosure: I am long numerous equity positions , all of which can be seen here in this blog . "It is my intention to present an introduction to these securities and state my intent and position. It should be used as a 'Starting Point' to conduct your own Due Diligence before making any investment decision."