In a move many are saying is "radical," the ECB lowered its deposit rate below zero (to -0.10%) and cut its benchmark rate to 0.15% from 0.25%. This marks the first time the deposit rate has been negative, which effectively means banks in the region will be charged in order to maintain their reserves. These measures are being implemented to help the eurozone stave off deflation. In a press conference following the event, ECB President Mario Draghi discussed a plan to offer long-term loans at lowered rates for the next four years.
And so while it was widely anticipated it wasn't a "sell on the news" event as I originally though might happen .. Instead, with that headline the equity markets powered higher this past week. But it wasn't only the ECB headline that made a difference ..
There were plenty of good economic reports published this week.
On the global front ; China factory data hits 5 month high. As one of the first leading indicators gauging economic momentum. Reinforcing expectations that their economy is starting to regain strength in the second quarter after dipping to a 18-month low in the first three months.
The growth rate of global manufacturing production ticked higher in May, as companies raised output in response to rising levels of new business and international trade volumes. The effects of the upturn are still being felt in the labour market, with job creation registered for the tenth successive month. Improving demand and rising employment should position the sector well to achieve faster growth heading into the second half of the year."
Back here in the U.S. :
On Monday , The ISM Manufacturing report was miscalculated by using the wrong seasonal factors. The Institute for Supply Management initially reported a decrease in its manufacturing index in April, but economists spotted the error and the ISM soon corrected the results, which then showed a gain that was in line with expectations. In its report, the ISM used the wrong seasonal factors (putting the blame on "a software error"). The headline figure was initially reported as 53.2 (median forecast: 55.5), corrected to 56.0, and then re-corrected to 55.4. The components on new orders, production, and employment were higher than initially reported.
Markit U.S. Manufacturing PMI- final data
Sharpest rise in production levels since February 2011
Adjusted for seasonal influences, the final Markit U.S. Manufacturing PMI picked up to 56.4 in May, from 55.4 in April. The latest reading was well above the neutral 50.0 value and signaled a robust improvement in overall business conditions.
The latest survey pointed to a steep increase in production levels, with the rate of expansion accelerating for the second month running to the fastest since February 2011. Anecdotal evidence from survey respondents cited improving underlying demand, better economic conditions and greater investment spending among clients.
Robust auto sales in May - yet another positive regarding the consumer.. and an example of how the weather did in fact impact the first quarter as the May results shows a nice sharp rebound.
Thursday's ISM report on the Non-Manufacturing, or Services sector, went off without a problem. While economists were expecting a level of 55.5, the actual reading came in at 56.3, which was the highest level since August. Combining the ISM for the Services and Manufacturing sectors, May's ISM was 56.2, which is the sixth highest level of the current expansion.
Finally ;
U.S. Job Creation Index Hits New High as reported by Gallup and also bodes well as we move forward.
While attention has been focused on the recent poor GDP number, the recent economic data that has been put forth clearly indicates that Q1 was severely impacted by the harsh weather and it wasn't a mere "excuse" that was citied by the bulls to bury the negatives.
This past week I came upon a positive story. A fundamental Long term scenario that I have mentioned before as one catalyst in the secular bull theme that we are experiencing.
The story's title is, "Are We Underestimating America's Fracking Boom?" The byline reads, "Check Out Sasol's Energy Complex in Lake Charles, La." Now the company is going to build a plant in Louisiana and at $21 billion this would be the largest foreign investment project in U.S. history. The 3,000-acre complex will tap into America's cheap natural gas and convert it into high-quality diesel fuel, ethylene (used in plastics, paints, packaging, etc.), and other liquids. The article goes on to note:
This is engineering on a scale so large that it requires closing 26 public roads, buying out 883 public-property lots, and hiring 7,000 workers at peak construction. Some 100 additional trucks will be on the road each day once the complex is completed. Entrepreneurs have already begun construction of a "man camp" to house 4,000 temporary workers streaming into Lake Charles for this and other projects. In that way, Sasol is a metaphor for what we don't yet understand about America's gas boom. Most know what fracking has meant for oil and gas prices. But because much of the work hasn't started yet, few appreciate the true extent of the industrialization that's about to begin. So let's put it this way, we are building a Qatar on the Bayou. Companies are laying new cities of fertilizer plants, boron manufacturers, methanol terminals, polymer plants, ammonia factories and paper-finishing facilities.
According to the Greater Baton Rouge Alliance, when completed some 66 industrial projects will be breaking ground over the next five years, worth about $90 billion. Currently, Louisiana's entire GDP is $250 billion, so we are talking about a 36% increase in the state's GDP ... !!!!!
The implications of projects like this are "transformational" a word often used by Joel Kurtzman in his book, "Unleashing the Second American Century."
This is exactly what I have been talking about in prior missives here on this blog. Energy Independence, the American Industrial Renaissance, etc.
Joel cites the four forces for America's economic dominance are: soaring levels of creativity; massive new energy reserves; gigantic amounts of capital; and unrivaled manufacturing depth. As Joel states, "It's like taking America's industrial strength and layering in Saudi Arabia's energy on top." While most of the media and the naysayerrs ignore this, the stock market seems to be getting it.
This chart is quite impressive: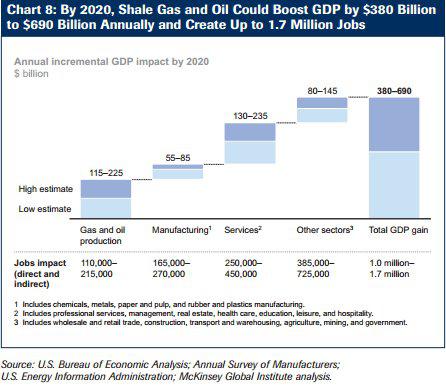 Look at the positive PMI & ISM economic data that has been reported and then highlighted here on this blog in the past 3 weeks.
The investment world is distracted with fears of the next great calamity, but heading into summer U.S. financial markets are enjoying a remarkably positive environment.
And yet there is the "r" word surfaced weekly and the talk of a bear market lurking around the corner.. all citing the 1st Q GDP as their backdrop.
Please ....... Bear markets are made of tight liquidity, significantly deteriorating fundamentals, and investor euphoria. NONE of these are present today. Although the Fed is starting to reverse course, there are no signs yet of a significant tightening of liquidity. Rather, the data are beginning to suggest that private sector credit growth is starting to replace the Fed as the provider of liquidity.
Prophecies of imminent economic catastrophe have become almost the "acceptable thinking" in recent weeks. Whether it is talk of Europe facing deflation, Japan's Abenomics experiment failing, China heading toward a real estate crisis, or Russia being on the brink of direct conflict with Ukraine, the narrative is similarly dark. The "imminent crisis" theme has become overplayed, but if experience has taught me anything it is that nothing is more tiresome than a fashionable consensus. The reality is that none of these regions seem likely to suffer a calamitous near-term crisis, thanks in part to the world being afloat in a sea of liquidity.
All these fears of a major crisis have spurred a flight to quality to U.S. Treasuries, which has been partly responsible for the recent bond market rally. With many investors fearful, the 10-year U.S. Treasury note broke out of its tight trading range in recent days, closing at 2.45 percent on Thursday -- its lowest yield since June of last year. Will rates head lower, just as the outlook for the U.S. economy is starting to brighten ? Hmmm ----not so fast....
In Europe, economic confidence has reached levels not seen since 2011 and economic growth is modestly improving. All of this means that a huge swath of the global economy is now growing, & add the China data I reported earlier, which should benefit struggling economies.
However as I commented on last week - Market highs again this week , with yet another Dow Theory Buy signal, but many still choose Bonds and money market funds. The equity market has advanced over 180% since the lows and many are gripped with the confusing signals, warnings about the complacency and low VIX environment that will lead to a market crash.. A correction of 10-15% -- ok, but a crash ?? - Not likely at this time..
Don't lose sight of this fact ; the economy today is a much different place than it was back when these same signals were cited as cause for the market declines of that era.
The way I see the present mindset of investors; the opportunity to make money is being undermined by the fear of losing it. That's ok for those who stay calm and invested in equities; (many equity accounts are up over 200% since the March lows) ---not so much for those who got out or never get in. And therein lies the "fear of losing" mentality that is pervasive among many. That tune is louder now as the market has gone higher and drifted farther away from that crowd. The same ICI (Investment Company Institute) data that reflected last month's net outflow in domestic equity mutual funds also captured a big net inflow into taxable bond funds. One thing for sure , this data does not suggest a euphoric investment community that "has to be" or "has to get into" the market , even as the S & P makes new highs.
Perhaps Treasury yields will continue to fall, generating gains that barely keep up with inflation. But what if they don't? And what if stocks keep rising ?
.. Are you OK with those potential (and from my perspective likely) outcomes? Managing risk includes managing opportunity. At times like this, investors need to navigate, not leave, the market. There is a difference ...
Remember a "correction " is not a "crash" , and can be "navigated' successfully. Yet the mindset of many investors and "would be investors" seems to be fresh from the 2008 crisis that any downturn will be Armageddon.
While there is still little or no evidence a major market top is imminent, investors should recognize that we have had a nice run and as I mentioned all during 2014 that calls for more selective buying and for adjusting portfolios to account for changing market conditions. For example, while mid and small cap stocks were among the strongest performers during much of this bull market, the recent plunge in the mid and, especially, small cap indexes, suggest investor enthusiasm for these stocks has largely disappeared, -------- for the moment. More about the Russell 2000 recovery next week.
Stocks like (NYSE:AAP) up $10 since I wrote about the company is a name that falls into that 'selective' category.
(NYSE:LAZ) mentioned here in March, broke to another new high this week .
(NASDAQ:FFIV) powered higher again and is up $8 since my article on May 13th..
(NYSE:LVS) mentioned last week, has had some negative press lately regarding slower gaming growth (Only 9% in the last month ! , instead of double digit expectations ). Keep an eye on this one if it shows further weakness - as the "Japan" story may be the next catalyst to take the stock higher. There is a 2.7% yield now as the dividend was raised for the March '14 quarterly payout.
Just a few examples of how an investor can navigate the market with selective buying. Scaling into a position is always recommended.
If a company "beats" their earnings estimates and "raises guidance , and /or raises their dividend they are an immediate candidate for due diligence - regardless of how many articles we can read about any impending correction .. Take a look at Copa Holdings -CPA, as an example.
And there is nothing wrong with the Buy/Write strategy, I have mentioned repeatedly - buying a quality stock and selling a covered call for income..
Best of Luck to all !!
Disclosure: I am long AAP, FFIV, CPA, LAZ, LVS.
Additional disclosure: I am long numerous equity positions - all of which can be seen here on my Instablog."It is my intention to present an introduction to these securities and state my intent and position. It should be used as a 'Starting Point' to conduct your own Due Diligence before making any investment decision."