In my research this week I came upon an article from the legendary Robert Ferrell, chief market technician from Merrilll Lynch from an era gone by .. He summed up the 1989 stock market with this now famous missive , which seems to fit perfectly in today's market environment.
Money managers are unhappy because 70% of them are lagging the S&P 500 and see the end of another quarter approaching. Economists are unhappy because they do not know what to believe: this month's forecast of a strong economy or last month's forecast of a weak economy. Technicians are unhappy because the market refuses to correct and gets more and more extended. Foreigners are unhappy because due to their underinvested status in the U.S., they have missed the biggest double-play (a big currency move plus a big stock market move) in decades. The public is unhappy because they just plain missed out on the party after being scared into cash after the crash. It almost seems ungrateful for so many to be unhappy about a market that has done so well. . . .
Unhappy people would prefer the market to correct to allow them to buy and feel happy, which is just the reason for a further rise.
Frustrating the majority is the market's primary goal.
. . . Bob Farrell, Merrill Lynch (9/5/1989)
Not so for the investors that have stayed the course and reaped the rewards the market has doled out.. Examples of stocks I have mentioned at various times this year:
(NASDAQ:MU) hit my first target of $30 as it recorded a new high on Wed. @ $31. I first mentioned and bought the stock in Jan @ $22. Some profits were taken, but this is a stock to get involved in on any dip.
(NASDAQ:CTRP) also recorded a new high @ 60 this past week. One of my 2014 selections in Dec. '13, when it was mentioned @$47.
Others from that '14 list in the energy sector. (NYSE:PXD) $174 - now $226, (NYSE:CXO) $100-- Now $140 . Some profit taking is now warranted here..
And lets not forget (NASDAQ:AAPL) last purchased @ $390 as it already has eclipsed my pre split $650 PT . That story is also not quite done yet...
It has been the turnaround in Economic growth that many still disbelieve. From the recently published economic reports to the continued uplift for corporate earnings in the 1st Q.
The cries of its all "the Fed" & "Central Banker" driven market continue to be heard as if some "Wizard of OZ figure " is totally responsible for every corporate penny of earnings. Those that are hanging their investment hat on that argument and stayed on the sidelines have paid dearly for that mindset.
Speaking of economic growth, you may not find more positive language from the Railroad industry…
"If you're looking for a sign that the economy is shaking off its first quarter lethargy, rail traffic in May could be that sign," said AAR Senior Vice President John T. Gray. "Crushed stone, steel, motor vehicles, lumber, chemicals- the list of commodities showing carload gains in May goes on and on. And intermodal continues to surge. All in all, there's very little to dislike about May's rail traffic figures. We hope it really is a sign that the economy is beginning a period of solid growth."
(click to enlarge)
Click to enlarge
We are now about 1 month away from the next round of earnings. The latest on that front from Thomson Reuter's:
"This Week in Earnings" the forward 4-quarter EPS estimate for the SP 500 fell $0.12 last week to $122.94.
The p.e ratio on the forward estimate is now 15.9(x).
The PEG ratio using the forward estimate is still 1.85(x), well below the 2.5(x) range in 2013.
The earnings yield on the SP 500 is 6.31%, and continues to slide (naturally), as the SP 500 rises faster than earnings growth.
Once again, the year-over-year growth rate of the forward estimate rose to 8.59% from last week's 8.54%, for the seventh consecutive weekly increase.
Over the last 7 weeks, that year-over-year growth rate has increased from 6.75% to 8.59%. No complaints there, and I note the last 7 weeks were retail, energy and industrial names reporting within the SP 500.
From a bigger picture perspective, the following table shows the last 7 years earnings growth for the SP 500:
| | |
| --- | --- |
| 2016 - est | 4% |
| 2015 - est | 8% |
| 2014 - est | 7% |
| 2013 - actual | 6% |
| 2012 - actual | 6% |
| 2011 - actual | 15% |
| 2010 - actual | 40.26% |
| 2009 - actual | -7.13% |
| 2008 - actual | -23.09% |
| 2007 - actual | -3.47% |
Of course the 2007-2009 years should come as no surprise as the financial crisis period took its toll. Now we can see the stability with the last few years around the actual 6% - 7% growth rates, and the expected growth rates over the next three years. The 2014 - 2016 numbers are using "top-down" earnings estimates: if we calculate expected 2014 earnings growth using the current bottoms-up EPS estimate of $119.65, (versus the top-down estimate of $117.32), then 2014 expected growth is 9.1% , a big difference.
The important difference between top-down and bottoms-up is (importantly) analytical rigor: while top-down is often Strategist estimates, the bottoms-up estimate is comprised or a function of sector and company estimates, combined into one number.
My thoughts in late 2013, early 2014 was that we could see 10% earnings growth this year for the SP 500, and IF the PE multiple does expand - it is then evident that stock prices would indeed head higher.
While many are in disbelief about the economy , earnings and the overall fundamental picture - the equity market is not. In my view this recent catapult to new highs after an outsized gain is 2013 is a result of the market forecasting a much improved global economic picture.
A research Note from Goldman Sachs this past week;
Despite the 1% drop in real GDP in the first quarter, it appears that the US economy is now growing at an above-trend pace. The best way to see this is via our current activity indicator (NYSE:CAI), which grew at an annualized rate of 3.4% in May, similar to the average of the prior two months. Although an estimated ½ percentage point of this sequential growth is due to a bounce back from the weather distortions of the first quarter, even the year-on-year CAI now stands at 2.7%, the fastest pace of the expansion so far and above our estimate of potential growth of 2%-2½%. In our view, the CAI is a far more reliable indicator of economic activity than real GDP because it is more timely, more broadly based, less noisy, and less subject to revision.
One key reason why we expect a further pickup in the underlying growth pace to 3%+ is an improvement in the housing sector. The impact of the 100bp increase in 30-year mortgage rates last summer should now be mostly behind us; in fact, the 40bp drop in rates since the start of the year could provide a modest boost in coming quarters. More fundamentally, we are optimistic on household formation. From 2006 to 2012, the share of 18-34 year olds who live with their parents increased by nearly 5 percentage points, equivalent to an extra 3½ million individuals. Although the reversal of this surge-which seems to have started last year-is unlikely to be rapid given the gradual pace of labor market improvement and financial factors such as the high levels of student debt, ultimately we do expect much of it to reverse. This probably means that household growth will exceed population growth in percentage terms, and supports our forecast that household formation will average 1¼ million per year over the next half-decade."
A month ago I warned that it was too early to jump on the "Russell 2000 will take down the entire market" theme. Primarily because I noticed that the (RUT) had put in a 'double bottom pattern in its chart. A very bullish signal.. If in fact the pattern held. So far it has.... Lets now take a look at how the RUT has firmed up since that timeframe..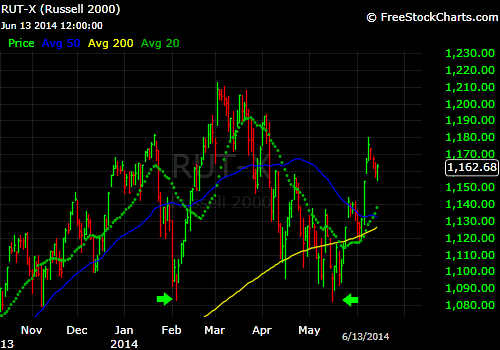 Plenty of room here for some "digestion" now and still maintain the LT uptrend and hold that bullish pattern.
And a snapshot of the S & P 500 Chart will also put things into context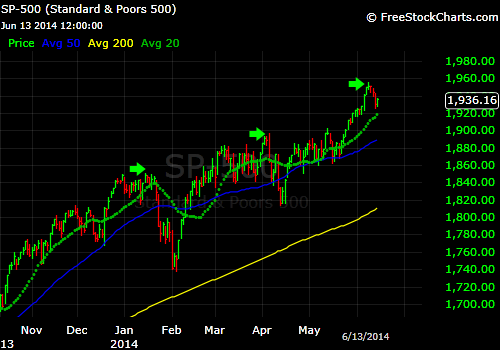 The green arrows were added to indicate various new highs along the way in an effort to place the present move into context.. The recent S & P high of 1951 placed it about 3.5% from its 50 day MA. Former highs with the same spread have produced the pullbacks noted on the chart. The odds favor the same type of price action, with a possible move lower to the 50 day MA or around 1900, as the second quarter comes to an end.
The stock market is full of participants that have conflicting goals, time horizons, tolerance for risk and ability to control their emotions. Add this all up and the market will most likely go in whatever direction it pleases. The long-term picture is still quite bullish, however over shorter time frames who knows what will happen.
So it would seem the market is pricing in the improvements and positive economic news that has been released and reported here in the last month ...
And that brings me to the question of whether we are in for a corrective phase (10-12% drop), or will it be another pullback of 5% or so (back to the 50 day MA or 1890 -1900 on the S & P ) , regroup and plow ahead to S & P 2000 ?
If you are a LT investor and have years until retirement - it won't matter. For those that want or need to be a bit more nimble - take some profits here, in the names that are stretched (I.E. oils- You may be able to buy them back cheaper) and either sit and wait for opportunities or put that money to work in stocks I recently mentioned like (NYSE:LVS), (NYSE:AAP),(NYSE:CPA), (NYSE:CRM), (NASDAQ:GILD). Those names aren't stretched and their fundamental stories are in tact.
This past week we had a glimpse of one issue that may play out as a negative for the markets at some point this year.. The DC crowd comes back into the spotlight. In my opinion it is NO coincidence that the market has pushed higher as the DC crowd has stayed in the background and there have been no headlines on that front. The market hates uncertainty and "they" epitomize uncertainty ..
The Eric Cantor loss in the primary election sure surprised the markets and already there were numerous conclusions made by the pundits and most had negative connotations attached.
In the long run the political drama will be "noise", but in the short term it will bring uncertainty and at these levels it won't take much for the sell button to be pushed if the majority sense an 'issue" ...
So, I suggest an investor keep that in mind as a possible "land mine" that the market will have to deal with later this year.
In the meantime I wil be using the Secular Bull theme as my backdrop when making investment decisions.
Best of Luck to all !!
Disclosure: The author is long MU, LVS, AAPL, CXO, PXD, AAP, GILD, CRM, CPA.
Additional disclosure: I am long numerous equity positions - all of which can be seen here on my Instablog."It is my intention to present an introduction to these securities and state my intent and position. It should be used as a 'Starting Point' to conduct your own Due Diligence before making any investment decision."