This past week the stock market received the news that the revised 1Q'14 GDP report was -2.9%. Not the greatest headline we have seen lately but as trading proceeded , the market shrugged it off.
The reason: If we look at the report, just as we saw in previous estimates, a slower pace of inventory accumulation and a wider trade deficit made large negative contributions -these subtractions were even larger in the 3rd estimate (together subtracting 3.2 percentage points from the headline GDP growth figure). Despite what many want to believe or disbelieve - the weather was a restraining factor. Most other data (payrolls, jobless claims, especially) do not suggest anything close to a contraction in overall economic activity and point to a decent rebound in 2Q14.
Nevertheless, given the first quarter GDP number, the economy would have to average more than a 3.6% annual rate in the final three quarters of 2014 to get to 2.0% for the year as a whole.
That's possible, but it doesn't seem likely - especially with downside risks posed by recent geopolitical developments. Another reason th e market may have taken this in stride, is that the numbers will be revised again on July 30 (annual benchmark revisions along with the advance estimate for 2Q14). The FOMC also meets to set policy that day. Stay tuned..
Continuing to make the case for a good Q2 GDP number, the positive economic reports continued this week; The June Flash PMI did not disappoint and as the headline indicates it is signaling that the Manufacturing PMI points to strongest improvement in overall business conditions since May 2010.
Last week I mentioned that I wasn't about to join in the perma bear argument that housing was dead.. While I believe we will muddle along with a slant to the positive side, the latest existing home sales in May were good, as all four regions in the US showed improvement from last month. Another housing report was posted on Tuesday bolstered my stance that housing is still recovering as the May new home sales rose at the fastest pace in 6 years, up 18% from last month.
On the investment scene, data clearly indicates that no group of investors is currently willing to take excessive US equity risk. Pension funds, endowments, foundations, hedge funds, individuals, Wall Street strategists, and even corporations themselves remain more fearful of downside risk than they are willing to accentuate upside potential.
Arguments have been made that the valuations in stocks like social media, biotechnology, etc. suggest that there is a "bubble" forming in "stocks". These areas of the stock market have at times and perhaps always will seem excessively speculative, but the enthusiasm for these groups has not translated into enthusiasm for US stocks as a whole.
Caution is the buzzword, but there are also the cries that a new bear market could be about to emerge and the naysayers start with the negative GDP report as a cornerstone to make their argument.
Lets be realistic, the probability of a bear market still seems low. Bear markets are made of tight liquidity, significantly deteriorating fundamentals, and investor euphoria. None of these are present. Although the Fed may be starting to reverse course as the tapering continues as scheduled, there are no signs yet of a significant tightening of liquidity.
Rather, recent reports are beginning to suggest that private sector credit growth is starting to replace the Fed as the provider of liquidity. Corporate fundamentals continue to be healthy, and investment, whether in inventories or capital equipment, has yet to show any sign of extreme.
Regardless of these healthy signs, most investors continue to focus on protecting the downside. It is a sure sign that euphoria or exuberance is absent as long as investors have that "looking over my shoulder" attitude. For more proof of my view that many are in fact in that mode, here are the "headline' articles regarding the "market outlook" posted here on SA ... all of these in the last week !!!!!
Lowest Put-Call Ratio In 3 Years Suggests Near-Term Caution Is Warranted.
Is The U.S. Economy Headed For Recession?
Is It Time To Sell Stocks And Buy Bonds?
Are We Crying Wolf Again? The Bear Is At Peter's Door This Time, So Raise Cash And Prepare To Protect
John Hussman: This Time Is Different, Yet With The Same Ending
Daily State Of The Markets: Is Sentiment Flashing A Warning To Investors?
The Next Bear Market: How To Protect Your Assets
And all I hear is that there is complacency and Euphoria is everywhere ??
Ok, so even though the broader market may seem overbought and ripe for a correction, in the short term, it is hard to argue against such broad strength for the longer term. Take a look at that strength being exhibited in all of these sectors as they recently achieved new highs. That dispels any argument that this latest new push to highs is narrow of scope. Therefore any thought of a major top here and the start of a major decline needs to be shelved ..
From Chartwatchers: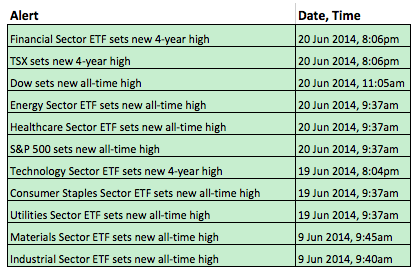 With everything else capturing the headlines last week, what went largely unnoticed was a decided shift in analysts' earnings expectations with earnings revisions for the S&P 1500 flipping from more negative revisions to more positive revisions. I believe the market realizes what is transpiring on the earnings front, and that is what is causing the P/E multiple expansion we have seen year-to-date.
Per ThomsonReuters, the SP 500 "forward 4-quarter" estimate rose this past week to $123.04, from last week's $122.96.
Using Friday's close on the SP 500 of 1,962.87, the p.e ratio using the forward estimate is now 15.9(x).
The PEG is now 1.86(x), still well below the range of 2013′s 1.88(x) to 3.50(x).
The earnings yield on the SP 500 is 6.27%.
The year-over-year growth rate of the forward estimate is now 8.60%, once again at a new multi-year high, after dipping slightly last week. The forward growth rate hasn't been this high since January 13, 2012 when it was 9.4%.
The action in the S&P 500 should then come as no surprise this year, just looking at the revisions and forward estimates around SP 500 earnings. The fact is, despite al of the negativity that is still out there about the economy, etc., S&P earnings are growing at mid to high single digits, and starting to improve.
For all practical purposes, with the SP 500 at 16(x) forward earnings, and with it becoming increasingly likely that SP 500 earnings growth could hit 10% (easily) this year, a slight PE expansion of that forward estimate wouldn't be a stretch.
However, I would be remiss if I didn't I put on my "caution hat" and point out some facts that may affect the markets in the near term..
On the technical front, I noticed a negative reversal day last Tuesday as the S & P tagged a new high but closed lower on the day ...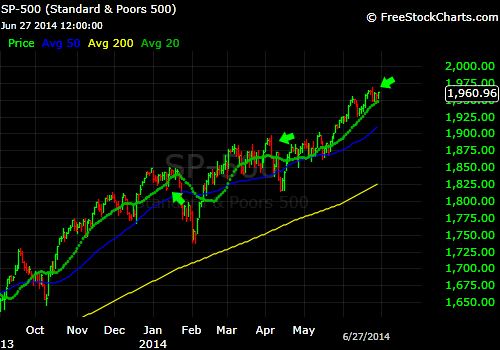 The green arrows highlight a couple of other instances where this has happened and as you can see the market has drifted and then corrected shortly after those events. Corrections to date have been capped around the 5% or so range and we just might see that again. These events should come as no surprise as they follow periods of strength with new highs that simply have to be reconciled as the "excesses" are "worked off". So time will tell if the "signal" will give us the same results.
That said all of this should be viewed in the context of a secular bull market and when opportunity arises on selected stocks it should be taken advantage of..
Case in point,
In the "not for everyone" category - I took a position ($31-32 range) in (NASDAQ:NPSP) a small cap biotech/drug maker located here in the U.S.
While somewhat speculative , there is a "story " here that has the possibility to "play out". There has been a rumor that they are a candidate to be purchased by another company. The London times reported that Shire , inc (NYSE:SHP) was about to purchase them - that rumor was denied but SHP has retained an investment banking firm and secured a 5 billion line of credit to fund a possible transaction..
With all of the takeovers that have happened in the bioetch /drug sector I believe it is worth taking a position here. I do like the company regardless of the takeover rumor as that is not "the" reason for my purchase. .. They have good growth possibilities & I believe their earnings (yes they have earnings) have the potential to go much higher this year and next. So the "takeover" story is just an added attraction.. From a technical standpoint I like the chart and look for a move back to the 40 level.
(NASDAQ:BBBY) & (NASDAQ:EBAY) have been disappointments this year. I continue to hold both. BBBY fell another 5% this past week after they announced their Q1 earnings report. However, I do see enough from both the fundamental and technical standpoint to stay in and weather the storm as the company's investments for the future and share buyback programs are in full swing. The company possess a strong balance sheet and good cash flow, with shares currently selling for 11x 2014 earnings.
Best of Luck to all !!
Disclosure: The author is long LVS, FFIV, MU, AAP, LAZ, NPSP, BBBY, EBAY.
Additional disclosure: I am long numerous equity positions - all of which can be seen here on my Instablog."It is my intention to present an introduction to these securities and state my intent and position. It should be used as a 'Starting Point' to conduct your own Due Diligence before making any investment decision.