A strange thing has happened to the notion that the equity market would suffer and perhaps crater ever since the Fed "tapering" began last December. Well, it hasn't, as interest rates have fallen, stocks have risen and inflation expectations have actually increased.
This is almost exactly the opposite of what many people might have expected. After all, if "tapering is tightening" and QE is "money printing" then something doesn't add up here because stocks should have fallen and inflation expectations should have declined. But when we look at the operational realities of QE it becomes clear that "tapering" really isn't "tightening" in any meaningful sense.
As indicated by the chart below, The Fed really hasn't started tightening in any meaningful sense. In fact, their balance sheet is still expanding quite rapidly. However, many still want to proclaim that QE is really "money printing" and in their view tapering is really just "less money printing".
Now that is not how I view QE at all and made that point when I wrote and disputed that "market myth" by claiming that the Gov't doesnt print money.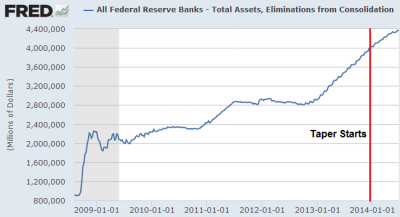 All of that aside and perhaps of more concern to an equity investor, the stock market doesn't perform poorly during the early phases of a "tightening". And the logic behind that is rather simple - the Fed reacts to an improving economy and if the Fed isn't even reducing their balance sheet then we're not even at the point in the economic cycle where the Fed thinks tightening is necessary. And that means the economy is still slowly improving but not enough to warrant real tightening. And that, in a counterintuitive sort of way, is actually a good thing.
Interesting chart & data here from Guggenheim showing the 12 month performance prior to a Fed tightening. There's a fair bit of data mining in here, but the obvious takeaway is that Fed tightening or the anticipation of it doesn't necessarily have to be a death knell for stocks, quite the contrary.
However,the pundits and some market participants will be fixated on this scenario in the coming months . The Job numbers released (+288 Non farm payroll #) on Friday gave them ammunition to declare that with the improving job market and economy, rates will be raised sooner rather than later. Many are already calling for an immediate end to QE and raising the Fed Funds rate now. I'll simply add that the naysayers have had the QE story wrong since it's inception. I won't be following their "lead" or their "noise" on the interest rate scenario any time soon..
"Federal Reserve Chairwoman Janet Yellen has made it clear that she could raise interest rates as early as June 2015, although I do not see that as likely. In my opinion the Fed will tread lightly as they will NOT throw away all of the improvement we have witnessed with a knee jerk overreaction on the rate front... The fed will need a lot more than the "sniff" of inflation we are seeing, to raise rates anytime soon.
If you listen to Janet Yellen, wage inflation is more important to Fed policy than commodity inflation. We learned that lesson in 2007. The Core PCE deflator and the various inflation measures have ticked up a little bit, but, for now, not enough to worry Yellen.
During the 12 months before a Fed tightening cycle begins - a period we could now be entering - U.S. equities have typically outperformed fixed income by a wide margin. In the last five periods leading up to Fed tightening, the S&P 500 has gained 22 percent on average in the year before the Fed began raising rates, compared to 4.2 percent or less for fixed-income assets."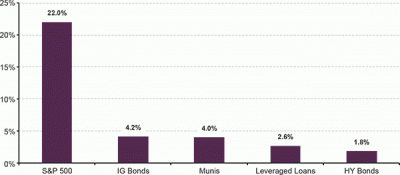 Source: Credit Suisse, Barclays, Bloomberg, Guggenheim Investments. Data as of 3/31/2014. Note: Average price performance in the 12 months prior to Fed tightening cycles in 1983, 1986, 1994, 1999, and 2004.
So as the warnings for equities crashing with rising rates amidst Fed tightening begin to surface, the historical data just isn't there to support that.
In my view when the market does correct meaningfully, it wont be because of the end of QE. It will simply be a function of an exponential upward move in equity prices that we have experienced... Period.
Last week I noted a technical pattern that emerged in the S & P daily chart signaling a 'reversal" day which was notched on June 24th. In the past that usually signals caution in the short term.. That signal was wiped out as the market's strength this week with moves to new highs by all of the major averages.. It shows how these short term technical indicators are for the most part meaningless to the Long term investor.
Strength in equity prices continued across the board this week with new highs once again being achieved by the DJ Transports, the DJ Industrials, the S & P 500, & the Nasdaq, while the Russell 2000 is just 1 point away from doing the same. This is broad participation on all fronts and many are still of the opinion that its all a 'fed' mirage. That premise has cost many investors dearly over the course of this bull run..
On the economic front.....
U.S. June auto sales beat expectations (16.9 million vs. 16.4), and have extended their impressive 5+ years of recovery. Sales are now back to the average level of sales pre-recession, and they are likely to move higher over the next few years as consumers gradually upgrade older vehicles, and jobs and incomes continue to expand.
The June ISM manufacturing report came in as expected. The New orders segment of that report edged higher for the 13th consecutive month. Its just another sign and reason to ignore the -2.9% annualized contraction of the economy in the first quarter of this year. With all of the recent positive data that has been reported, growth will almost certainly rebound in the current quarter. There is no sign whatsoever in the manufacturing sector of an imminent or emerging recession, and the equity market is broadcasting that now with new highs.
This past week we had the biggest Jump in pending home sales in 4 years, and that is yet another positive data point indicating that the housing market has not stalled and is still in recovery mode.
Earnings will be in the spotlight in about a week or two and the forecast 'picture" is a bit brighter..
Per Thomson Reuters ;.
The forward 4-quarter estimate this week rose to $126.77, or $3.80 higher than last week's $122.97.
The P.E ratio on the current $126.77 forward estimate is now 15.66(x).
The PEG ratio on the forward estimate has now slipped to 1.81(x), given the 15.66(x) PE and the year-over-year growth of the forward growth rate of 8.66%.
That PEG print of 1.81 is the lowest since January, 2012 low of 1.49(x).
The earnings yield on the SP 500 is 6.38%.
SP 500 earnings are growing nicely, the growth rate has a good chance to accelerate into Q4 '14. The reports I have seen now indicate that full-year 2014 will achieve at least 10% growth. So whatever "issues" the market averages may or may not encounter as we move through the third quarter vis a vis a "corrective phase", it will NOT be due to S & P earnings.
LVS & (NASDAQ:GILD) both broke out this week, both are inexpensive, and LVS sports that 2.7% yield. Gilead is up 26% since my commentary on April 16th..and there is more to come.... (NYSE:AAP) also registered another new high . All of these are attractive on pullbacks.
For those that may have missed this blogpost here is a 1st half update and performance of my 2014 stock selections.
I mentioned two weeks ago that it wasn't time to play it "cute" & attempt to outwit the market. It's easier to take what the market is giving us. Stay the course.
I will echo those words and advice today ...
and add, If you do your homework you will always be able to find risk/reward situations that are skewed in your favor.
Best of Luck to all !!
Disclosure: The author is long LVS, GILD, AAP.
Additional disclosure: I am long numerous equity positions - all of which can be seen here on my Instablog."It is my intention to present an introduction to these securities and state my intent and position. It should be used as a 'Starting Point' to conduct your own Due Diligence before making any investment decision.