The NVDA weekly July 25 options that had a strike price of 19 expired worthless last Friday. Today I sold the Aug 19 option for $.30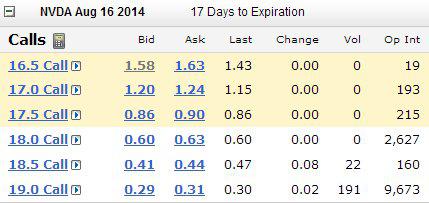 As you can see from the chart above this option expires in 17 days. The proceeds from the sale will yield 1.6% in that timeframe if not called and 3% if called on Aug 16th.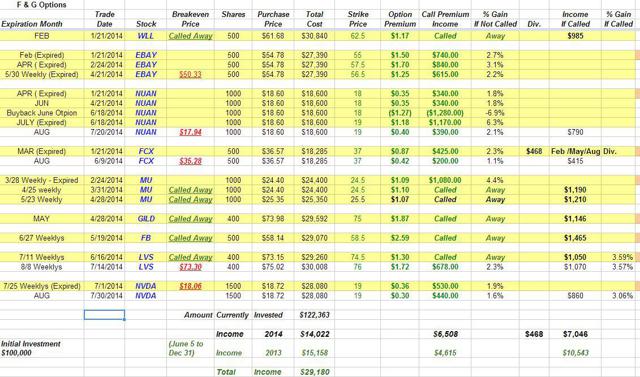 The shaded positions are those that have expired or been 'called away"
We now have 5 positions, 4 are covered with option sales, the EBAY position remains uncovered as I await a further bounce in the shares to write the 55 or 56 strike price call.
This is an actual portfolio, all trades can be seen here in this blog from the portfolio inception date of 6/5/13.
Income now resides at $29,180 on the initial 100,000 investment.
Best of Luck to All !
Disclosure: The author is long NVDA, LVS, EBAY, NUAN, FCX.
Additional disclosure: I am long numerous equity positions - all of which can be seen here on my Instablog. It is my intention to present an introduction to these securities and state my intent and position. It should be used as a 'Starting Point' to conduct your own Due Diligence before making any investment decision. PAST PERFORMANCE IS NO GUARANTEE OF FUTURE RESULTS.