The current geopolitical issues are creating an incredible amount of noise in the market, which is great for the traders. Well, maybe, as that is an assumption they "outguessed" the news headlines. However, the rest of the investing world has to either turn off the news and think longer term or set entry prices to take advantage of the depressed pricesas I have repeatedly suggested.
The up and down gyrations of whether Russia has troops on some border or whether they are pulling their troops back has determined the trading range that the S & P is in for the last 2 weeks. It also shows the absolute folly of traders that pay attention to this "noise"
A note from the JPMorgan Trading Desk this past week - problems over the last few weeks haven't so much been heavy, aggressive, or panicked selling, but instead a complete lack of buy demand. Longs are staying on the sidelines for the time being, either waiting for clarity (on the Fed, Iraq, or Ukraine) or better prices (even bulls think sub-1900 is more likely before 1950, and many people are beginning to consider 1850 "inevitable"). All that being said, there are signs the selling pressure is growing "tired" .
That last comment from them was on target as I too noticed that the indicators I use, flashed a complete oversold condition and true to form, the S & P rallied, as Wall Street decided to drown out the "noise" and made a run to close above the trading range on Thursday .
The rally continued the next morning and it appeared for a time that the major averages would indeed go higher, and then, a headline report and more noise form the Russian /Ukraine situation. The S @ P turned on a dime and we saw an intraday swing of some 20 point on that index. The averages did recover to close even for the day.. Leaving me scratching my head --- which way from here ? More on that later, but first ...
Here is a timely piece form the blog of Josh Brown. A favorite of mine , because he tells it like it is..
Tops are a process, Bottoms are an event and Middles are well they are just there..
Because when you're not at a top or at a bottom, but somewhere in the middle, you spend the bulk of your time worrying about which one of those two you're closer to.
I constantly notice that much of the media's time and attention is spent discussing whether or not something is bottoming (housing, stocks, consumer confidence, ratings, etc) or topping (tech stocks, valuations, bond prices, sentiment). It's great conversation but not helpful.
Because most of the time things are not bottoming or topping. They are middle-ing. They are churning or they are trending. Most of the time, there is no inflection point at hand - these are rare occurrences. So to focus on them to such a great degree is probably a distraction and definitely a waste of time. And energy and emotion.
Think about the middle.
I'll add : For those issuing dire warnings about a market meltdown, and getting "out", I simply ask them when they wil decide to get back in. Market-timers don't live long (financially), & trying to call a "top" is a fools game.
Complacency; According to the naysayers we are all too complacent - the Vix is too low .. I demonstrated that these viewpoints are totally overblown and misleading back on June 21st.
So we have all been inundated with headlines, notes and queries centered on fears that investors have grown complacent, setting up stocks for an inevitable fall. So think about this for a minute, if everybody is worried about complacency, "it tells me investors aren't complacent." Or is that too simple for the bears to figure out.
In fact, it's hard to find any evidence investors have become overly enthusiastic. Sell-side firms haven't yet gone overweight equities and mutual funds have seen 11 consecutive weeks of outflows, and July led the parade of outflows.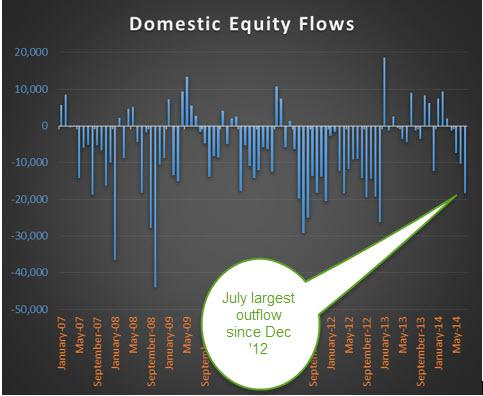 Data source: ICI Research
On top of that, while investors don't hate "equities," there's still a general belief that other assets are better investments.
In addition, data from ICI shows hedge funds are neutrally positioned. I am of the belief that most money managers are more concerned with protecting against the downside than extending gains. In the final stages of a bull market, managers throw caution to the wind. That surely isn't the case now.
Corporations are still cautious,
"All we have heard in this cycle is corporate uncertainty"
While profit margins are likely to begin to fall, that is not unusual at all as that phenomenon has accompanied other bull markets, including the big bull run in the 1980's.
There's no sign corporations are building excessive inventories, so I suggest the quality of earnings should remain strong and undercuts the potential for an inventory-led recession. They're also not building excess capacity or using excessive leverage to finance plant, property and equipment. Balance sheets across Corporate America are very healthy.
However, the state of Corporate America is still being questioned to this day; earnings, quality of earnings, no revenue growth, margins reverting back to the "mean". To date its all been categorically wrong. Check out last weeks report on earnings results from Thompson Reuters.
And of course there is the ever present Fed obsessed crowd.
For those that continue to "cry" about the Fed - The Federal Reserve has "never been a leading indicator," As we have seen in the past, like most central banks, the Fed is "reactive."
Now, IF one listens to what Janet Yellen is effectively telling investors it's that the Fed is going to lag "more than normal."
Of course the naysayers cry that the Fed will fall behind the curve, leading to a jump in inflation and a more abrupt tightening of interest rates. I will now remind all that this same crowd has been worried about "massive inflation" emerging for the last five years. Inflation that hasn't materialized, so why would I listen to that rhetoric now.
Moreover, worries about whether the Fed reversing course will derail the market have long been a normal feature of middle-aged bull markets. It adds to the "wall of worry"
Dividends - A data point I haven't mentioned an quite some time
Bhirud Associates notes that corporate America continues to increase dividends at an above-average rate. So powerful is the recovery in dividends from the depressed levels of 2009 that dividends, as of Q2 2014, are up 29.6% over Q3 2008, which had been the highest dividend level. Yet in spite of the increase in dividends, the dividend payout ratio for the S&P, at 33.5% of earnings, is still at the low end of its range for the last 88 years. The current dividend payout ratio is also significantly below the median ratio of 53.2% for the period from 1926 through 2013.
I believe having a solid dividend strategy as a core for ANY portfolio at ANY age is a must. Many make the mistake of looking at a 401k and saying "Why would I want a dividend strategy in place now when I don't need the money or the income now .. the simple answer -- for "total return"
Holding a dividend-paying stock, gets you the growth of that dividend. And since 1926, dividend yield plus dividend growth have accounted for 89% of the total return generated by the S&P. The remaining 11% can be attributed to valuation changes, what we in the business call P/E multiple expansion or contraction.
If an investor does nothing else, believes the market will go up down or sideways, is at a market top, bottom, or a middle --He/she needs to employ this strategy.
OK, back to where the market is going ...I'm not sure and neither is anyone else. Regardless of where the market is going with its next move , I suggest concentrating on special situations that will prove to be profitable in the long run..
(AAP) is a good example of how an individual name can be taken down (from a high of $134 to $122 )with the market noise while the fundamentals are improving .. In my view it had a "story", a catalyst -- the Genuine parts acquisition ,
and as recently as July 21st I commented :
Case in point ----(NYSE:AAP) has come down on worries about a competitors guidance , I use that kind of 'fear" to my advantage, where I recently added shares. -- totally oversold and in my view their recent acquisition makes them a $150 stock .. Now we can connect the dots in this story as (NASDAQ:ORLY) O'Reilly Automotive in the same space, just reported a "beat" on both the top & bottom line an reaffirmed their guidance going forward..
It was clear 'tell" that the sector was fine. The (NYSE:AAP) story is playing out - the ramp up in earnings from their acquisition is just starting.. The company reported blowout earnings and the stock soared, all the way back to $132.
At the moment a lot of the oil names are now falling into buy zones - good & improving fundamentals amidst a temporary ( in my view) backdrop of lower oil prices.. I believe it is a good time to start looking into the domestic E & P names and begin slow accumulation , they have had good runs , pulled back , but I don't think the LT story is over for them and their growth. (NYSE:CXO), (NYSE:PXD) & (NYSE:WLL) , have demonstrated super growth and their guidance going forward is for more of the same .. I continue to hold all three. A lot of runway left here..
(NYSE:OAS) is a new one on my list - it disappointed and was punished BUT the reserves there are fantastic.. The earnings setback there is temporary.
An MLP that has caught my eye is (NASDAQ:GSJK) , Compressco partners in the oilfield service sector -- here is one that pays over 6% and it has a catalyst for appreciation with its new purchase of Compressor systems .. recent earnings before the acquisition were positive it could be a nice "total return" situation.
i like it here in the 23 -24 area , a name that also has "defensive" qualities , if one is concerned about market weakness..
Stay the course , avoid the day to day "noise"
Best of Luck to all !!
Disclosure: The author is long AAP, CXO, PXD, WLL.
Additional disclosure: I am long numerous equity positions - all of which can be seen here on my SA Instablog. It is my intention to present an introduction to these securities and state my intent and position. It should be used as a 'Starting Point' to conduct your own Due Diligence before making any investment decision.