The LVS weekly options that were sold on July 14th , expired worthless last Friday. The shares have dropped to under $70 during the recent market weakness. In my view the shares are undervalued, so I will wait for a rebound on the price before writing another option against this position. While we wait, the portfolio will pick up the dividend payment that is scheduled for Sept.
I have patiently waited for (NASDAQ:EBAY) to rebound, and today I sold the Sept 55 calls against that position for $.98.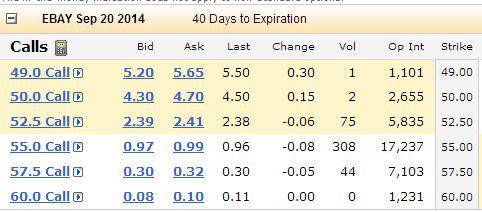 So with a little over a month to go before expiration that will produce a 1.8% yield for that holding period.
Existing "open" positions are highlighted.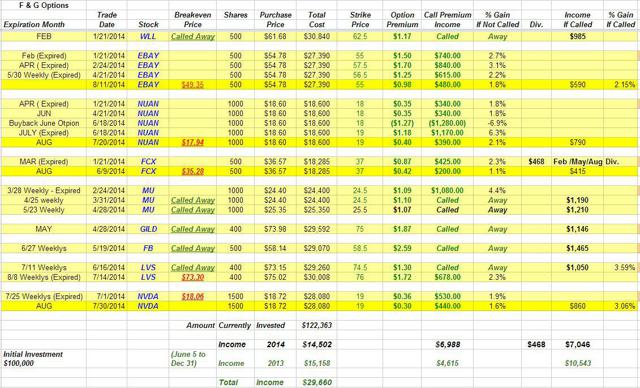 The initial 100,000 investment on 6/5/13 has now produced $29,660 in total income ..
The same $100,00 invested in the SPX would now be worth $119,292.
Performance is enhanced now that the SPX has settled down and is in a 'trading" range. While the Call Writing portfolio continues to generate income despite the recent weakness and volatility in the marketplace.
This is an actual portfolio , all trades have been documented here on this blog.
Best of Luck to All !!
Disclosure: The author is long LVS, EBAY, FCX, NVDA, NUAN.
Additional disclosure: I am long numerous equity positions - all of which can be seen here on my SA Instablog. It is my intention to present an introduction to these securities and state my intent and position. It should be used as a 'Starting Point' to conduct your own Due Diligence before making any investment decision.