Two recent articles on SA
http://seekingalpha.com/article/1152161-protected-principal-retirement-strategy-the-quest-for-perfection
http://seekingalpha.com/article/1108071-dividend-growth-safety-superstars-2012-update-part-two
prompted an interesting question: can one construct a reasonably sized portfolio in hindsight (with a reallocation strategy no more sophisticated than yearly rebalancing of an equally weighted portfolio) that would have had not a single year of loss during the last 20 years or more, and would have yet yielded more than decent annual returns? Clearly the answer has little bearing for what is the best investment for the future, but it is definitely worthwhile from a certain perspective.
Obviously there are multiple portfolios that satisfy this criterion. Here is one.
I started with twenty of the current dividend champions whose mean annual loss during the period 2000-2012 was the lowest.
AWR BF-B BMS CBSH
CLC CTWS GRC HCP
JNJ MCY MGEE MSEX
NWN PNY RLI SCL
SHW UGI UHT VVC
I added some income generating CEFs whose performance during the last twenty years has been quite impressive.
AWF MIN MMT NXQ
I also added some leading names in health, energy (MLPs), and technology sectors
CSCO BWP KMP LLY ORCL
I finally rounded off the list with some ETFs encompassing treasuries, municipal bonds, gold, and inverse indices.
DOG GLD IEF MUB SH TLT
That does it. An annually rebalanced equally weighted portfolio of these 35 stocks would have had not a single year of loss during the period 1991-2012.
CAGR 16.7%
Current Yield 3.5%
Minimum Annual Return 0.3% (2008)
Maximum Monthly Drawdown 15.5%
Kelly Fraction .52
Sharpe Ratio 0.98
Mean Annual Return 17.4%
95% Lower Bound on Mean Annual Return 12.4%
Two Factor Alpha 10%
Two Factor Beta .4
Safe Withdrawal Rate 8%
Sufficient Saving Rate 0.35%
Year to date (as of 2/22/2013) this portfolio has returned 4.5%.
The equity curve for the portfolio is shown in the following figure.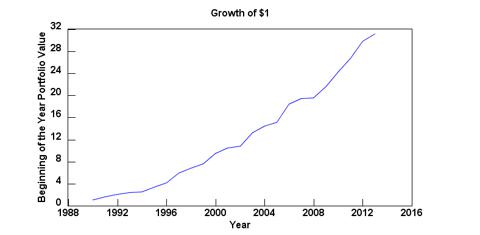 Disclosure: I am long CSCO.