With Fidelity having just substantially increased the number of ETFs that can be traded free of commission, the following monthly trading strategy may be quite worthwhile to explore.
Consider six baskets of various styles and markets together with fixed income and real estate ETFs:
Small Cap Value and Small Cap Growth IJS, IJT, TLT, LQD, IYR
Mid Cap Value and Mid Cap Growth IJJ, IJK, TLT, LQD, IYR
Large Cap Value and Large Cap Growth IVW, IVE, TLT, LQD, IYR
MSCI EFA and US Large Cap EFA, IVV, TLT, LQD, IYR
Emerging Market and US Large Cap EEM, IVV, TLT, LQD, IYR
Latin America and US Large Cap ILF, IVV, TLT, LQD, IYR
Basically the idea is to let the data tell you which style/market/asset class is ascendant at a given time.
At the beginning of each month, for each of these baskets, invest equal amount in the ETF whose performance was the best during the prior month.
The results for 2003-2013 (YTD for 2013):
CAGR 18.3%
Sharpe .92
Kelly Fraction .43
Maximum Monthly Drawdown 17%
Annual Mean Return 19%
95% Lower bound on Annual Mean Return 9.1%
The equity curve is shown below.
(click to enlarge)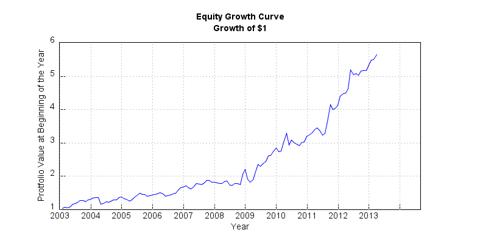 Click to enlarge