Microsoft Corporation (NASDAQ:MSFT), is best known for its Windows line of operating systems for PC's and phones. It's one of the stocks I've been following for some time now, because I like their dividend growth rate and the way they've diversified among several segments.
For this article, I will use the financial data found on Microsoft s Investor Relations Website. All the graphs in this article were made by me.
Microsoft consists of 5 divisions, which I will discuss separately. I will then continue by looking at the company as a whole, judging its EPS, revenue, dividend growth, assets& liabilities and R&D spending.
Windows Division
The Windows Division is where software like the Windows operating system and Office are developed and marketed. This division also includes the new Surface Tablet. The graph below shows the revenue over the previous 14 quarters.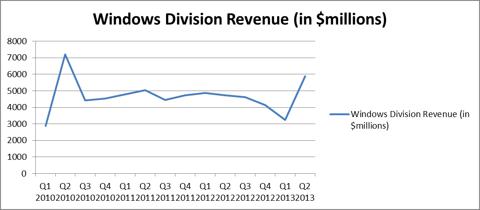 I believe the Windows division could become bigger in the next couple of years, despite the fact the PC is losing some ground to tablets that run Android or iOS.
Microsoft recently released its Surface Tablet, which has been getting very positive reviews. The tablet market is huge nowadays so even if MSFT only manages to get a small percentage of this, revenue could go up a lot further.
Server & Tools Division
Servers & Tools offers products like Windows Server, Microsoft SQL Server and Windows Azure. With 'Cloud computing' predicted to grow at an amazing rate, I think the demand for the products this division makes will be growing in the next decade.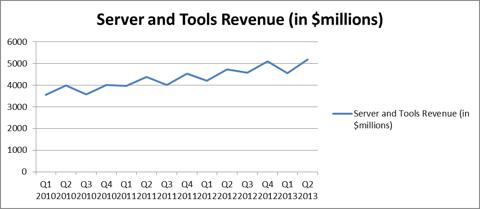 Revenue has been steadily climbing, going from $3.55 billion in Q1 2010, to $5.19 billion in Q2 2013, an increase of 46%.
Microsoft Business division
Microsoft Business Division mainly consists of the Microsoft Office system. It has been bringing in a lot of revenue over the past couple of years, growing from $4.51 billion in the first quarter of 2010 to $5.69 billion in Q2 2013, a 26% increase. I believe this upward trend will continue.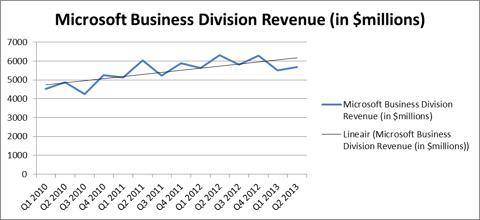 Online Services Division
The Online Services Division brings in most of its revenue through the sale of advertising in the Bing search engine. Bing´s market share has been going up, but it´s still a lot smaller than Google´s (NASDAQ:GOOG).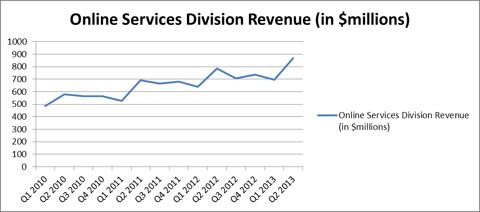 Revenue from the Online Services Division has increased from $487 million in Q1 2010, to $869 million in Q2 2013. If MSFT can keep increasing their market share, I could see this going a lot higher.
Entertainment and Devices Division
Last but not least, the Entertainment and Devices Division offers the Xbox 360, Skype, and Windows Phone. Its revenue has been climbing steadily, going from $1.41 billion in Q1 2010, to $3.77 billion in Q2 2013.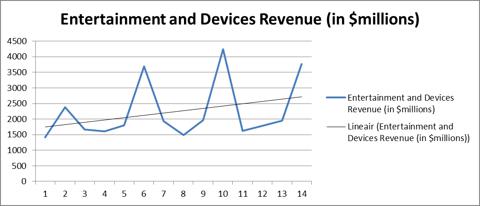 With Nokia using Windows Phone for their Lumia series, and the next Xbox expected to be in stores before the end of 2013, I think the revenue growth will continue.
Revenue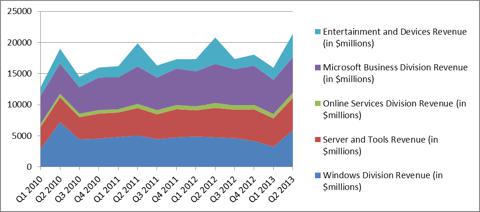 MSFT's total revenue has been going upwards for quite some time now, and has set an all-time high of over 21 billion dollars in Q2 2013. All divisions seem to be growing, which gives me a lot of confidence in the stocks' future.
Research and Development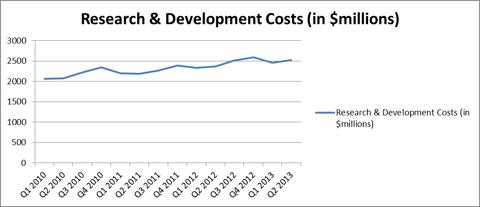 Microsoft is spending an increasing amount of money on research and development. Q1 2010 spending was $2.07 billion, which has increased by 22% since then, reaching $2.53 billion in the second quarter of the 2013 fiscal year.
With companies like MSFT, increases in R&D are very positive, as they allow for better products to be created.
Dividend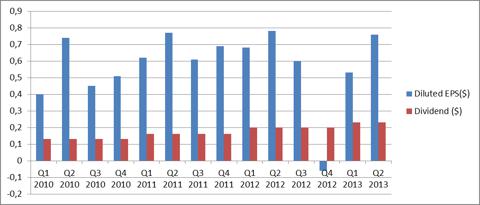 Microsoft paid its first dividend in 2004, and it has been increasing it yearly ever since. Back in '04, the dividend was $0.08/quarter. Since then, it has been rising, with the 2013 dividend at $0.23/quarter. EPS is a lot higher then dividend, which allows MSFT to save up some money. This has caused the current ratio (current assets divided by current liabilities), to climb up from 1.82 in the first quarter of 2010, to 2.81 in the most recent quarter.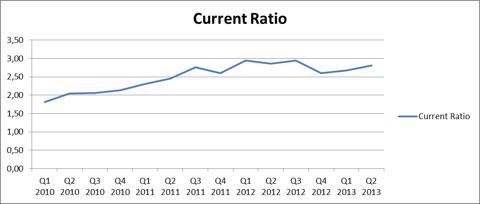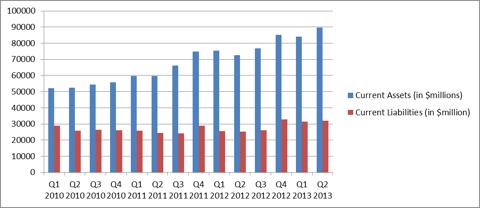 Here's why I think I would be a good idea to buy MSFT:
Growing revenue: Revenue has reached a new all-time high in Q2 2013
High Current Ratio: MSFT has a lot of cash. This can be paid out to investors or used to further grow the company.
The dividend: With a current price of $27.76 (which is near its 52-week low of $26.26), MSFT will yield a healthy 3.3% while keeping its payout ratio at a reasonable level. The dividend has been increasing at a double digit rate.
Bing search engine, Windows Phone, Windows Surface tablet and the new Xbox: All of these will bring in more money in the years to come.
I'd love to hear your view on MSFT, so feel free to comment below!
Disclosure: I have no positions in any stocks mentioned, but may initiate a long position in MSFT over the next 72 hours. I wrote this article myself, and it expresses my own opinions. I am not receiving compensation for it (other than from Seeking Alpha). I have no business relationship with any company whose stock is mentioned in this article.