It's time for our monthly look at our overall market valuation figures. The ValuEngine Valuation Model tracks more than 8000 US equities, ADRs, and foreign stock which trade on US exchanges. The model calculates a level of mispricing or valuation percentage for each equity based on what the stock should be worth if the market were totally rational and efficient--an academic exercise to be sure, but one which allows for useful comparisons between equities, sectors, and industries. We use this metric to get an overall snapshot of the market and to discern if stocks are a bargain or overpriced. In the past, the valuation figures have correlated fairly well to market tops and have signaled impending pull backs.
"Sell in May and Go Away" is maxim for the markets except in US presidential election years. So far this Summer, it appears as though that trend is holding. In the chart below, you can see that our Valuation Model finds that the market is in a range of undervaluation just above what we would consider "normal." Technically, things seem to be topping out, but in an election year and with a potential QE III on the horizon, who knows?
Whenever we see overvaluation levels in excess of @ 60% for the overall universe, we issue a valuation watch. We do not have a similar metric for the undervaluation levels, but we generally find that when stocks are calculated to be more than 75% undervalued overall it is time to do some bargain hunting. We have yet to see the overvaluation levels we achieved back in March. So far this year, we don't see any real creep up in overvaluation at all.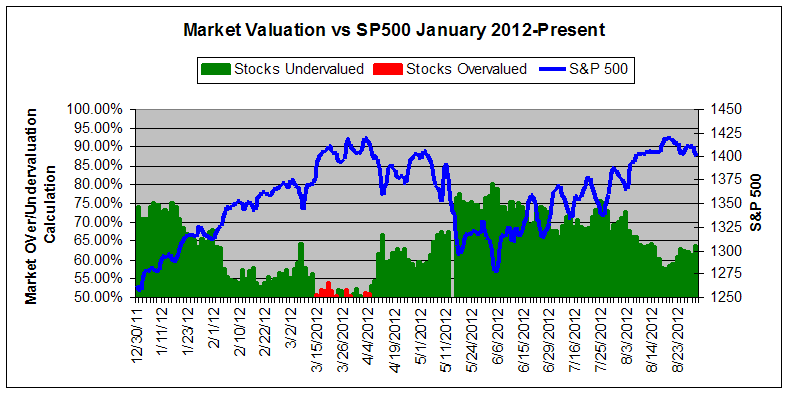 For reference, here is a longer-term chart which tracks the metrics back to March, 2010. Note that undervaluation levels peaked in excess of 90% last Summer. As you can see, the market levels are equal to or higher than they were in the past at times when we did issue overvaluation watches. Always remember that the valuation model adjusts to both individual company earnings and stock prices, so you may not see the same under or overvaluation levels at similar market levels.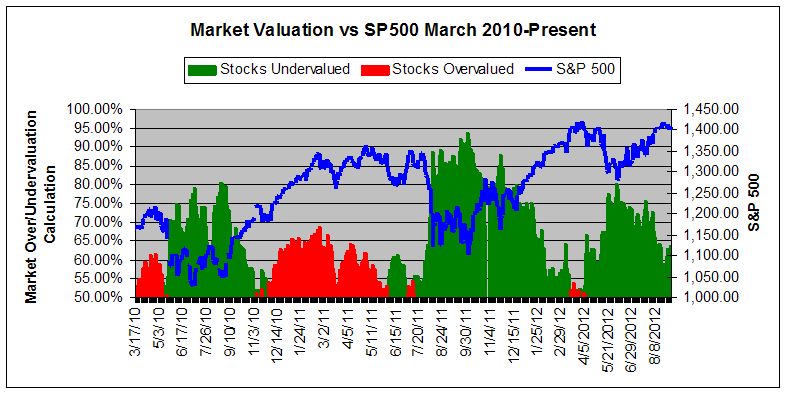 And finally, here is the chart tracking the levels back to March, 2007.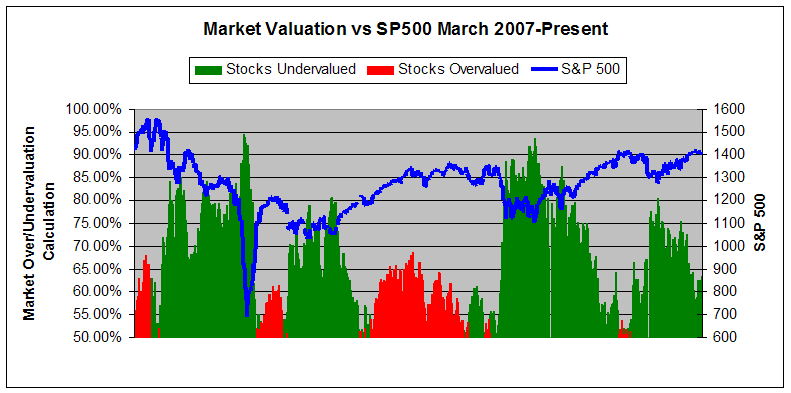 We will continue to watch and track our valuation metrics so that we may add to our data set.
Disclosure: I have no positions in any stocks mentioned, and no plans to initiate any positions within the next 72 hours.