VALUATION WARNING: Our models find that overvaluation is at levels typically seen when market pullbacks occur. Overvalued stocks assigned a valuation now make up 85% of our universe and 54% of the stocks assigned a valuation are calculated to be overvalued by 20% or more. ALL sectors are calculated to be overvalued--15 of them by double digits.
Sunpowered
--Daqo New Energy (NYSE:DQ) Soars for ValuEngine Market Neutral Newsletter
Daqo New Energy Corp. is engaged in the manufacture and sale of high-quality polysilicon to photovoltaic product manufacturers. The polysilicon is further processed into ingots, wafers, cells and modules for solar power solutions. Daqo New Energy Corp., formerly known as Mega Stand International Limited, is headquartered in Wanzhou, The People's Republic of China.
We are seeing some impressive performance from our long portfolios so far this month. The leader of our newsletters right now is the VE Forecast 16 Market Neutral. And, leading the long-side of that newsletter is Daqo New Energy (DQ). Since mid-December, the stock is up almost 26%. Green energy has been quietly making impressive gains despite the best efforts of opponents in the fossil fuel sectors and the US government to undercut its progress. Daqo has been on a huge run up with a LTM gain in excess of 400%.
ValuEngine continues its BUY recommendation on DAQO NEW ENERGY for 2014-01-07. Based on the information we have gathered and our resulting research, we feel that DAQO NEW ENERGY has the probability to OUTPERFORM average market performance for the next year. The company exhibits ATTRACTIVE Momentum and Company Size.
As a bonus to our Daily Bulletin readers,
we are offering a FREE DOWNLOAD of one of our Stock Reports
Read our Complete Detailed Valuation Report on Daqo New Energy HERE.
Below is today's data on DQ: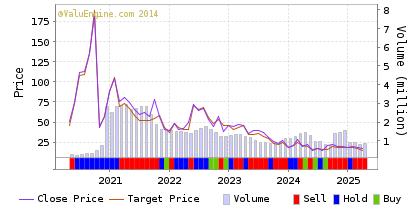 ValuEngine Forecast
 
Target
Price*
Expected
Return
1-Month
42.33
0.95%
3-Month
43.28
3.23%
6-Month
43.60
3.99%
1-Year
46.71
11.40%
2-Year
38.55
-8.06%
3-Year
48.82
16.43%
Valuation & Rankings
Valuation
n/a
Valuation Rank
n/a
1-M Forecast Return
0.95%
1-M Forecast Return Rank
97
12-M Return
420.87%
Momentum Rank
100
Sharpe Ratio
-0.69
Sharpe Ratio Rank
11
5-Y Avg Annual Return
-68.01%
5-Y Avg Annual Rtn Rank
12
Volatility
97.95%
Volatility Rank
19
Expected EPS Growth
n/a
EPS Growth Rank
n/a
Market Cap (billions)
0.29
Size Rank
50
Trailing P/E Ratio
n/a
Trailing P/E Rank
n/a
Forward P/E Ratio
n/a
Forward P/E Ratio Rank
n/a
PEG Ratio
n/a
PEG Ratio Rank
n/a
Price/Sales
3.71
Price/Sales Rank
27
Market/Book
2.16
Market/Book Rank
50
Beta
2.63
Beta Rank
7
Alpha
0.25
Alpha Rank
86
ValuEngine Market Overview
Summary of VE Stock Universe
Stocks Undervalued
14.88%
Stocks Overvalued
85.12%
Stocks Undervalued by 20%
4.89%
Stocks Overvalued by 20%
53.99%
ValuEngine Sector Overview
Disclosure: I have no positions in any stocks mentioned, and no plans to initiate any positions within the next 72 hours.