VALUATION WARNING: Our models find that overvaluation is at levels typically seen when market pullbacks occur. Overvalued stocks assigned a valuation now make up almost 85% of our universe and almost 53% of the stocks assigned a valuation are calculated to be overvalued by 20% or more. ALL sectors are calculated to be overvalued--15 of them by double digits.
Healthy Performance
--Celsion Corp (NASDAQ:CLSN) Leads Small Cap Newsletter
Celsion is dedicated to the development and commercialization of oncology drugs including tumor-targeting treatments using focused heat energy in combination with heat activated drug delivery systems. Celsion has research, license or commercialization agreements with leading institutions such as the National Institutes of Health, Duke University Medical Center, University of Hong Kong, North Shore Long Island Jewish Health System.
Despite the latest market gyrations, we still see decent performance from some of our long-focused newsletters. Our VE Small Cap Stock Newsletter. Right now the top performer for our small caps is Celsion Corp. The stock is up more than 10% for the past month.
ValuEngine continues its BUY recommendation on CELSION CORP for 2014-01-14. Based on the information we have gathered and our resulting research, we feel that CELSION CORP has the probability to OUTPERFORM average market performance for the next year. The company exhibits ATTRACTIVE Earnings Growth Rate and Book Market Ratio.
As a bonus to our Daily Bulletin readers,
we are offering a FREE DOWNLOAD of one of our Stock Reports
Read our Complete Detailed Valuation Report on Celsion Corp. HERE.
Below is today's data on CLSN: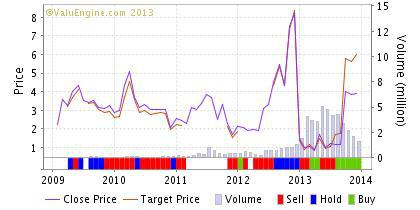 ValuEngine Forecast
 
Target
Price*
Expected
Return
1-Month
4.38
6.78%
3-Month
4.32
5.35%
6-Month
4.31
5.20%
1-Year
6.49
58.35%
2-Year
5.12
24.80%
3-Year
6.69
63.23%
Valuation & Rankings
Valuation
73.27% undervalued
Valuation Rank
100
1-M Forecast Return
6.78%
1-M Forecast Return Rank
100
12-M Return
-89.93%
Momentum Rank
1
Sharpe Ratio
-0.20
Sharpe Ratio Rank
38
5-Y Avg Annual Return
-22.35%
5-Y Avg Annual Rtn Rank
28
Volatility
112.71%
Volatility Rank
15
Expected EPS Growth
30.30%
EPS Growth Rank
63
Market Cap (billions)
0.06
Size Rank
30
Trailing P/E Ratio
n/a
Trailing P/E Rank
5
Forward P/E Ratio
n/a
Forward P/E Ratio Rank
n/a
PEG Ratio
0.10
PEG Ratio Rank
86
Price/Sales
142.87
Price/Sales Rank
3
Market/Book
1.91
Market/Book Rank
54
Beta
1.12
Beta Rank
50
Alpha
n/a
Alpha Rank
n/a
ValuEngine Market Overview
Summary of VE Stock Universe
Stocks Undervalued
15.29%
Stocks Overvalued
84.71%
Stocks Undervalued by 20%
4.92%
Stocks Overvalued by 20%
52.91%
ValuEngine Sector Overview
Disclosure: I have no positions in any stocks mentioned, and no plans to initiate any positions within the next 72 hours.