On January 27th, Apple (NASDAQ:AAPL) reported earnings to the public, and it fell about $45, a loss of 8%. Clearly, the market wasn't very happy with what Apple had to share. And to me, it's quite unclear why.
Overall Growth and iPhone Issues
Was the report really that bad? Looking at the price of about $550 before the report, the market seemed to be pleased with what analysts were expecting. But they were quite disappointed with the numbers reported by the company. iPhone unit sales were 51 million compared to analyst expectations of 55 million. This was a quarterly record for the company, but still not enough to keep the stock from crashing. Of course, it is disappointing to see the company miss estimates by 4 million, but a record was set nonetheless. This was also a 7% increase over last year's numbers. Overall, this should be seen as a satisfactory increase, despite the fact that it was not quite as impressive as expected. The disappointment was primarily driven by troubles with the iPhone 5s. The product faced "supply constraints" during the first quarter of 2014, and after supply and demand balanced out, overall channel inventory started to rise.
Overall, these numbers are an indication that Apple is, in fact, not facing serious struggles. Analysts simply overestimated the company. It is still an undeniable fact that growth has been faster at times, but as the iPhone continues to grow in popularity, it isn't the revolutionary device that was taking the world by storm just a few years back. This is simply the nature of economics. All products eventually reach a stage of maturity and slowed growth. It is actually quite impressive that iPhone sales are still growing by 6%-7% year over year. Also, the iPhone is continuing to provide Apple with a significant chunk of its sales. In the first quarters of both 2013 and 2014, the product made up 56% of revenues. Admittedly, the iPhone is no longer one of the most exciting products out there. In fact, Apple continued to lose share in the smartphone market during 2013. Over the course of the year, the company's share fell from 19% to 15%. This is disappointing, but also understandable considering the fierce competition in the market.
R&D Spending
Luckily, it appears the Apple is looking toward other areas for growth as well. Research and development expenses for the quarter were $1.33 billion in 2013 compared to $1.01 billion in 2012, a 32% increase. This expense made up 2.3% of net sales this year versus 1.9% last year. This increase was "driven primarily by an increase in headcount and related expenses to support expanded R&D activities". This kind of growth initiative is an inspiring thing to see from Apple.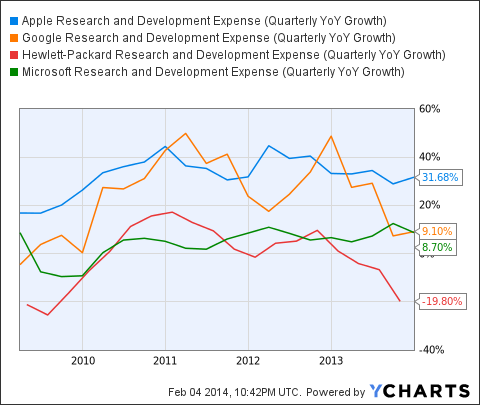 AAPL Research and Development Expense (Quarterly YoY Growth) data by YCharts
The chart above indicates that Apple's growth in R&D spending is continuing to grow. It's increasing even faster than other well known and innovative tech giants such as Google (NASDAQ:GOOG), Microsoft (NASDAQ:MSFT), and Hewlett-Packard (NYSE:HPQ). Apple is not ready to give up its leadership position in technological innovation just yet. For 2014, we can look forward to an expanded product line. Whether it's the newest version of the iPad or iPhone, or it's an iWatch or HDTV, Apple is clearly investing heavily in the product development of a few items. Again, this increase in R&D is more than just a number. It shows us that Apple is still growing and still innovating. Some people might claim that Apple is no longer a growth stock. Although this could be true, I don't want to jump to any conclusion just yet. The iPhone was a product that really revolutionized phones. It's not that easy to create a product that has that kind of an affect on the world. It takes heavy investments of both time and money.
Valuation
This dip in Apple's stock price has created yet another great entry point for investors. Here is a comparison of Apple and a few similar companies:
| | | | | |
| --- | --- | --- | --- | --- |
|   | AAPL | GOOG | MSFT | HPQ |
| P/E | 12.65 | 29.85 | 13.46 | 10.81 |
| P/S | 2.57 | 6.34 | 3.63 | 0.48 |
| P/B | 3.45 | 4.35 | 3.56 | 1.96 |
| EV/EBITDA | 7.47 | 19.18 | 8.01 | 5.06 |
As you can see, Apple's stock isn't necessarily in a time of trouble and turmoil, like Hewlett-Packard's, but it is cheaper than Google and Microsoft's. Comparing these four companies, you get the idea that Apple could be available at a discount. But is the company's future still bright, overall? Nearly all of the information presented in these articles still apply:
Also, I believe that I have shown that product innovation as well as iPhone concerns aren't as troubling as most people like to think. With all that being said, I still believe that Apple is a very attractive stock at just above $500.
Additional Disclosure: I will not be held accountable for any losses of any type that are incurred as a result of following my investment advice. Although my advice reflects my honest opinion, readers are always expected to follow through with their own due diligence.
Disclosure: I am long AAPL.