The purpose of this article is to research and compile information related to the topic of cyberspace as a battlefield for insidious new forms of economic warfare in which Last Mover Advantage could usurp First Mover Advantage.
Although originally inspired by the memory of Thomas Jefferson's reason and imagination, and by the main reading room of the Library of Congress, it follows the ideas contained within that cave of knowledge to a vast new world of ideas depicted below in which connecting the dots can reveal important new patterns. It is as if the cupola at the center of the LOC's main reading room has been penetrated from both within and without, and this allows our ideas to both soar and escape.
(click to enlarge)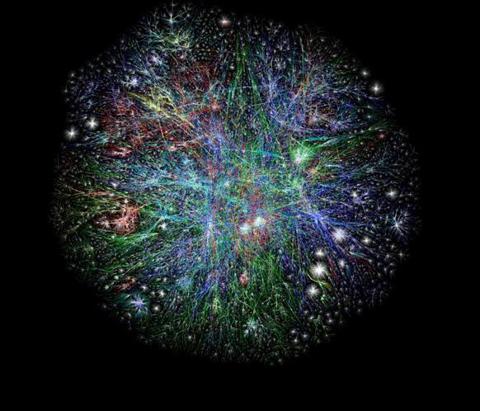 Click to enlarge
To what end will this knowledge be used? Previously, Edwin Blashfield's painting of a female figure in the cupola representing Human Understanding was visible only to those in the LOC Reading Room below. Immediately surrounding her is a mural consisting of a dozen 10-foot high figures representing the countries or epochs that contributed to the development of Western Civilization. These include:
Egypt: Written Record
Judea: Religion
Greece: Philosophy
Rome: Administration
Islam: Physics
The Middle Ages: Modern Languages
Italy: Fine Arts
Germany: The Art of Printing
Spain: Discovery
England: Literature
France: Emancipation
America: Science
If abandoned or violated, what is to become of Western Civilization, and the democratic principles of liberty and justice for all? Unfortunately, to many it may seem more pragmatic to simply ask how to invest at the peak of Western Civilization, but those motivated by this line of thinking may not truly understand the big picture as well as they believe.
The LOC Main Reading Room is also encircled by bronze portrait statues paying tribute to great thinkers on various topics. Let's call them the smartest guys in the room, who were very influential in their fields. This article is intended to serve as a virtual reading room that likewise seeks inspiration from great thinkers, but rather than relying upon statues accompanied by inscriptions on plaques, this virtual reading room will draw upon the knowledge of credible experts in fields related to the topic of this article.
Comments posted to this article should therefore include links or references to primary sources of information, and the comments themselves should consist only of brief descriptions of the source material or its author accompanied by a key quote or passage capturing the essence of the main point(s) deemed to be of greatest interest or importance. If it is believed that personal knowledge or interpretations might be helpful, they should be clearly identified as being your own thoughts or opinions, so that the integrity of information compiled in this virtual reading room is preserved to the greatest extent possible.