LPH is setting up in an awesome looking FOUS4 pattern that i believe to be prepping for a big upcoming breakout market has been rattled this week but LPH continues to show signs of life as we have had some major volume increases this past month.
Latest news is todays upgrade this morning.
MaxSoar Updates Research Coverage on Longwei with Rating of "Outperform" and Raises Its Fair Value Assessment to $5.67 per SharePR Newswire(Thu 8:00AM EDT)
Now we also have another Seeking alpha article published tonight with some in depth research which could also give rise to price tomorrow.
Longwei Petroleum: On Its Way Back From Valuation Hellat Seeking Alpha(Thu 5:59PM EDT)
Now anyone who knows me, knows that im far from a fundamental trader. Im a chart trader.. Hence the FOUS4.. 4 different patterns that i trade ovvvvverrrr and overrrrr and overrr! All of which have made me $332,000 since 2011 when i started verifying on my profit.ly account and alert on my stock picks in Real time live on FOUSTV .
So the main reason why i like LPH here is the chart. And we have momentum News to boot. News + FOUS4 Stock charts usually results in some heavy profits. I alerted long today 10k shares 1.75 and added 2k into the close 1.78.. were in the 1.80′s in after hours trading. If we breakout of the 1.80′s range we should see this over $2 soon. But, as with all trades. Manage risk. Set stops. and stick to them .
LPH stock chart: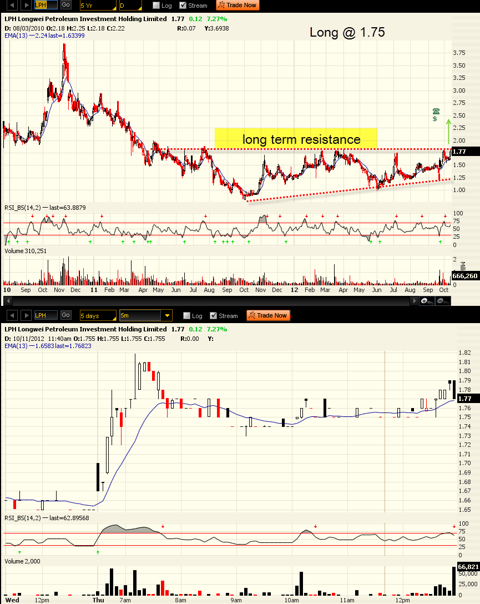 Disclosure: I am long LPH.