Its been a while since stocks like SVA, NVAX, BCRX, GNBT, NNVC, and HEB had any real solid action. Last time was a few years ago during the Bird Flu scare where i made some huge gains trading a majority of the stocks listed. I don't even think i had ttt.net up yet i was still trading over at 3SOF which was eventually abandoned by its administators last year.
Now we got this new Swine Flu possible pandemic hitting the wires with multiple headlines on yahoo finance today which sent these stocks soaring in pre-market on enormus volume. Such as NVAX trading 52.1m shares today where as its average volume was around 200k. Is this just the beginning of these stocks making huge runs like they did back in 2005 when the Bird Flu caused a panic and a race to find a vaccine for these companies started?
Lets take a look back to 2005 when these stocks blew up. Is this the beginning of another opportunity to capitalize on huge profits? Swine Flu 09:
SVA and BCRX: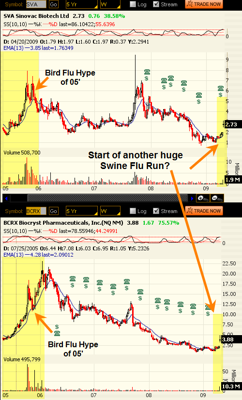 NVAX and GBNT: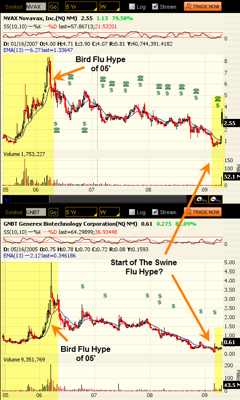 Its hard to make any predictions about whats going to happen with the swine flu as this is just the beginning. But this could pose a great opportunity to get into these stocks early as this could be a repeat of the Bird Flu hype of 05′. I'm just sitting on the sidelines for now as trying to buy these after todays huge gap up poses a lot of risk. But these stocks are definitely something we should keep our eyes on as the speculation lingers.
disclosure: I do not own any of these stocks currently