Noodles & Company (NASDAQ:NDLS) will provide a great opportunity for investors to get into a fresh stock in the booming fast-casual segment in the food industry, as it is scheduled for a $75 million IPO on June 28, 2013, with shares to be priced within the $13 - $15 range.
Noodles & Company is a fast casual chain that serves Asian, Mediterranean, and American food through a menu containing: noodles, pasta, soup, salad, cheese, meatballs, sandwiches, and beverages, with global flavors in open kitchens. Food choices are customizable, cooked to order, and served within 5 minutes to your table, with meal prices averaging $8 and no need for tips.
The company touts four main advantages - a differentiated concept, proven leaders throughout the organization, strong reliable growth, and huge white space potential.
Differentiated Concept
Noodles & Company has a diverse menu and service platform that puts them in a category of one, with no direct competitor. The chain's variety, customization, value, and new experience makes it appealing to both consumers and developers alike, making Noodles' barrier to entry different from other fast-casual chains.
(click to enlarge)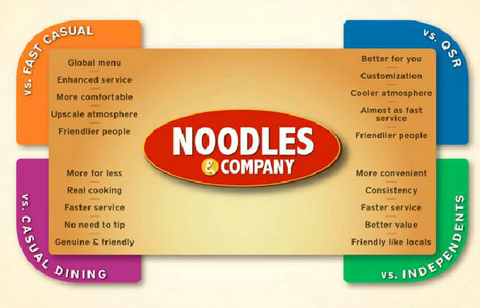 Click to enlarge
Proven Leaders throughout the Organization
At the helm are Chairman & CEO Kevin Reddy and President & COO Keith Kinsey, two powerhouses that led the charge in Chipotle's (NYSE:CMG) vicious unit expansion of 400 new locations during 2000 - 2005. Both have experience, leadership, and connections within this fast-casual sector, allowing for Noodles' tremendous growth over the past few years.
Strong Reliable Growth
Noodles is in two businesses - operating company-owned businesses and making franchisees successful. They are experiencing tremendous unit growth, as well as increases in same store sales through real transactions, not through price changes and gimmicks. In fact, their same store sales have been increasing at a positive rate for the past 28/29 quarters. Their loyal customer base might explain some of their growth, as 40% of customers visit a Noodles chain at least once a month.
(click to enlarge)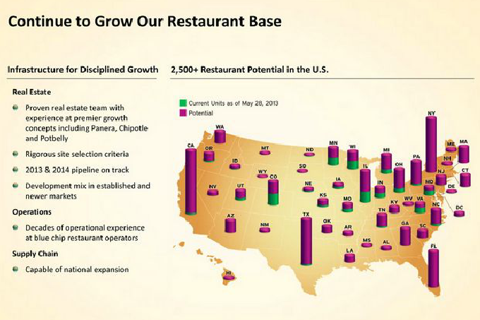 Click to enlarge
Huge White Space Potential
(click to enlarge)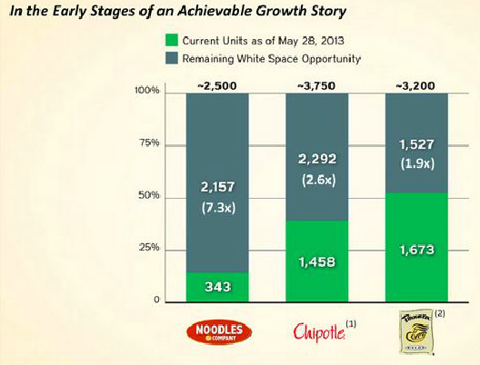 Click to enlarge
Noodles has a proven unit economic model across diverse geographies, and projects to have a total of 2500 units in the US. The Company currently has 339 restaurants (288 Company-owned, 51 Franchised), and believes that a unit growth of over 7x is conservative. In 2012, Noodles opened 45 locations (39 Company-owned, 6 Franchised) and the average unit saw sales of $1.178 million in 2012, which leads to Noodles' simple equation for steady, reliable growth:
Disciplined Unit Growth + Consistent Comparable Restaurant Sales + Solid Margin Leverage = Steady, Reliable Growth
The Company has a focused monthly pipeline for the next couple of years, and relishes in its ability to provide consistent, predictive results by avoiding risky situations, approaching opportunities with a "just because you can do it, does not mean you should do it" mentality. Noodles has achieved $5.2 million in profit on nearly $300.4 million sales for the 2012 FY, and CEO Reddy has stressed that this IPO is nothing more than an attempt to raise capital to pay off debt and open new units. With the IPO, the Company plans on simply continuing what it's already been doing successfully.
Each and every one of us has been able to emotionally connect to pasta, regardless of background. It is a food staple that Noodles has capitalized upon, and I look forward to seeing revenues continue to explode within the next few years. Be sure to dig into NDLS, for it seems to be a tasty choice.
Disclosure: I have no positions in any stocks mentioned, and no plans to initiate any positions within the next 72 hours.
Additional disclosure: I do not own the images used in the article