At 8:30AM EST the Department of Labor released an encouraging jobs data on Thursday. Initial jobless claims for the week ending September 25 were down -16,000 to 453,000. Four-weeks average are down -6,250 to 458,000. Another macroeconomic data came from the U.S. Bureau of Economic Analysis. Gross domestic product growth or GDP for Q2 was resided up to +1.7%; this is higher than prior estimate of +1.6%.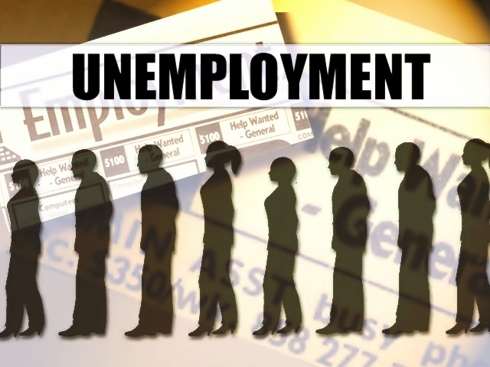 Click to enlarge
September had +9% gain so far and it's on track for the best month since 1939. Today trading session was fascinating to say the least. With encouraging macroeconomic data, stocks were rallying out of the gate. The S&P broke out above 1150 to new 4 months high at 1,157.01 in the first hour of trading. However, sellers were stepping in, sending the index down -0.31% to 1,141.15 by the closing bell. The DOW hit new high to 10,948.88 but tanked -0.44% to 10,787.75. In a similar fashion, Nasdaq went to the high of 2,400.06 but also closed in red, down -0.33% to 2,368.62. It's important to note there was a major "reversal of fortune" today, the DOW made a 200+ points swing with heavy profit taking in the morning session and throughout the day. 

Besides profit taking, market participants believed the sell-off was also due to Moody's downgrade of Spanish debt. In addition to this bearish news from Europe, the Central Bank of Ireland stated that Anglo Irish Bank would need 34.3 billions from government bail out. Iris Finance Minister Brian Lenihan said on Thursday "the country had no choice but to rescue the troubling financial sector which needs as much as 50 billion euro or $68 billion". Shares of Allied Irish Bank Plc. (AIB) tanked after the news that the firm needs to raise 3.0 billion euro by the end of the year; stocks down -14.02% to $1.41.

Separately in Wall Street, celebrity banking analyst Meredith Whitney continued to sing her "usual bearish tune" for the U.S. and U.S. equities, citing states' fiscal problems raised a systemic risk. Bill Gross, the bond king at Pimco also stated a negative view for the U.S. equities coming forward. Brian Belski, chief investment strategist at Oppenheimer Holdings Inc. disagreed with both Whitney and Gross. "There is a potential for a bond bubble and investors are under-invest in U.S. stocks. The firm issued a bullish calls for the market well into 2011 with target of 1300 for the S&P 500," said Belski. 
 
Technically, we will conclude this market might need to consolidate as the S&P 500 had the best September in 71 years. Supports for the index now are 1130, the 200d-MA at 1118, and the psychological level at 1100. Resistance now are 1150, 1160, and May high at 1170 range. Unless the market can take out the 1150 level with strong volume and institutional participation, traders will continue to short into this strong resistance or stay at sideline. Earning season coming up in October and midterm election in November could act as a positive catalyst for the equities market in Q4-2010.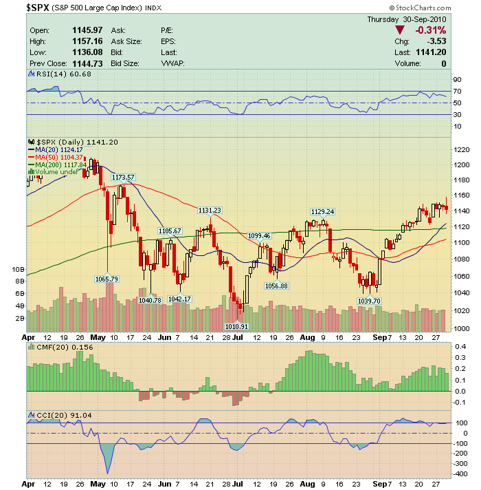 Click to enlarge

Best regards to all, and good luck in your trading.
Disclosure:
No positions in stocks mentioned at time of writing.